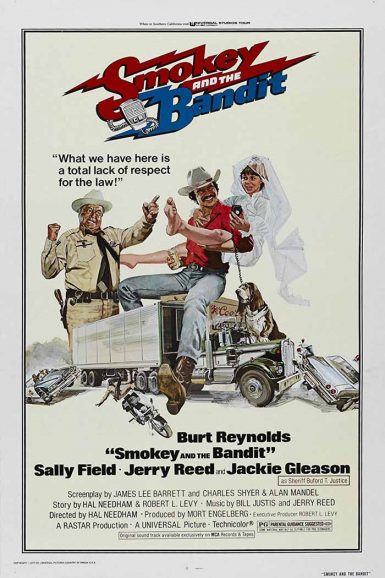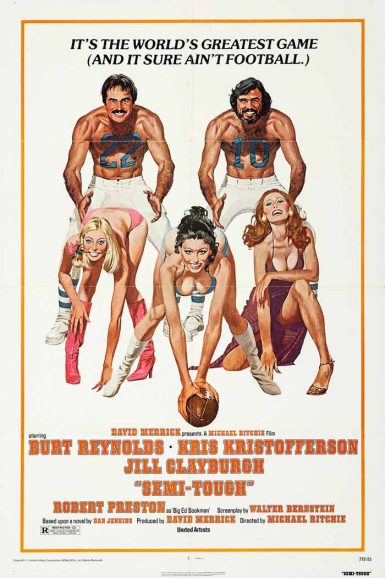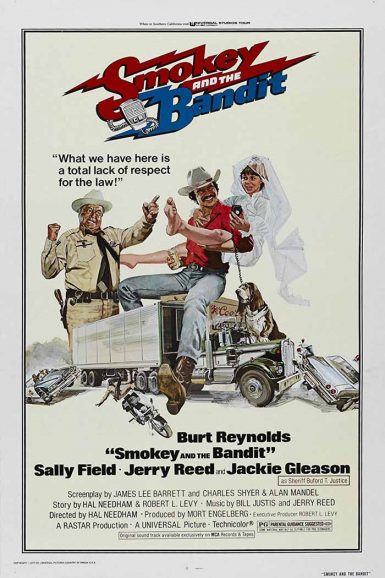 Smokey and the Bandit
East bound and down, loaded up and truckin! Burt Reynolds, bootleggin' buddy Jerry Reed and runaway bride Sally Field put the pedal to the metal, running a trailer full of Coors beer across State lines with Jackie Gleason's Sheriff Buford T. Justice in hot pursuit in the blockbuster comedy Smokey and the Bandit.
"The king of the 'good ol' boy' movies." – Marjorie Baumgarten, Austin Chronicle
Director

Hal Needham
Starring

Burt Reynolds, Sally Field, Jerry Reed, Mike Henry, Paul Williams, Pat McCormick, Jackie Gleason
Year

1977
Country

USA
Format

35mm
Running Time

96 minutes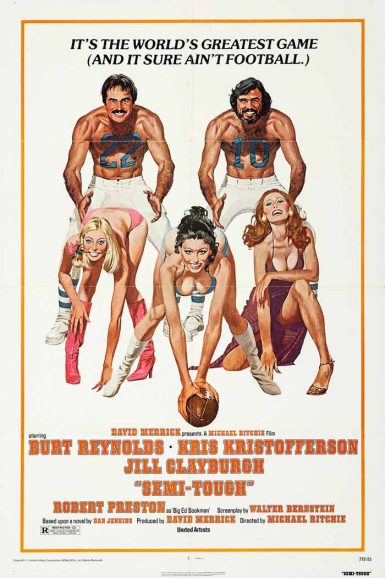 Semi-Tough
Known for his sports movies that aren't really about sports, Michael Ritchie delivers another soulful classic with Semi-Tough. Burt Reynolds and Kris Kristofferson are two hotshot Miami football players living in a ménage e trois with the owner's daughter (Jill Clayburgh). But when deep feelings develop between two of them, their whole arrangement, and the team's playoff aspirations, are put in jeopardy. When the big game isn't the Super Bowl, but the game of life, either you get it or you don't. Featuring Robert Preston as the eccentric owner who keeps recommending new age treatment and jargon to the jaded star players.
"Burt Reynolds, Kris Kristofferson and Jill Clayburgh are all excellent" – Variety
"Well supplied with both raunchy humor and star appeal, particularly in the person of Burt Reynolds, the film seems certain to become a crowd-pleaser." – Gary Arnold, Washington Post
"A delightful, gentle satire on the American ideal of winning, which also takes broad but often hilarious swipes at fashionable health fads." – Geoff Andrew, Time Out
Director

Michael Ritchie
Starring

Burt Reynolds, Kris Kristofferson, Jill Clayburgh, Robert Preston, Bert Convy
Year

1977
Rated

R
Country

USA
Format

35mm
Running Time

108 minutes