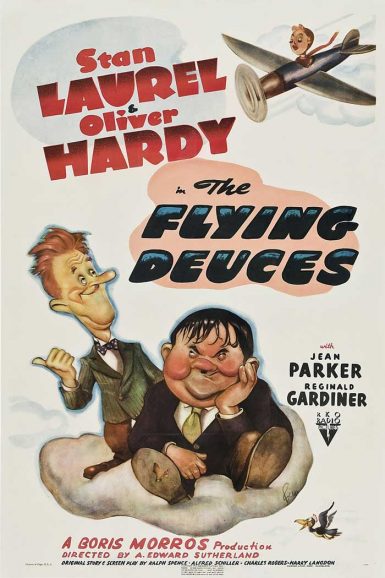 The Flying Deuces
The Last Remake of Beau Geste
Buy Tickets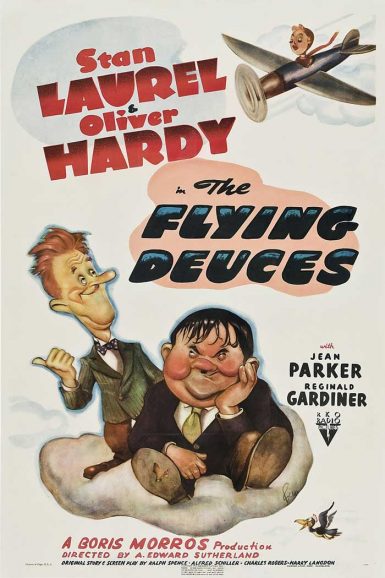 The Flying Deuces
Laurel & Hardy in one of their funniest pictures! The Flying Deuces finds the iconic duo sweet-talked into enlisting in the French Foreign Legion while on vacation to Paris. Hilarious havoc & wild hijinks ensue when Stan & Ollie are shipped off to Morocco and create a comedic maelstrom when they attempt to leave.
Directed by A. Edward Sunderland, The Flying Deuces remains one of Laurel & Hardy's funniest later pictures. Jilted Ollie is suicidal when his romance ends on their Paris vacation, with Stan perfectly willing to join him jumping in the river. Just before they leap, they're interrupted by a French Foreign Legionnaire who sweet talks them into enlisting as the perfect remedy for a broken heart. Thinking they'll only have to stay until Ollie recovers his joie de vivre, they're rudely awakened when they attempt to leave. Complicating matters, Ollie's former lover happens to be married to the officer who advised them to sign up.
"This final sequence, which is but a repetition of a Keystone runaway chase, is the funniest in the picture…" – Frank S. Nugent, The New York Times
Director

A. Edward Sutherland
Starring

Stan Laurel, Oliver Hardy, Jean Parker, Reginald Gardiner
Year

1939
Rated

Approved
Country

USA
Format

35mm
Running Time

68 minutes
The Last Remake of Beau Geste
Experience the classic tale of Beau Geste as you've never seen it before! Marty Feldman (Young Frankenstein) makes his directorial debut with the absolutely absurd, positively Python-esque, The Last Remake of Beau Geste. When the coveted family sapphire is stolen by Beau (Michael York), who runs off to North Africa, it's his "twin" brother Digby (Feldman) who's put on trial. Once reunited, the Geste boys blunder through battle with the French Foreign Legion, followed closely behind by their greedy mother (Ann-Margret). Family bonds will be tested, deathbeds will be lain in, and lunch will be served!
"Its laughs come as much from the shock of discovery as from what's being said or done. The Last Remake of Beau Geste, which has been rated PG, contains a lot of explicit sexual and anatomical references that, if they don't go over the heads of youngsters, will probably strike them as the highest form of wit, mostly because they are consistently, often hilariously irreverent." – Vincent Canby, The New York Times
Director

Marty Feldman
Starring

Marty Feldman, Ann-Margret, Michael York, Peter Ustinov, James Earl Jones
Year

1977
Rated

PG
Country

USA
Format

35mm
Running Time

85 minutes