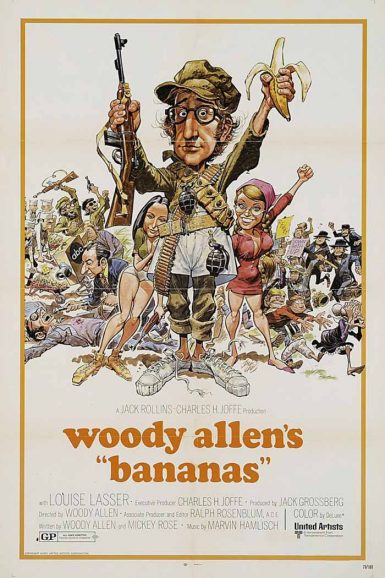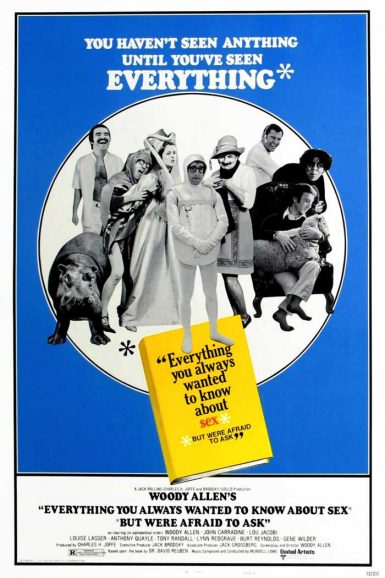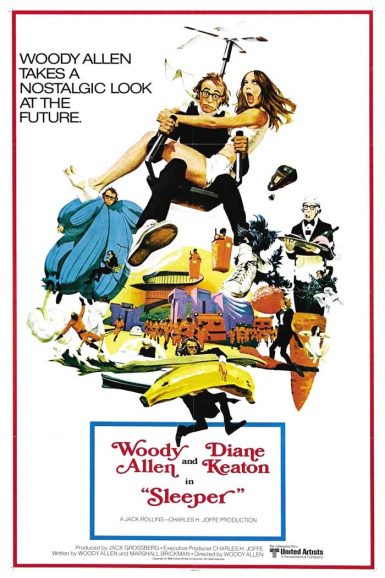 Bananas
Everything You Always Wanted to Know About Sex* But Were Afraid to Ask
Sleeper
Buy Tickets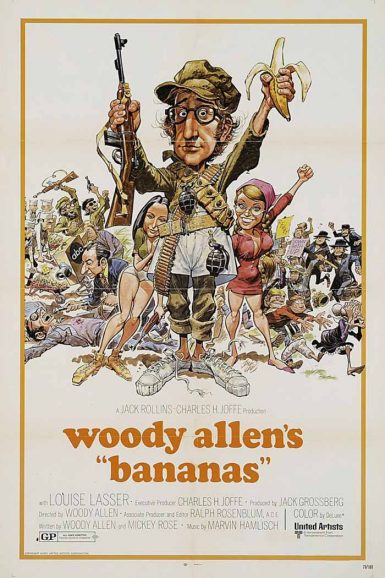 Bananas
Woody Allen is equal parts Marx Brother and America's one man answer to Monty Python's Flying Circus, as Fielding Mellish, a neurotic man who loves political activist Nancy (Louise Lasser) almost as much as he values his own self-preservation. After Mellish is dumped by Nancy for being immature – "emotionally, sexually and intellectually" – he travels to San Marcos to learn first-hand the political revolution that his ex-girlfriend was so passionate about. In hilarious skit-like storytelling, Mellish is saved by revolutionaries from a fascist government's assassination plot, installed as their President (complete with a Fidel Castro style fake beard and mustache) and put on trial back in the U.S. for political fraud and "using the word 'thighs' in mixed company." Released in 1971, Bananas successfully skewered the media's coverage of the Vietnam war, with the film's opening assassination coup scene, covered by Howard Cosell and the Wide World of Sports.
Director

Woody Allen
Starring

Woody Allen, Louise Lasser, Carlos Montalbán, Natividad Abascal, Jacobo Morales
Year

1971
Country

USA
Format

35mm
Running Time

82 minutes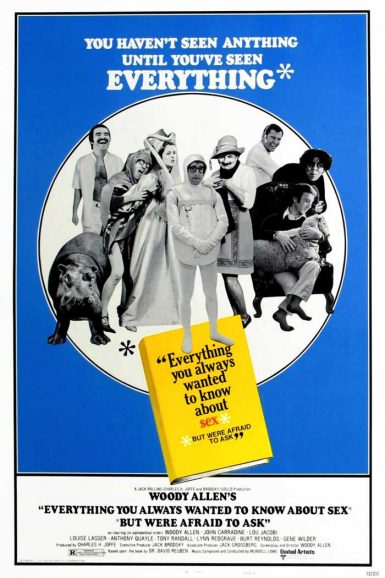 Everything You Always Wanted to Know About Sex* But Were Afraid to Ask
Based rather loosely on the book of the same title, Everything is a series of seven vignettes, with a strong cast that includes acting icon Gene Wilder as a man with amorous feelings for a sheep. Everything sends up such sexual scenarios as Woody Allen's horny Court Jester giving an aphrodisiac to the Queen – only to discover that she is wearing a chastity belt, to a woman who can only achieve orgasm in public (with a nod to Italian cinema), the game show – "What's My Perversion?" and sexual research spiraled out of control when a mad scientist releases a blob like, giant runaway boob. Tony Randall is excellent, as he attempts to orchestrate a NASA like team within the body, trying to achieve an erection for the "launching" of sperm who are on standby (some more nervously than others) and Burt Reynolds is hilarious as the likelihood of coitus ebbs and flows. Everything was the first self-help book on sex that was adapted for a comedy.
"Still pretty hilarious." – Wook Kim, TIME
"Allen crams in many funny, crass lines and there's one genuinely classic performance from Wilder, who is magnificent, absurd and bizarrely touching as the uppercrust shrink smitten with a sheep." – Simon Braund, Empire Magazine
"Brilliantly accurate and very funny. Best of all is the sci-fi parody entitled 'What Happens During Ejaculation?', which has the miniaturised scientists of Fantastic Voyage inside a life-sized male robot, busily checking data and providing the necessary bodily reactions by hand-turned winch as the robot wines, dines and seduces a real-life woman. Allen achieves his finest hour here, dressed as one of the sperm, poised anxiously with parachute by the escape hatch and crying 'Gung ho!' as he jumps, 'We're gonna make babies!'" – Time Out
Director

Woody Allen
Starring

Woody Allen, John Carradine, Lou Jacobi, Louise Lasser, Anthony Quayle, Tony Randall, Lynn Redgrave, Burt Reynolds, Gene Wilder
Year

1972
Rated

R
Country

USA
Format

35mm
Running Time

88 minutes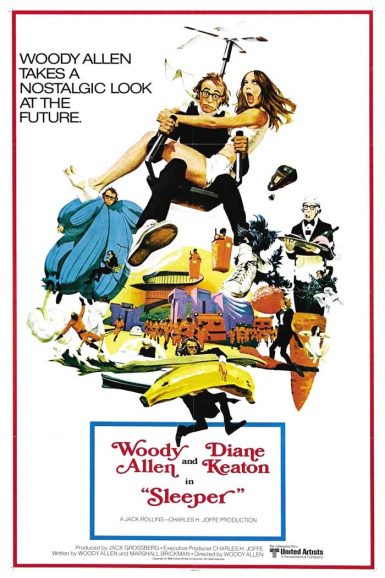 Sleeper
In Allen's first collaboration with screenwriter Marshall Brickman (Annie Hall), he's at the top of his game as the neurotic and self-deprecating Miles Monroe, a clarinet player and health food store owner, who is cryogenically frozen and awakened 200 years later in an Orwellian future. While revisiting some of the social commentary he touched on in Bananas, Miles is recruited by the scientific rebels who revive him, to help to stop the "Aries Project" – a fitting name that could be used to describe 1970's sci-fi filmmaking. Diane Keaton is wonderful as Luna Schlosser, the beautiful and free-spirited artist who is initially kidnapped by Miles, but eventually succumbs to his clumsy charms. Sleeper successfully combines Woody Allen's intellectual and underdog neurosis, with the slapstick humor from the Max Sennett comedies of the silent film era. Sleeper is also an ambitious science fiction undertaking, that just might elicit the most laugh out loud moments in the canon of Woody Allen films.
View the full set of US lobby cards for Sleeper on the New Beverly forum.
Kim Morgan discusses Sleeper on the New Beverly blog.
Director

Woody Allen
Starring

Woody Allen, Diane Keaton, John Beck, Mary Gregory, Don Keefer
Year

1973
Rated

PG
Country

USA
Format

35mm
Running Time

89 minutes