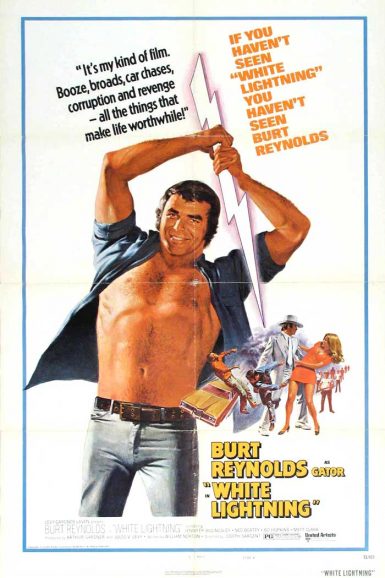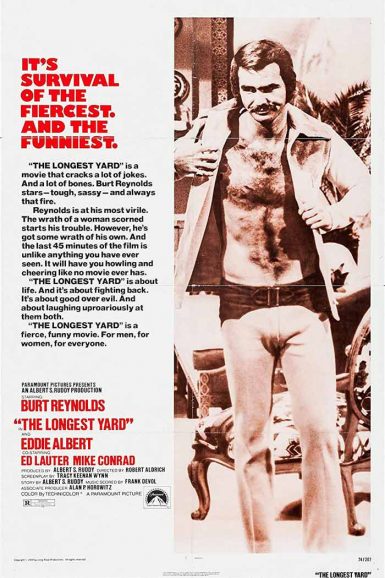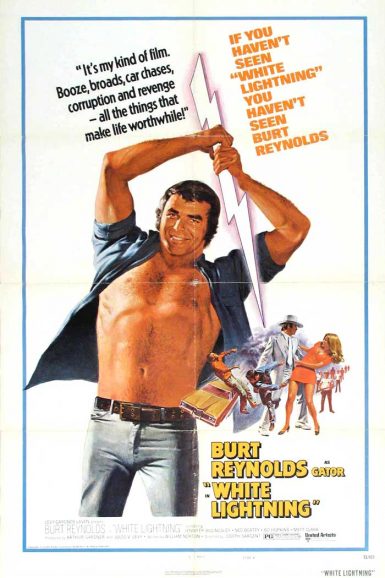 White Lightning
Burt Reynolds is a good ol' boy moonshiner with a vengeance streak the length of the Mississippi in the drive-in classic and Tarantino fave White Lightning. Imprisoned for moving the titular untaxed liquor, Reynolds' "Gator" McCluskey gets a chance at furlough in order to bring the corrupt county sheriff (Ned Beatty) to justice, not just for tax evasion, but for killing his brother. Burt's hot as lighting and you better believe he's bringing all his heat down on this steamy Southern county. Stunt legend Hal Needham shot 2nd unit on this bootlegging blast and Charles Bernstein supplied the deadly cool score that you may find familiar.
"That scarce commodity, a stirring, satisfying summer-weight entertainment … Reynolds delivers a varied, screen-commanding star turn which is a pleasure to watch." – Charles Champlin, Los Angeles Times
"What sets White Lightning apart from a demolition derby is the special work of the entire cast in creating a totally believable world out of characters that we've seen countless times before" – Gene Siskel, Chicago Tribune
Director

Joseph Sargent
Starring

Burt Reynolds, Jennifer Billingsley, Ned Beatty, Bo Hopkins, Matt Clark, Louise Latham, Diane Ladd, R.G. Armstrong
Year

1973
Country

USA
Format

35mm
Running Time

101 minutes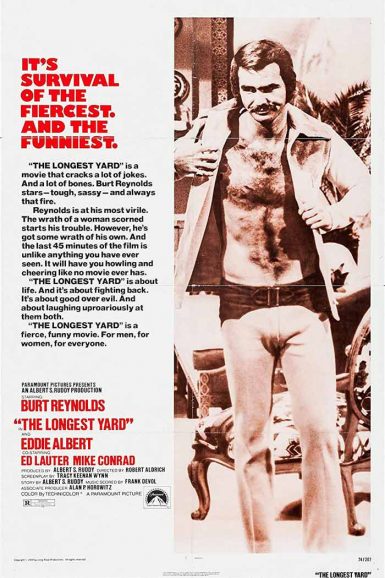 The Longest Yard (1974)
It's the Prisoners vs. the Guards in the ultimate field of battle: the football gridiron, in Robert Aldrich's The Longest Yard. Burt Reynolds is Paul "Wrecking" Crewe, a disgraced former NFL pro imprisoned for drunk driving, cornered by a sadistic warden into QB-ing against his prized team of correctional officers. Crewe has to put together a ragtag team or face an extended sentence in this abusive Georgia prison (filmed on location). It's a hard won chance to take a free crack at the guards in what's supposed to be some good, healthy competition. But not everyone's playing fair. Are you tough enough?
"For all its bone-crunching collisions, the picture is almost irresistibly good-natured and funny." – Pauline Kael, The New Yorker
"The Longest Yard is an outstanding action drama, combining the brutish excitement of football competition with the brutalities of contemporary prison life. Burt Reynolds asserts his genuine star power" – Variety
"The story is both clever and unsubtle, the action riot-gun fast from start to satisfying finish, the characters vivid and boldly drawn, the jokes set up and paid off with old-pro efficiency" – Charles Champlin, Los Angeles Times
Director

Robert Aldrich
Starring

Burt Reynolds, Eddie Albert, Ed Lauter, Mike Conrad, James Hampton, Harry Caesar, John Steadman
Year

1974
Rated

R
Country

USA
Format

35mm
Running Time

121 minutes