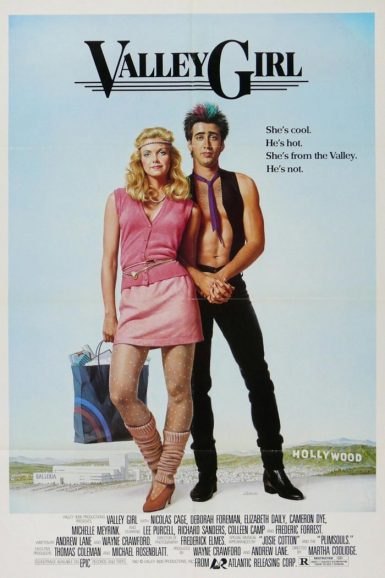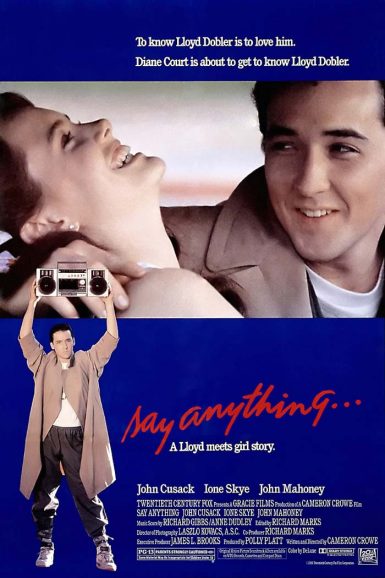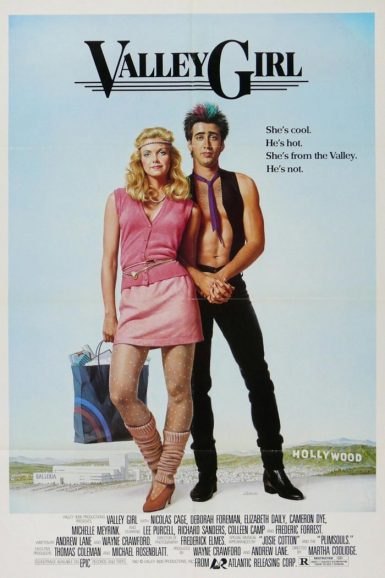 Valley Girl
It's a preppies-vs-punkers, suburbs-vs-Hollywood heart thumper as this hoodrat Romeo and Juliet prom-com perfectly captures the slang-riddled radness of SoCal life in the '80s as seen through director Martha Coolidges' slyly satirical lens. A young, seriously hot Nicolas Cage plays Valley Girl princess Deborah Foreman's opposites-attract punk object of desire. But can their new wave romance survive societal pressures and shallow friends? Like, oh my god, totally fer sure! Electric chemistry between the two leads, a tubular supporting cast (E.G. Daily! Michael Bowen!) and pitch-perfect dialog make this Los Angeles love adventure a timeless classic. And the fab soundtrack will have you bopping along to Sparks, Modern English and other bitchen KROQ hits!
Karyn Kusama discusses Valley Girl for Trailers from Hell.
Director

Martha Coolidge
Starring

Nicolas Cage, Deborah Foreman, Elizabeth Daily, Michael Bowen, Cameron Dye, Lee Purcell, Colleen Camp, Frederic Forrest, Heidi Holicker
Year

1983
Rated

R
Country

USA
Format

35mm
Running Time

99 minutes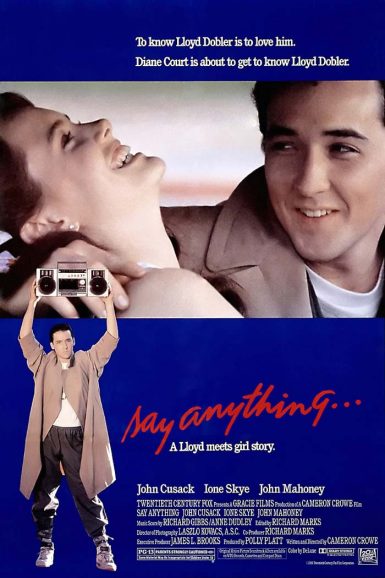 Say Anything
Everyone knows the image: John Cusack standing outside Ione Skye's house, boom box held high over his head, blasting Peter Gabriel's "In Your Eyes." It's been endlessly parodied and meme'd to death, but in its original context, Cameron Crowe's directorial debut Say Anything, the moment still strikes right at the viewer's heart. In the film, Cusack stars as charming slacker Lloyd Dobler; the role that made him the unrequited crush of a whole generation of women. In the existential haze of post-graduation, he pointedly pursues the self-conscious valedictorian Diane Court (Skye). It also features an affable but intimidating John Mahoney as Diane's single father and a hilarious Lili Taylor as Lloyd's firecracker best friend. What follows is an emotionally complex coming-of-age story, eschewing cliché to tell a love story as unforgettable as its' iconic image.
Witney Seibold discusses Say Anything… on the New Beverly blog.
Director

Cameron Crowe
Starring

John Cusack, Ione Skye, John Mahoney, Lili Taylor
Year

1989
Rated

PG-13
Country

USA
Format

35mm
Running Time

100 minutes