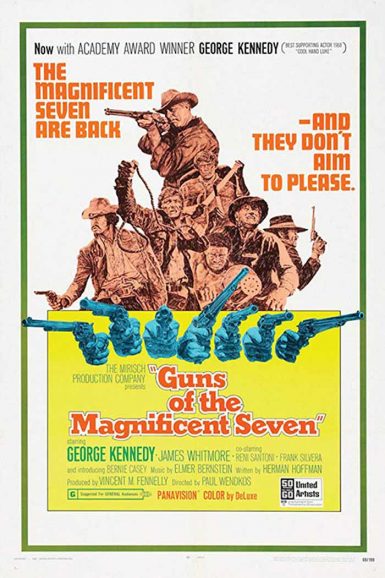 The Magnificent Seven
Guns of the Magnificent Seven
The Magnificent Seven
Akira Kurosawa's Seven Samurai serves as the template for an American western masterpiece. A gang of savage bandits led by the evil Calvera (Eli Wallach) terrorizes a Mexican village. The townspeople have one last hope: hire seven gunslingers to save them! A stellar, star-studded cast of Yul Brenner, Steve McQueen, Charles Bronson, Robert Vaughn, Horst Buchholz, James Coburn and Brad Dexter ride in as The Magnificent Seven. An iconic Elmer Bernstein score rounds out the courageous classic. They were only seven but they fought like seven hundred!
"This film may well be the best western of 1960." – TIME Magazine
"A heap of fine acting and some crackling good direction by John Sturges" – Variety
See a complete set of The Magnificent Seven lobby cards on the New Beverly forum.
Director

John Sturges
Starring

Yul Brynner, Eli Wallach, Steve McQueen, Charles Bronson, Robert Vaughn, Horst Bucholz
Year

1960
Country

USA
Format

35mm
Running Time

128 minutes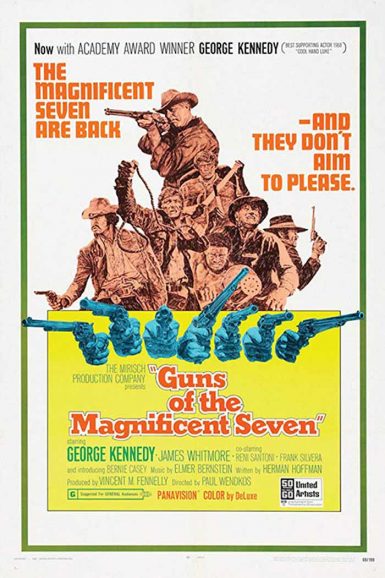 Guns of the Magnificent Seven
In this fast-moving follow-up to The Magnificent Seven, George Kennedy takes over for Yul Brynner as a gunfighter called back into duty. This time he'll have to assemble a new team of fighters to orchestrate a jailbreak for a Mexican revolutionary unjustly jailed by a corrupt politician. Enter James Whitmore, Monte Markham, Joe Don Baker, Bernie Casey, Reni Santoni, and Scott Thomas as Guns of the Magnificent Seven, mercenaries who may soon find some causes are worth more than gold.
"It rises above a routine story line via rugged treatment and action builds to a blazing gunplay climax." – Variety
Director

Paul Wendkos
Starring

George Kennedy, James Whitmore, Monte Markham, Reni Santoni, Bernie Casey, Frank Silvera, Joe Don Baker
Year

1969
Rated

G
Country

USA
Format

35mm
Running Time

105 minutes