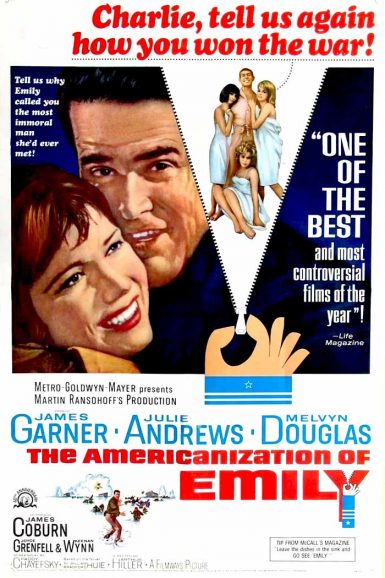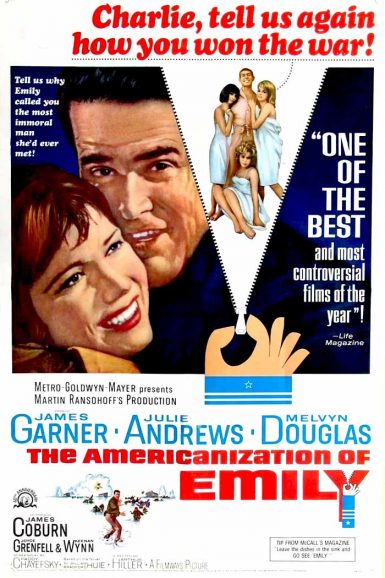 The Americanization of Emily
James Garner and Julie Andrews make for a great onscreen pairing in the 1964 film The Americanization of Emily. Set in 1944 England, with the U.S. on the brink of the Invasion of Normandy, Garner is an attendant to an American admiral who keeps his boss supplied with the finer things in life. He meets the Englishwoman Emily, played by Andrews, through their military work, and the two swiftly fall for each other. The only problem is Garner's boss wants him on the front lines for the Invasion, for reasons unbeknownst to Garner's character, Charlie Madison. Will their romance make it through this challenge, or more importantly, will Garner, a pacifist with no desire for actual battle, survive? You'll have to watch The Americanization of Emily on the big screen to find out.
"Chayefsky's scabrously funny script brims with snappy, crackling dialogue." – Nick Schager, Slant Magazine
"Under Arthur Hiller's brisk direction of Mr. Chayefsky's script, which includes some remarkably good writing with some slashing irreverence, The Americanization of Emily comes out a spinning comedy that says more for basic pacifism than a fistful of intellectual tracts. It also is highly entertaining, and it makes a good case for pure romance." – Bosley Crowther, The New York Times
Ariel Schudson discusses The Americanization of Emily on the New Beverly blog.
Director

Arthur Hiller
Starring

James Garner, Julie Andrews, Melvyn Douglas, James Coburn
Year

1964
Country

USA
Format

35mm
Running Time

115 minutes