New Beverly 35mm Exclusive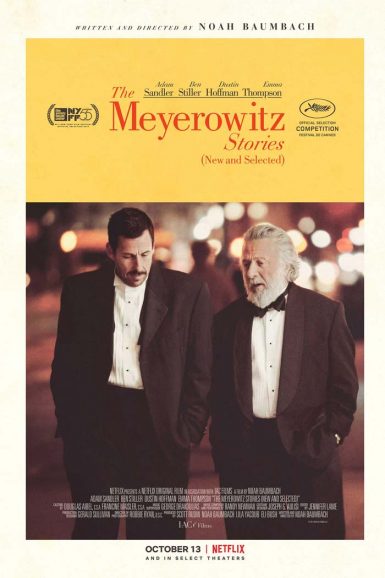 The Meyerowitz Stories
Gorgeous One-Of-A-Kind 35mm Print!
Buy Tickets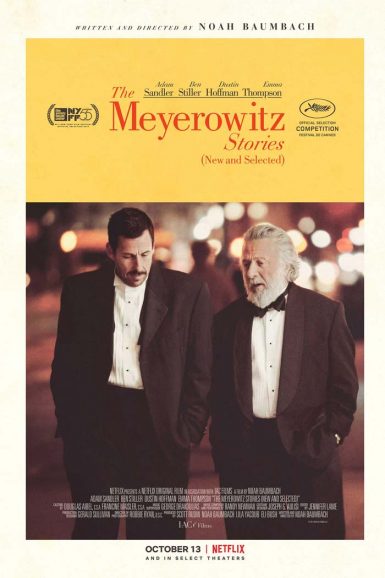 The Meyerowitz Stories
An acerbic yet heartfelt family portrait, The Meyerowitz Stories (New and Selected) follows the inter-generational dysfunctions of an artistic New York family as they reunite to honor their sculptor patriarch (Dustin Hoffman) on the eve of his first exhibit in many years. An already-broken clan, conflicts and resentments bubble up through the midlife crises of his two embittered sons (Adam Sandler & Ben Stiller), a beautiful loser and highly successful wealth manager, respectively, who both find themselves under the shadow of their dark horse father and his massive ego – despite leading incredibly divergent lives. How do people move on from pain they've tended since childhood? And how do you pay tribute to an asshole who may or may not be a great artist, especially when that asshole is your dad?
"Baumbach's ripest and wisest film to date" – Anthony Lane, New Yorker
"With this film, Mr. Baumbach has achieved a near-perfect balance between engagement and discomfort." – Glenn Kenny, The New York Times
"Noah Baumbach makes family movies that feel lived in – the kind that banter, bristle and sometimes bleed. Dustin Hoffman, Ben Stiller and a never-better Adam Sandler help make this dramedy one of the unalloyed pleasures of the fall movie season." – Peter Travers, Rolling Stone
"Sandler's performance is, frankly, a revelation. Almost nothing he has done, not even his fine work in Punch-Drunk Love, prepares you for the moving, completely unmannered and heartfelt portrait he creates here." – Kenneth Turan, Los Angeles Times
Director

Noah Baumbach
Starring

Adam Sandler, Ben Stiller, Dustin Hoffman, Emma Thompson, Grace Van Patten, Elizabeth Marvel, Danny Flaherty, Adam David Thompson
Year

2017
Country

USA
Format

35mm
Running Time

112 minutes