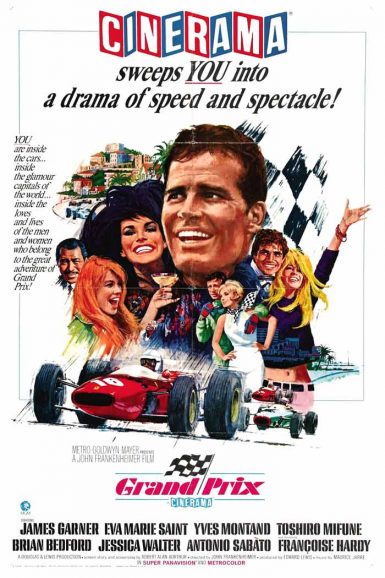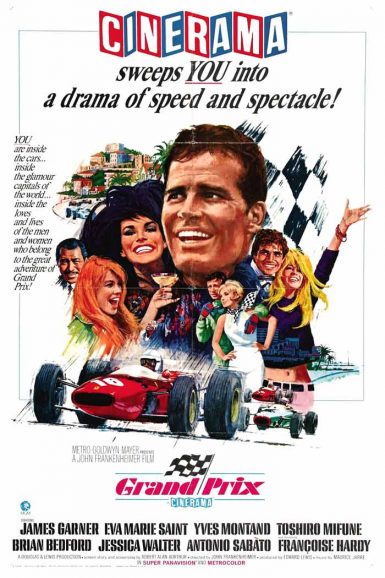 Grand Prix
All the glamour and greatness of the world's most exciting drama of speed and spectacle! Featuring some of the most stunning race footage ever filmed, John Frankenheimer's Grand Prix assembles an international all-star cast (James Garner, Eva Marie Saint, Yves Montand,Toshirô Mifune and more) for an auto epic detailing the interweaving stories of drivers (their fast-paced lives & loves on and off the track) as they compete for a Formula One championship. Shot in 70mm, the pedal-to-the-metal racing scenes are a true knockout, strapping the camera to the car and hurtling you onto the track.
"A smashing and thundering compilation of racing footage shot superbly at the scenes of the big meets around the Grand Prix circuit, jazzed up with some great photographic trickery… Mr. Frankenheimer belts you with such a barrage of magnificent shots of the racing cars, seen from every angle and every possible point of intimacy, that you really feel as though you've been in it after you've seen this film." – Bosley Crowther, The New York Times
Ariel Schudson discusses Grand Prix on the New Beverly blog.
Director

John Frankenheimer
Starring

James Garner, Eva Marie Saint, Yves Montand, Toshirô Mifune, Brian Bedford, Jessica Walter, Antonio Sabato, Françoise Hardy
Year

1966
Rated

Approved
Country

USA
Format

35mm
Running Time

176 minutes