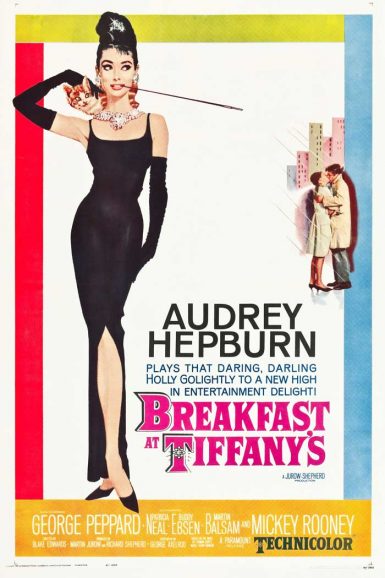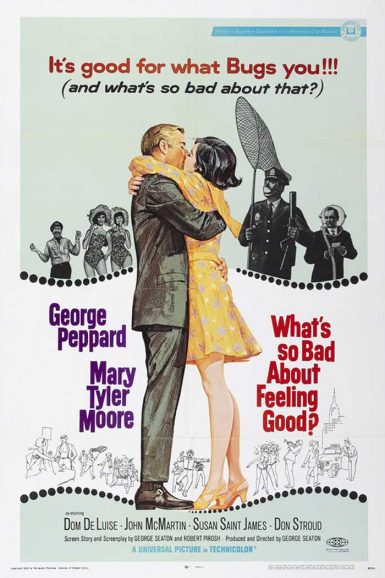 Breakfast at Tiffany's
What's So Bad About Feeling Good? (IB Tech Print)
Not Available on DVD! Vibrant IB Technicolor 35mm print!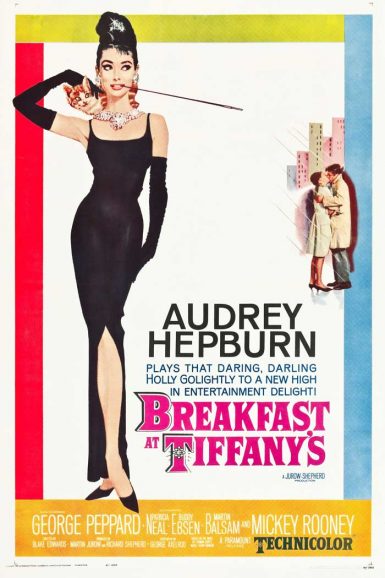 Breakfast at Tiffany's
While our allotment of advance tickets has sold out online, additional tickets will be available to purchase at the door each night of the show, first come, first served.
Audrey Hepburn lights up the screen as Holly Golightly, a stylish and free-spirited socialite searching Manhattan for a millionaire to marry, in the iconic classic Breakfast at Tiffany's. George Peppard co-stars as her new neighbor, a struggling writer quickly sucked into Holly's chaotic world. Director Blake Edwards and Oscar-nominated screenwriter George Axelrod update the Truman Capote novella, balancing romantic comedy with Golightly's tragic past. Featuring Oscar-winning music by Henry Mancini, costume supervision by Edith Head, and Hepburn's stunningly-designed fashion by Givenchy, as well as a heavily-criticized caricature, Mickey Rooney in yellowface, as the landlord.
"An unusual love story, glamorous, sophisticated, with more than a touch of the bizarre." – James Powers, The Hollywood Reporter
"Cinematically, the film is a sleek, artistic piece of craftsmanship, particularly notable for Franz F. Planer's haunting Technicolor photography and Henry Mancini's memorably moody score." – Larry Tubelle, Variety
"Wholly captivating flight into fancy composed of unequal dollops of comedy, romance, poignancy, funny colloquialisms and Manhattan's swankiest East Side areas captured in the loveliest of colors." – A.H. Weiler, The New York Times
Director

Blake Edwards
Starring

Audrey Hepburn, George Peppard, Patricia Neal, Buddy Ebsen, Martin Balsam, Mickey Rooney
Year

1961
Country

USA
Format

35mm
Running Time

115 minutes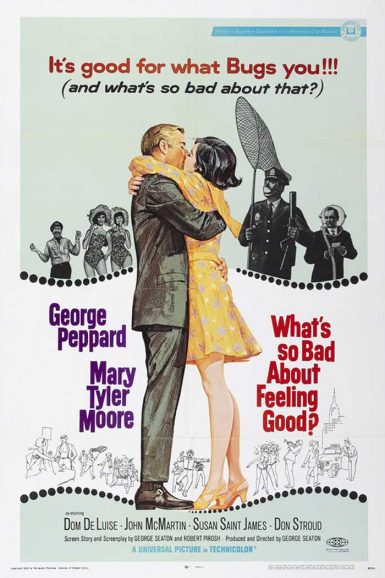 What's So Bad About Feeling Good? (IB Tech Print)
What's So Bad About Feeling Good? New York is about to find out when a wayward toucan unleashes a miraculous virus across the city, infecting its citizens with a euphoric high and the delirious desire to do good. A beatnik former ad exec (George Peppard) gets a new lease on life but hilarious complications ensue when his girlfriend (Mary Tyler Moore) is immune. As the outbreak spreads & the Big Apple gets turned upside down, a government lackey (Dom DeLuise) is sent to find a fix. It's a goofy & good-natured good time that's sure to cure what ails you. Never released on home video!
View a set of lobby cards for What's So Bad About Feeling Good? on the New Beverly forum.
Director

George Seaton
Starring

George Peppard, Mary Tyler Moore, Don Stroud, Susan Saint James, Dom DeLuise
Year

1968
Country

USA
Format

IB Technicolor 35mm
Running Time

94 minutes