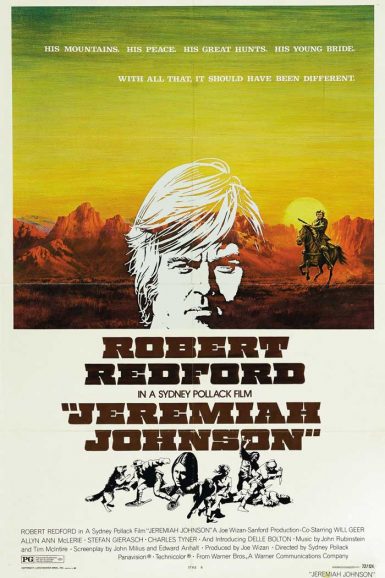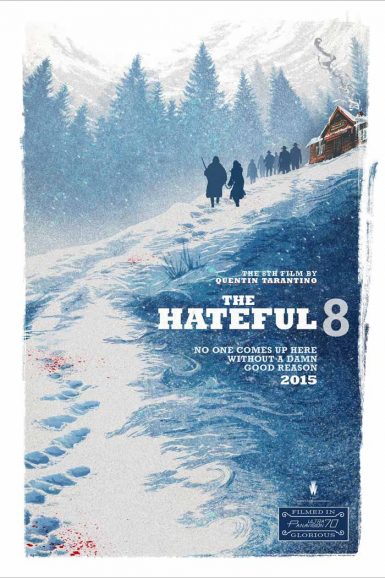 Jeremiah Johnson (IB Tech Print)
Vibrant I.B. Technicolor 35mm Print!
The Hateful Eight (Roadshow Version)
Gorgeous 35mm print from Quentin Tarantino's personal archive!
Buy Tickets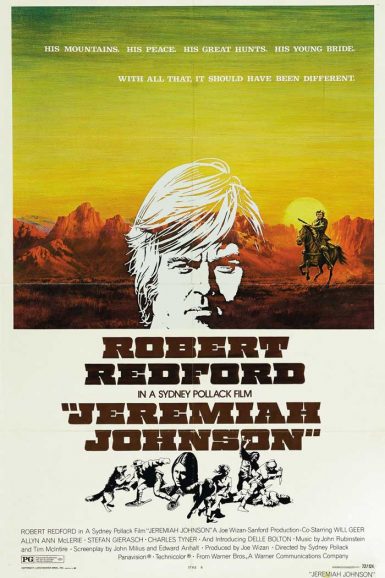 Jeremiah Johnson (IB Tech Print)
Cool down with mountain man Jeremiah (Robert Redford) as he flees the ills of 1850s civilization to trek through the snow-covered Rocky Mountains. He does it with the tutelage of an elderly hunter named Bear Claw (Will Geer) and alternately friendly/hostile relations with the Crow Indian tribe. Hardships abound, from the harsh winters and scarce supplies to unexpected massacres, one of which lands him in the role of surrogate husband/father to a pioneer widow woman and son. Warner Brothers had hired John Milius to pen the script, and though other writers such as Edward Anhalt made contributions, Milius' knack for frontier dialogue insured callbacks for the final rewrite. Originally intended as a vehicle for Clint Eastwood and Sam Peckinpah, the deal fell through when the two hard-chargers clashed. Warners drafted Robert Redford as a replacement, and Redford brought along novice director Sydney Pollack. Redford and Pollack persevered through weather-plagued Utah location shoots and cost overruns, and this gritty pioneer saga was both a critical and box office hit as a result.
"There are moments of great beauty and terror and deeply earned pathos. There are as well… a cast of excellent supporting actors." – Roger Greenspun, The New York Times
"A very entertaining film that doesn't flinch about how tough life was for the early settlers." – Christopher Null, Filmcritic.com
Kim Morgan discusses Jeremiah Johnson on the New Beverly blog.
Garret Mathany explores Jeremiah Johnson on the New Beverly blog.
Director

Sydney Pollack
Starring

Robert Redford, Will Geer, Allyn Ann McLerie, Stefan Gierasch, Charles Tyner
Year

1972
Rated

PG
Country

USA
Format

I.B. Technicolor 35mm
Running Time

105 minutes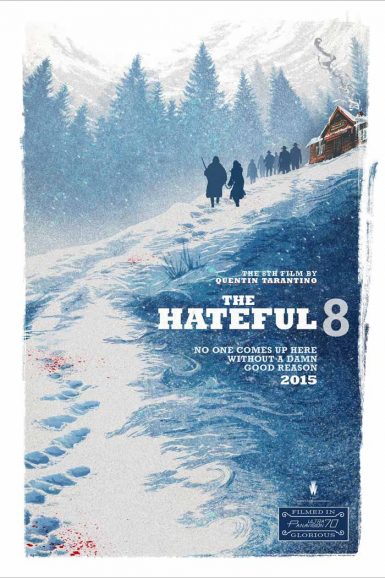 The Hateful Eight (Roadshow Version)
During a deadly snowstorm, a bounty hunter (Kurt Russell) rushes to bring his fugitive (Jennifer Jason Leigh) to justice. But losing their lead on the blizzard, they must seek refuge at Minnie's Haberdashery where the mysterious strangers inside may not be who they seem. Written & directed by Quentin Tarantino and co-starring a stunning ensemble of QT favorites and pitch-perfect additions to his troupe: Samuel L. Jackson, Walton Goggins, Demián Bichir, Tim Roth, Michael Madsen and Bruce Dern round out The Hateful Eight.
"Tarantino writes like a flamethrower in this western whodunit. He brings the war home, baby, with all the political, geographical, social, sexual and racial implications we're still wrangling with today." – Peter Travers, Rolling Stone
"The Hateful Eight is a big, shambling, audacious inversion of the Western, held together by Tarantino's sincere conviction that beyond his high juvenilia, American audiences might recognize their own fractious nation." – Scott Tobias, NPR
"The movie absolutely delivers on the sheer moment-to-moment pleasures fans have come to expect, from dynamite dialogue to powder-keg confrontations." – Peter Debruge, Variety
Quentin Tarantino joins Bret Easton Ellis' popular podcast for a nearly two hour discussion on The Hateful Eight. Find out more in Tarantino's Vault.
Director

Quentin Tarantino
Starring

Samuel L. Jackson, Kurt Russell, Jennifer Jason Leigh, Walton Goggins, Demián Bichir, Tim Roth, Michael Madsen and Bruce Dern
Year

2015
Rated

R
Country

USA
Format

35mm
Running Time

187 minutes