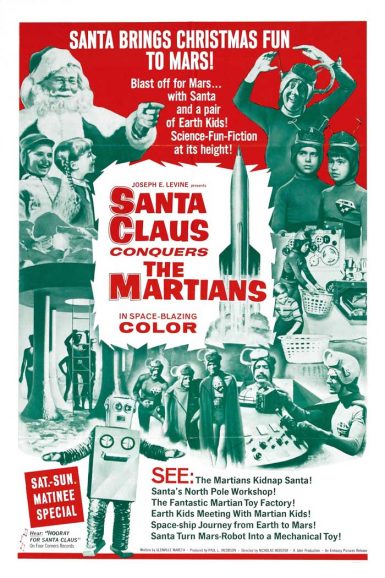 Santa Claus Conquers the Martians
Santa and a pair of Earth kids blast off to bring holiday fun to another world in this endearingly wacky cult classic! In the hope of having their alien children experience the joy of Christmas, Martian invaders kidnap the jolly Claus from his North Pole workshop. Whisked away to a foreign planet, Santa must fight for freedom and help teach the true meaning of the season. Featuring a young Pia Zadora in her film debut.
Check out a collection of Santa Claus Conquers the Martians lobby cards on the New Beverly forum.
Director

Nicholas Webster
Starring

John Call, Leonard Hicks, Vincent Beck
Year

1964
Country

USA
Format

16mm
Running Time

81 minutes