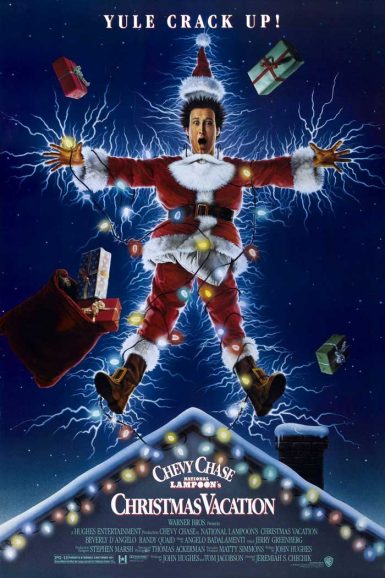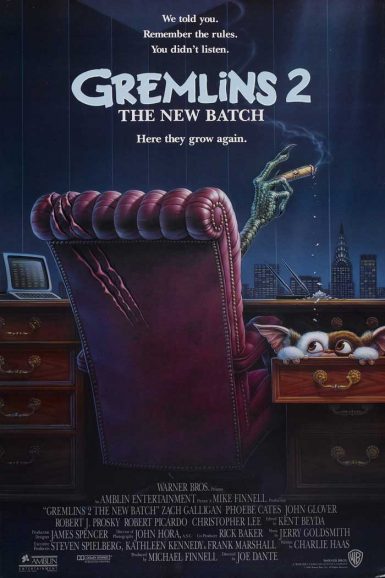 National Lampoon's Christmas Vacation
Gremlins 2: The New Batch
Buy Tickets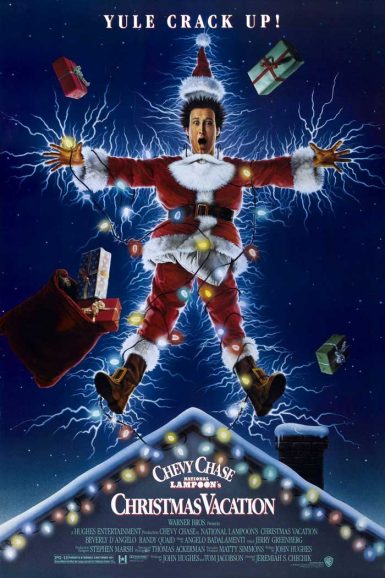 National Lampoon's Christmas Vacation
Chevy Chase returns for a third time as Clark Griswold, the hapless dad who seems to never be particularly lucky dealing with his leisure time. His long-suffering wife Ellen (Beverly D'Angelo) and teenage progeny, Rusty (Johnny Galecki) and Audrey (Juliette Lewis), pull together to make the best of it when the Griswolds' extended family decide to take their yuletide vacations with them. Hillbilly cousin Eddie (Randy Quaid), his wife Catherine (Miriam Flynn), and their kids, arriving in their RV, are just the tip of the iceberg, with seasonal disasters involving Christmas lights, electrocuted cats and sewer gas snowballing as the frantic comic saga unfolds in slapstick manner.
"Producer John Hughes, who also wrote this newest chapter in the life of the Griswold family… definitely has a way with the foibles of parenthood. Whether it's Uncle Buck or Mr. Mom or the booby-footed Clark, Hughes has found an irresistible formula in fatherly ineptitude… it will prove pater-familiar to fans of the 1983 original and the European Vacation sequel. Only it's a bit more whimsical… a diverting stocking-stuffer." – Rita Kempley, The Washington Post
Garret Mathany discusses Christmas Vacation on the New Beverly blog.
Director

Jeremiah S. Chechik
Starring

Chevy Chase, Beverly D'Angelo, Juliette Lewis, Johnny Galecki, John Randolph, Diane Ladd, E.G. Marshall, Randy Quaid
Year

1989
Rated

PG-13
Country

USA
Format

35mm
Running Time

97 minutes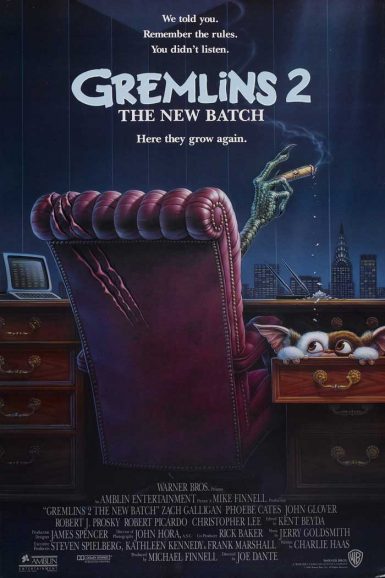 Gremlins 2: The New Batch
Watch out: we've got the most hellzapoppin', gonzorific, take-no-prisoners gizmopalooza ever unleashed! A sequel so insanely over the top that it serves as the ultimate mic drop for our favorite two film franchise. Yep, Joe Dante's little monster masterpiece multiplies the madness, moving the mayhem to the big city as the mischievous munchies overrun a state-of-the-art new building. Featuring Christopher Lee as Doctor Catheter, Jon Glover as a Ted Turner-like media mogul, a scene-stealing Dick Miller and gloriously outlandish practical effects designed by the great Rick Baker, Gremlins 2: The New Batch is pure anarchic energy exploding on screen and one of the most unconventional studio pictures ever.
"This uninhibited and uproarious monster bash, directed by Joe Dante, is more quick-witted and ironic than the original; it sets forth a savvy, slaphappy agenda before the opening credits and follows it straight through to the end, and even beyond." – Michael Sragow, New Yorker
"Gremlins 2: The New Batch speaks to the gleeful hell-raising monster in each of us, and it speaks with much more verve, cleverness and good humor than the film on which it is based. Add this to the very short list of sequels that neatly surpass their predecessors." – Janet Maslin, The New York Times
Check out a collection of Gremlins 2 lobby cards on the New Beverly forum.
Director

Joe Dante
Starring

Zach Galligan, Phoebe Cates, John Glover, Robert Prosky, Robert Picardo, Christopher Lee, Haviland Morris, Dick Miller
Year

1990
Rated

PG-13
Country

USA
Format

35mm
Running Time

106 minutes