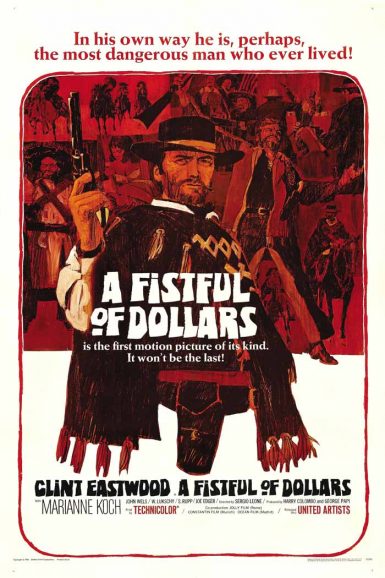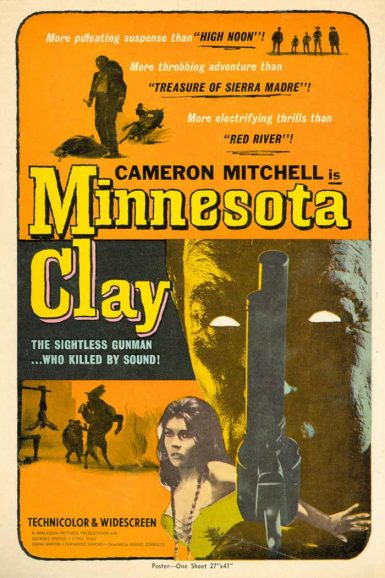 A Fistful of Dollars (IB Tech Print)
Minnesota Clay (IB Tech Print)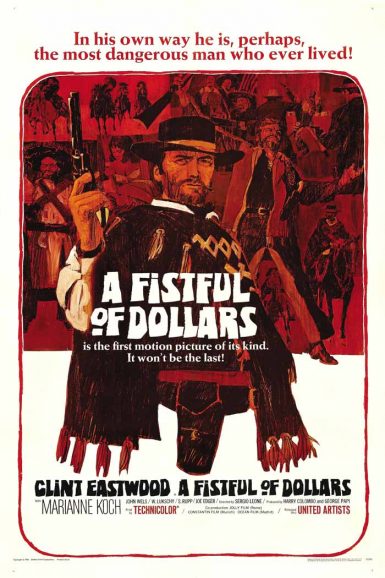 A Fistful of Dollars (IB Tech Print)
Sergio Leone's A Fistful of Dollars, the landmark first film in his Dollars trilogy, created an international sensation, made Clint Eastwood a superstar and helped change the western forever. Inspired by Dashiell Hammett's novel Red Harvest and an unofficial remake of Akira Kurosawa's Yojimbo (whose filmmakers successfully sued), Fistful follows Eastwood's Man with No Name as the wandering gunfighter's mysterious arrival in a small town ignites long-simmering passions of greed, pride and revenge as the stranger plays two rival families against each other for his own reward.
"Once in a great while a western comes along that breaks new ground and becomes a classic of the genre. Stagecoach was one. So was High Noon. This year A Fistful of Dollars is the feature that dares to be different." – Time Magazine
"[A Fistful of Dollars] is a hard-hitting item, ably directed, splendidly lensed, neatly acted, which has all the ingredients wanted by action fans and then some." – Variety
"[A Fistful of Dollars] is full of spectacular violences. Sergio Leone has crowded it with such juicy splashes as a big fat fellow being squashed by a rolling barrel, a whole squad of soldiers being massacred, and punctured men spitting gore." – Bosley Crowther, The New York Times
Director

Sergio Leone
Starring

Clint Eastwood, Marianne Koch, Gian Maria Volonté
Year

1964
Country

Italy/Spain/West Germany
Format

I.B. Technicolor 35mm
Running Time

99 minutes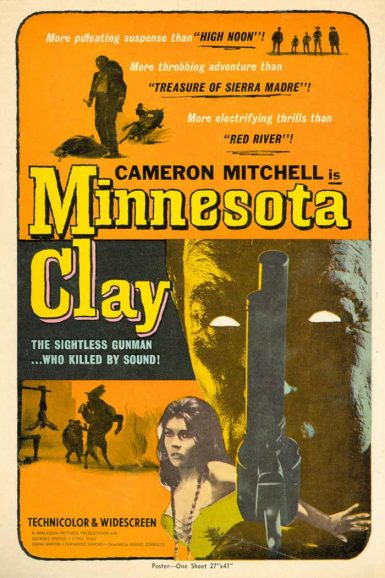 Minnesota Clay (IB Tech Print)
The first western from legendary Italian director Sergio Corbucci (Django) stars Cameron Mitchell as Minnesota Clay, a wrongly convicted gunslinger who breaks out of prison to find the man who framed him. But with his eyesight failing, he must use his other skills to pit rival gangs against each other in his search for revenge.
"[Minnesota Clay] announces itself almost as a decree on what the worldof the Spaghetti Western would and should be: tough, cruel, with death wrathfully spying down upon the players." – Spaghetti Western Database
Director

Sergio Corbucci
Starring

Cameron Mitchell, Fernando Sancho, Ethel Rojo, Georges Rivière, Diana Martin
Year

1964
Country

Italy/France/Spain
Format

I.B. Technicolor 35mm
Running Time

90 minutes