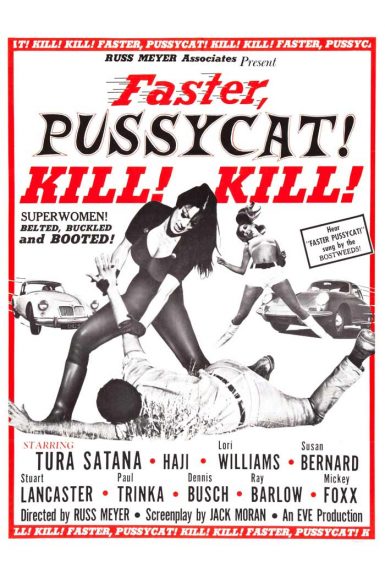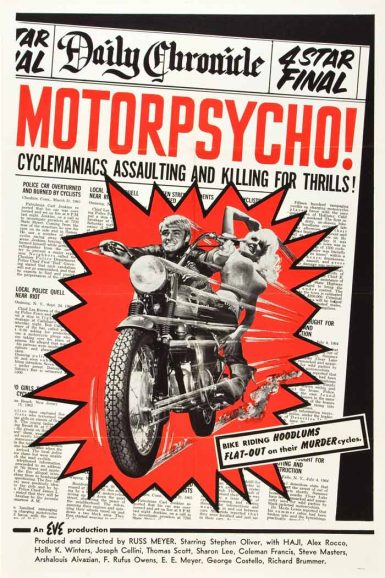 Faster, Pussycat! Kill! Kill!
Motorpsycho!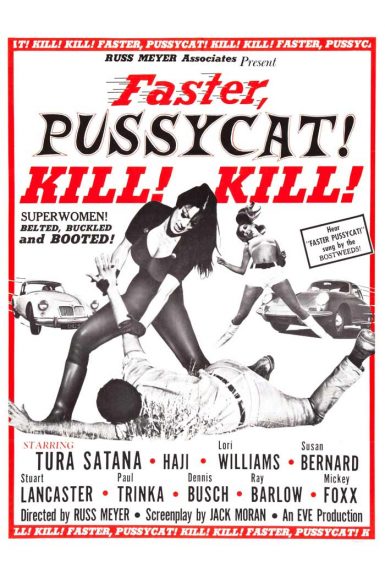 Faster, Pussycat! Kill! Kill!
While our allotment of advance tickets has sold out online, additional tickets will be available to purchase at the door each night of the show, first come, first served.
Ladies and gentlemen – welcome to violence! Celebrate the greatest girl-power grindhouse explosion to ever ignite the screen as well as pay tribute to the legendary sexploitation maestro and breastman extraordinaire behind it all, the King of the Nudies himself, Russ Meyer! Go-Go for a wild ride with three buxom, larger-than-life superwomen, Tura Satana, Haji & Lori Williams, as they Watusi across the Mojave Desert destroying every man who dares stand in their way. These outlaw hellcats drive fast, kick ass and look great while pushing the boundaries of being bad. Full of pop imagery, exuberant action and kinetic excitement, Faster, Pussycat! Kill! Kill! is one of the most iconic cult films EVER! Don't miss it!
"Faster, Pussycat! Kill! Kill! is, beyond a doubt, the best movie ever made. It is possibly better than any film that will be made in the future." – John Waters
Roger Ebert reviews his good friend Russ Meyer's Faster, Pussycat! Kill! Kill! on the eve of its 1995 reissue.
View the full set of US lobby cards for Faster, Pussycat! Kill! Kill! on the New Beverly forum.
Director

Russ Meyer
Starring

Tura Satana, Haji, Lori Williams, Susan Bernard, Stuart Lancaster, Paul Trinka, Dennis Busch, Ray Barlow, Mickey Foxx
Year

1965
Country

USA
Format

35mm
Running Time

83 minutes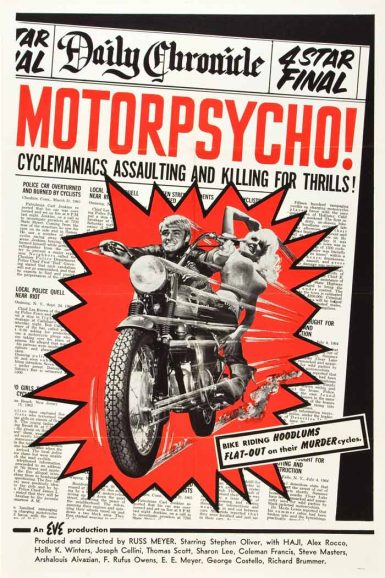 Motorpsycho!
A gang of murder-cycle maniacs led by a sadistic Vietnam Vet are out for kicks and their voracious appetite for sex & violence will never be quenched! MOTORPSYCHO! But when the local sheriff proves ineffectual to stop them, a veterinarian (Alex Rocco) teams with a widow (Haji) to take the law into their own hands in a roaring rampage of revenge. Bursting with white-hot energy, Russ Meyer's immediate precursor to his masterpiece Faster Pussycat! shows the exploitation icon shifting into entertainment overdrive in the trial run for his greatest picture.
See a collection of Motorpsycho! lobby cards on the New Beverly forum.
Director

Russ Meyer
Starring

Stephen Oliver, Haji, Alex Rocco, Holle K. Winters, Joesph Cellini
Year

1965
Country

USA
Format

35mm
Running Time

74 mintues