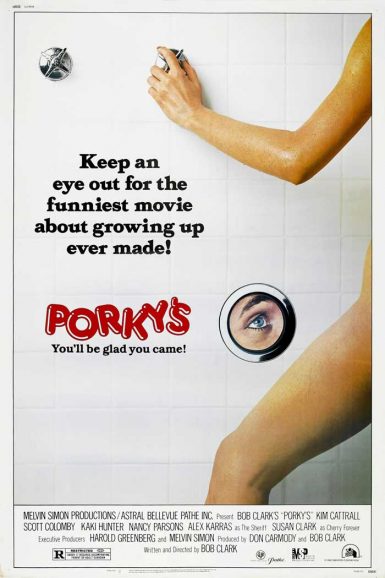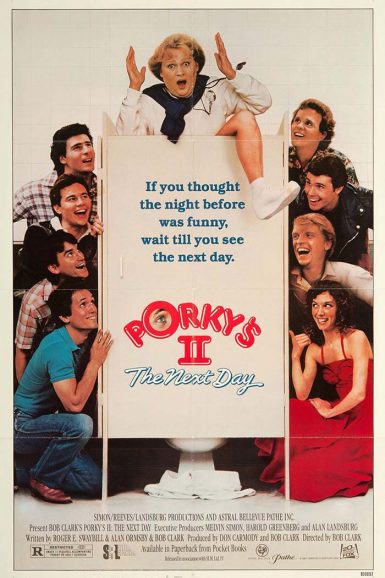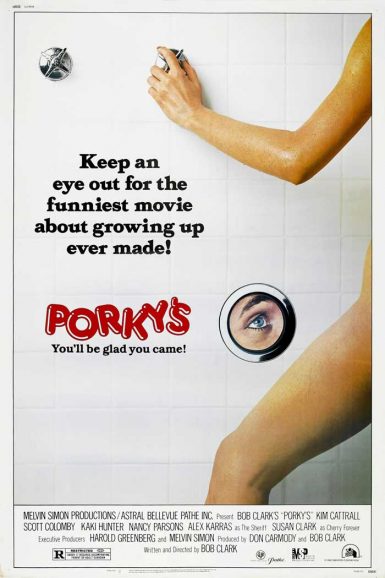 Porky's
Come sneak a peek through the shower peep hole at one of the most successful coming of age, hard-R comedies of all time – Porky's. Writer and Director Bob Clark, a film veteran whose career spanned five decades, brings the laughs in his name above the title, hormone high jinxed classic, with a cast of virtual unknowns at the time of its U.S. release. Set in 1954, a group of Florida high schoolers rally around their pal "Pee Wee" (Dan Monahan) in an effort to lose his virginity at "Porky's" – a place where the neon sign advertises you can "Get It". After being ripped off and humiliated by Porky himself (Chuck Mitchell), the boys scheme to take their revenge on Porky and his crooked sheriff brother (Alex Karras). With some of the genres greatest character names: Porky, Beulah Balbricker, "Meat" Tuperello, Lynn "Lassie" Honeywell, Cherry Forever, and Edward "Pee Wee" Morris – this 1982 hit spawned three sequels, and bested Star Trek II: The Wrath of Khan and 48 Hrs. as one of the top 5 highest grossing films of that year.
The stars of Porky's dish to Us magazine on how the blockbuster changed their lives. Read it now on the New Beverly blog.
Garret Mathany discusses Porky's and the R-rated sex comedies of the '80s on the New Beverly blog.
Director

Bob Clark
Starring

Dan Monahan, Wyatt Knight, Mark Herrier, Kim Cattrall, Scott Colomby, Kaki Hunter, Nancy Parsons, Alex Karras, Susan Clark
Year

1981
Rated

R
Country

Canada/USA
Format

35mm
Running Time

98 minutes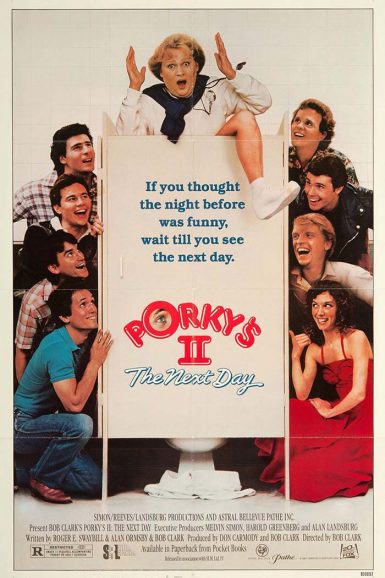 Porky's II: The Next Day
After the box-office success of Porky's, Bob Clark lensed this bawdy sequel, which surprisingly takes on controversial social/sexual issues just as prevalent today as ever. When the high school bunch from Angel Beach have their Shakespeare production threatened with a shutdown by a preacher (Bill Wiley) and his flock for being obscene, the youths make a plea to county commissioner Gebhardt (Edward Winter) to intervene. Promising he'll make things right, he instead sides with the clergyman, seeing it as good for his re-election bid with the more conservative citizens. The KKK also comes out of the woodwork since a Seminole Native American (Joseph Runningfox) is slated to play Romeo to a white Juliet (Wendy, played by Kaki Hunter). PeeWee (Dan Monahan) and gang (Wyatt Knight, Mark Herrier, et. al) plot a series of pranks to not only record the hypocritical Gebhardt and cronies having a porno movie party but to humiliate the Klan members and insure Gebhardt is thrown out of office.
"Once again, the proceedings have been directed with high energy and rapid pace by Bob Clark, and the results are slicker and more sophisticated than before… high art is not among the aspirations of Porky's II. But lots of lowdown fun? Well, that's another matter." – Lawrence Van Gelder, The New York Times
Director

Bob Clark
Starring

Dan Monahan, Wyatt Knight, Mark Herrier, Roger Wilson, Cyril O'Reilly, Kaki Hunter, Nancy Parsons
Year

1983
Rated

R
Country

Canada/USA
Format

35mm
Running Time

98 minutes