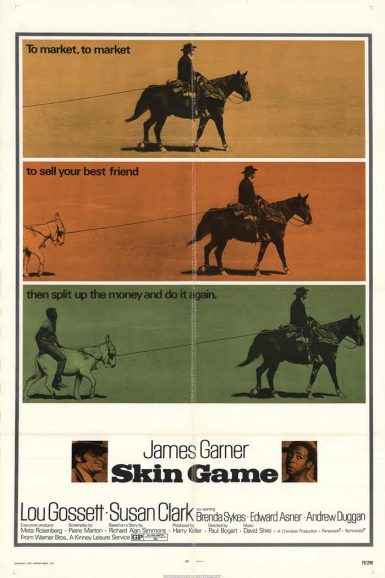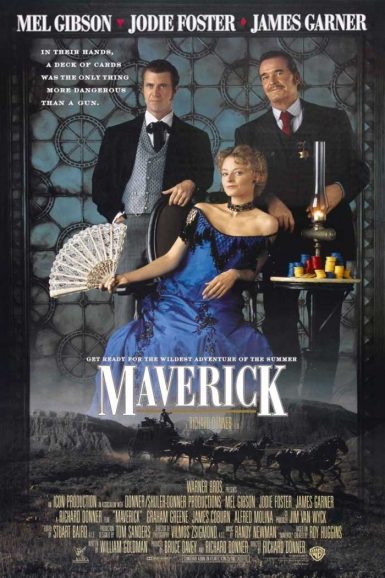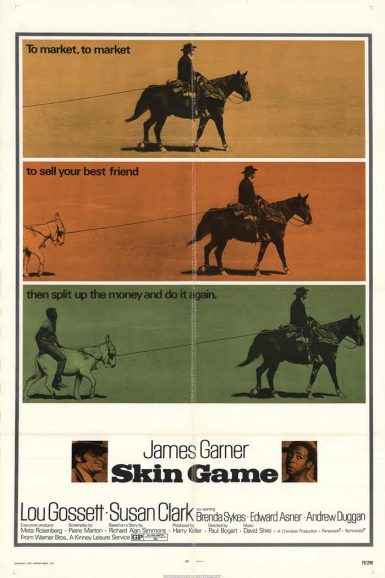 Skin Game
James Garner and Louis Gossett, Jr. are con men in the 1850s in the western comedy Skin Game. Garner is Quincy Drew and Gossett is Jason O'Rourke, and they have a scam wherein Gossett pretends to be a slave and Garner sells him to the highest bidder. Gossett then proceeds to escape, and the two men split the proceeds from the sale. They are quite successful until they run into Ed Asner's character, Plunkett, a slave trader who wishes to keep Gossett in shackles. What could be a tasteless comedy is handled with relative aplomb by director Paul Bogart, a successful television director, here making his third feature film. Garner and Gossett also help put across the outre subject matter, with their undeniable affability and strong on screen camaraderie.
View a collection of Skin Game lobby cards and promotional stills on the New Beverly forum.
Director

Paul Bogart
Starring

James Garner, Louis Gossett Jr, Susan Clark, Brenda Sykes, Edward Asner, Andrew Duggan, Henry Jones
Year

1971
Rated

PG
Country

USA
Format

35mm
Running Time

102 minutes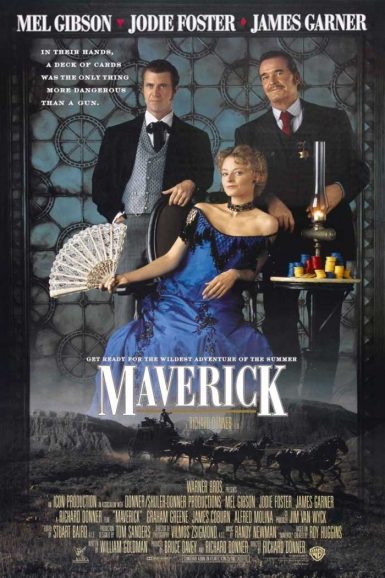 Maverick (1994)
Like a smooth card mechanic, director Richard Donner playfully maneuvers his delightful cast through the kind of unpretentious fun that helped make the James Garner hit television show Maverick a big screen blow up summer success in 1994. Mel Gibson steps into the iconic role of Bret Maverick, and deals the laughs with just the right amount of Burt Reynolds' 1970's cockiness that keeps the film from taking itself too seriously – as he tries to come up with a bankroll for a high-stakes, "winner take all" poker tournament – and he's leaving no card unturned to come up with the money. Maverick just might meet his match in Annabelle (Jodie Foster), a charming grifter who can put one hand on your heart and another on your wallet. James Garner is the no-nonsense Marshal Zane Cooper, and his square jawed likability anchors the plot twists. A character actor cavalcade the likes of James Coburn, Alfred Molina, Dub Taylor, Geoffrey Lewis, and Dan Hedaya help turn Roy Huggins & William Goldman's script into a winning hand – so put on your lucky shirt and take a seat for this one.
"There can be little doubt that a whole new generation is about to discover the charm, wit and fun of Maverick." – Leonard Klady, Variety
"This is a rollicking, Saturday afternoon adventure, the quintessential summer movie." – Marc Savlov, Austin Chronicle
"The first lighthearted, laugh-oriented family Western in a long time, and one of the nice things about it is, it doesn't feel the need to justify its existence. It acts like it's the most natural thing in the world to be a Western." – Roger Ebert
Director

Richard Donner
Starring

Mel Gibson, Jodie Foster, James Garner, Graham Greene, Alfred Molina, James Coburn, Dub Taylor, Geoffrey Lewis, Paul L. Smith, Dan Hedaya
Year

1994
Rated

PG
Country

USA
Format

35mm
Running Time

127 minutes