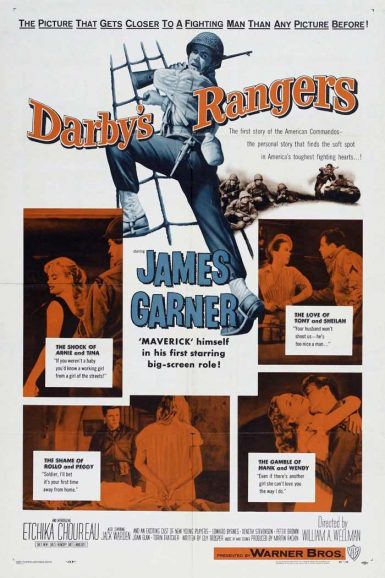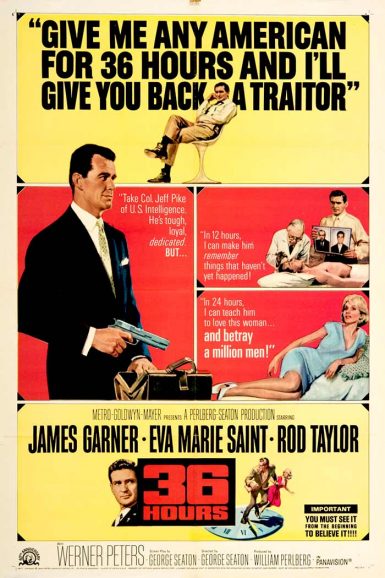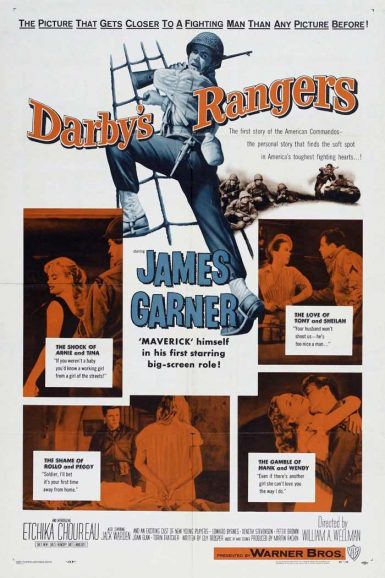 Darby's Rangers
Whether he's in black and white or technicolor, you can always count on James Garner to deliver the goods and in Darby's Rangers – directed by Academy Award winning director William Wellman (A Star is Born, Blood Alley) – Garner makes his big screen debut in a leading role after Jack Warner replaced Charlton Heston who tried to negotiate 5% of the film's profits. Based on a true story, Garner plays real life Colonel William Orlando Darby and in Rangers he recruits volunteers in order to assemble an elite group of soldiers that will be trained by British Commando Forces while stationed in Scotland, and after a strenuous training regimen will be sent out in guerilla warfare-like missions to fight the World War II Nazis and "tear up a little real estate." The always stellar Jack Warden narrates the film and helps Garner assemble the "American Rangers" as Sergeant Saul Rosen. Relationships with some of the local women complicate things for the Rangers and despite success on their first assignments, Darby has a recurring nightmare that something sinister awaits them.
"James Garner, the actor who plays Maverick on the currently popular television show, appears as Col. William O. Darby. His fans should be completely satisfied." – Bosley Crowther, The New York Times
Director

William A. Wellman
Starring

James Garner, Etchika Choureau, Jack Warden, Edd Byrnes
Year

1958
Country

USA
Format

16mm
Running Time

121 minutes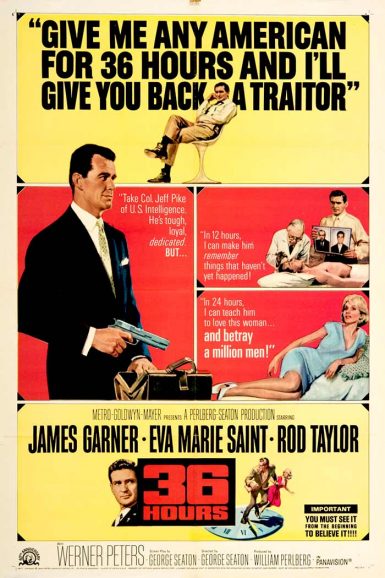 36 Hours
Rarely has there been a WWII thriller as twisted and mind-warping as 36 Hours. Based on a Roald Dahl story, it stars James Garner as an Allied major kidnapped by the Germans on the eve of D-Day. To extract the landing's location, the Germans drug him and place him under the elaborate charade that the war's been over for years, and that he's lost all memory of the intervening years due to amnesia. At least, that's what his Major psychiatrist (Rod Taylor) and nurse/apparent wife (Eva Marie Saint) tell him upon waking. A prime masquerade thriller and high-wire espionage act, this under-seen gem was a huge influence for Tarantino's Inglourious Basterds.
View a collection of lobby cards & promotional stills for 36 Hours on the New Beverly blog.
Ariel Schudson discusses 36 Hours on the New Beverly blog.
Director

George Seaton
Starring

James Garner, Eva Marie Saint, Rod Taylor, Werner Peters, John Banner, Russell Thorson, Alan Napier
Year

1964
Country

USA
Format

16mm
Running Time

115 minutes