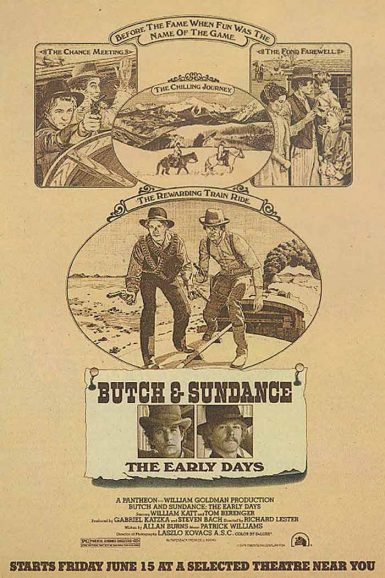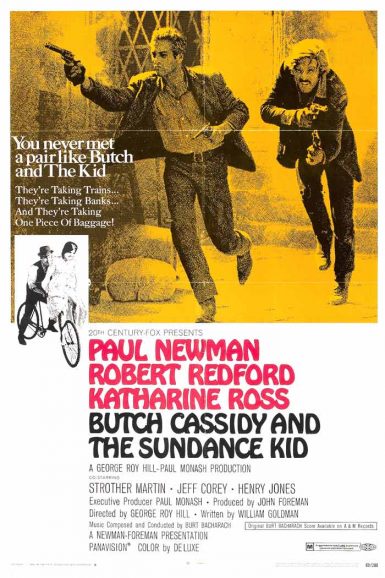 Butch and Sundance: The Early Days
Butch Cassidy and the Sundance Kid
Buy Tickets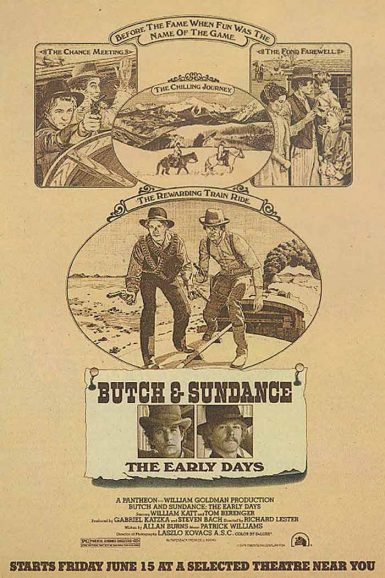 Butch and Sundance: The Early Days
While our allotment of advance tickets has sold out online, additional tickets will be available to purchase at the door each night of the show, first come, first served.
Richard Lester helms the prequel to the original George Roy Hill film starring Paul Newman and Robert Redford, with newcomers Tom Berenger (Platoon, Major League) and William Katt (Carrie, Big Wednesday) as a young Butch and Sundance. We tag along with them as they meet, form the Hole-in-the-Wall Gang and go up against Sheriff Bledsoe (Jeff Corey, the only actor returning from the original) for the first time. Lester works his usual casting magic with a sterling group that includes Jill Eikenberry, Jon Schuck (McCabe and Mrs. Miller), Peter Brocco, Michael C. Gwynne, Brian Dennehy (Silverado), Peter Weller (Robocop) and Christopher Lloyd (Back to the Future). Laszlo Kovacs (Easy Rider, Shampoo, Ghostbusters) did the first-class cinematography.
"Butch and Sundance: The Early Days is a pleasant and handsome Western… Laszlo Kovac's photography, Richard Lester's direction, the goodhearted performances of Tom Berenger and William Katt are all impossible to dislike." – Roger Ebert
Read the vintage Movietone News review comparing Butch and Sundance: The Early Days with Robin and Marian
Marc Edward Heuck discusses our 2016 Richard Lester Film Festival on the New Beverly blog.
Chris D explores Richard Lester's diverse career on the New Beverly blog.
Director

Richard Lester
Starring

William Katt, Tom Berenger, Jeff Corey, John Schuck, Michael C. Gwynne, Peter Weller, Brian Dennehy, Christopher Lloyd
Year

1979
Rated

PG
Country

USA
Format

35mm
Running Time

115 minutes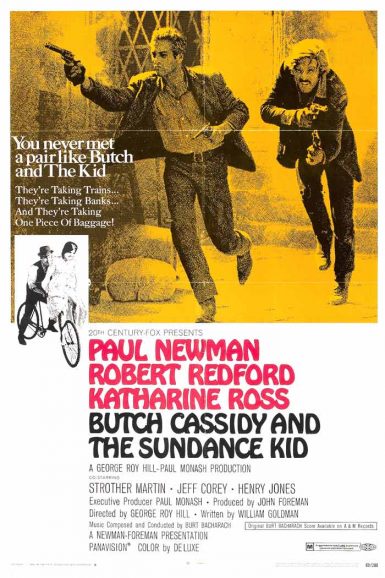 Butch Cassidy and the Sundance Kid
Paul Newman and Robert Redford are Butch Cassidy and the Sundance Kid, two of the most-likable outlaws ever to hit the screen. With a posse hot on their heels, the train-robbing duo go on the run with their schoolteacher friend (Katharine Ross) in tow. Times they are a-changin' and civilization is quickly threatening to tame the Wild West. The George Roy Hill-directed, William Goldman-scripted blockbuster is an extraordinarily entertaining blend of fact and fiction, winning Oscars for Best Screenplay, Best Cinematography (Conrad Hall), Best Original Score (Burt Bacharach) and Best Song. But it's the incandescent chemistry between Newman and Redford that make this one an all-time classic.
"One of cinema's greatest ever advertisements for pure entertainment" – Richard Luck, Film4
"Note-perfect performances, a screenplay steeped in both nostalgia and a timely sense of insight, and anti-heroes you can't help but love: it's no surprise that the always re-watchable Butch And Sundance was once labelled the most likeable film ever made." – Bob McCabe, Empire Magazine
Check out a collection of Butch Cassidy and the Sundance Kid promotional stills and lobby cards on the New Beverly forum.
Kim Morgan discusses Butch Cassidy and the Sundance Kid on the New Beverly blog.
Director

George Roy Hill
Starring

Paul Newman, Robert Redford, Katharine Ross, Strother Martin, Jeff Corey, Henry Jones
Year

1969
Country

USA
Format

35mm
Running Time

110 minutes