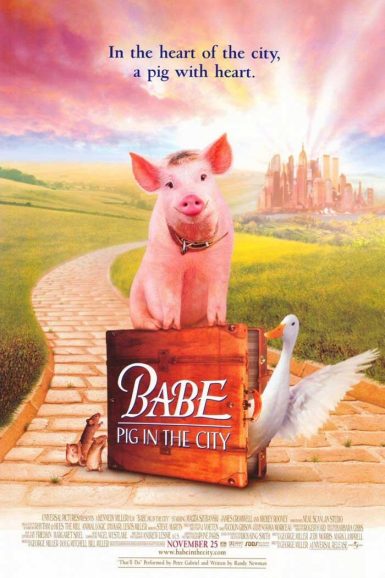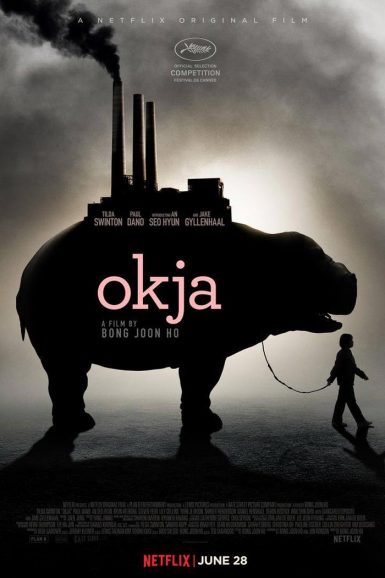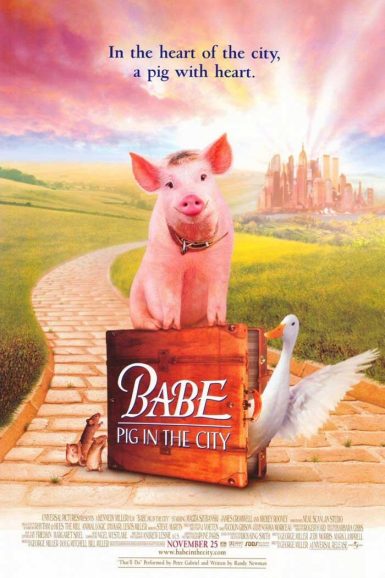 Babe: Pig in the City
George Miller (The Road Warrior, Mad Max: Fury Road) takes over the directing reins on Babe: Pig in the City, adding that to his co-writing and producing credits on both the original film and this somewhat darker, quirkier sequel. Babe gets lost in the city and falls in with a menagerie of cast-off animals after traveling to the great metropolis with his owner's wife to try to get enough money to save the family farm. At every turn, Babe is met with inconsiderate human interference, and it's up to the lovable porcine sheepherder to take charge and lead the pack of animals to safety and hopefully, a happier life. Peculiar and zany, Babe: Pig in the City led to more family films by the noted director Miller, such as the hit animated film Happy Feet and its sequel.
"The #1 film of 1998. The choice is not a stunt. This new Babe picture qualifies for greatness because it expands our notion of what a film can be. [It] expresses the joy of a filmmaker, director George Miller, the creator of the Mad Max movies, in using the many tools of his trade." – Gene Siskel
"The original Babe was an astonishment, an unheralded family movie from Australia that was embraced and loved and nominated for an Oscar as best picture. Can the sequel possibly live up to it? It can, and does, and in many ways is more magical than the original. 4 Stars" – Roger Ebert
Kim Morgan discusses Babe: Pig in the City on the New Beverly blog.
Director

George Miller
Starring

Magda Szubanski, James Cromwell, Mickey Rooney
Year

1998
Rated

G
Country

Australia
Format

35mm
Running Time

97 minutes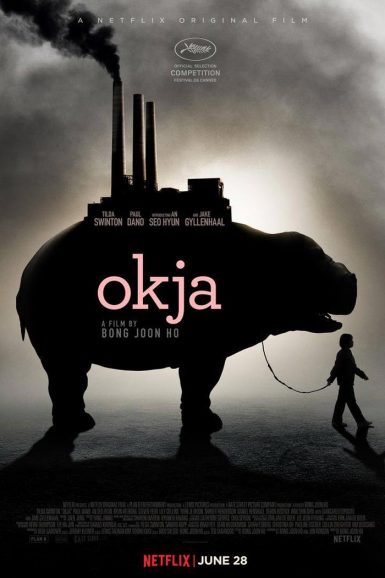 Okja
BACK BY POPULAR DEMAND!
SPECIAL 35MM PRINT MADE EXCLUSIVELY FOR THE NEW BEVERLY!!
In the powerful new epic from South Korean auteur Bong Joon Ho (Snowpiercer, The Host), a young girl risks everything in her unwavering mission to save the gentle giant she raised, a massive animal named Okja that's caught in the crossfire between animal activism, corporate greed and scientific ethics. Featuring vibrant cinematography by Darius Khondji, lifelike visual effects work and a stellar all-star supporting cast including Tilda Swinton, Jake Gyllenhaal, Lily Collins, Giancarlo Esposito, Paul Dano and more, Okja demands to be seen on the big screen.
"Of all the filmmakers out there in the last 20 years, [Bong Joon Ho] has something that [1970s] Spielberg has. There is this level of entertainment and comedy in his films." – Quentin Tarantino
"Gorgeous and moving and thrilling and funny and inventive and unexpected. It's why Bong is a visionary among his peers. And, my god, it's why we go to the movies." – Gregory Ellwood, Collider
"Shot in bright, cinematic widescreen by DP Darius Khondji, this Netflix-produced feature belongs on the big screen" – Peter Debruge, Variety
"Okja is a buoyant, messy delight of a film, clever and rousing and full-hearted. I laughed; I cried; I chose to forego meat at lunch." – Richard Lawson, Vanity Fair
Director

Bong Joon Ho
Starring

An Seo Hyun, Tilda Swinton, Jake Gyllenhaal, Lily Collins, Giancarlo Esposito, Paul Dano, Devon Bostick, Shirley Henderson, Steven Yeun
Year

2017
Country

South Korea/USA
Format

35mm
Running Time

120 minutes