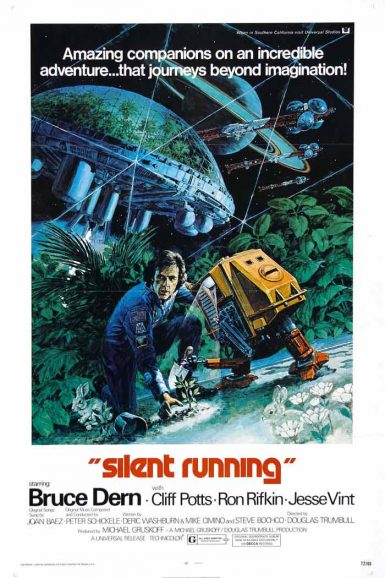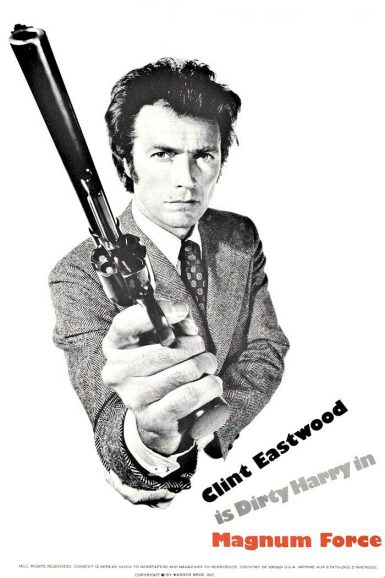 Silent Running
Magnum Force
Screenplay by John Milius and Michael Cimino. Vibrant IB Tech print!
Buy Tickets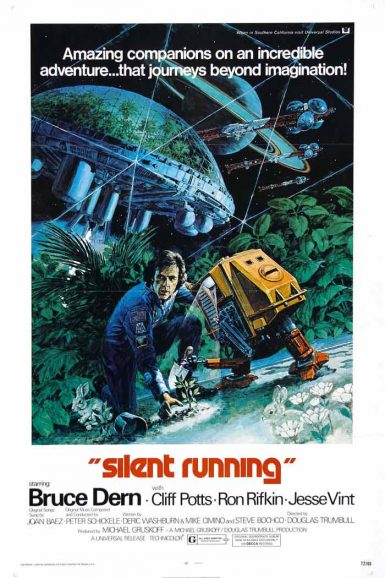 Silent Running
Special effects maestro Douglas Trumbull made his directorial debut with this offbeat, cautionary tale of a potential ecological catastrophe destroying all plant life on Earth and the space age remedies set in place to hopefully reverse the trend in the future. Bruce Dern is one of several lone caretakers on a remote space freighter equipped with geodesic greenhouse domes cultivating species of vegetation that will eventually be reintroduced to their home planet. It is a lonely life, with three other  crewmen and three drone robots for company. Unlike his fellow humans aboard, Dern is a man on a mission, and when orders arrive from Earth to detach the domes and destroy them, the conflicted Dern decides to defy the commands. His rebellion ends in the deaths of his fellow crewmen and a wild, bumpy off course ride through Saturn's rings to flee into deep space. Flying by the seat of his pants, improvising from one day to the next, unexpected problems surface, the most serious when another freighter contacts him to find out the status of their return trip to Earth, something that may precipitate a crisis where he will need to make the ultimate sacrifice – himself. Michael Cimino co-wrote the screenplay with Deric Washburn and Steven Bochco.
"A movie out of the ordinary — especially if you like science fiction." – Roger Ebert
"Silent Running's strength is in the elegant way it combines its big idea with a very human story… very different from the action and morally straightforward heroics we've come to associate with the genre… its special effects have dated well. Director Douglas Trumbull had previously worked as special effects supervisor on 2001: A Space Odyssey, and it was in that capacity that he started developing the Saturn sequences seen here." – Jennie Kermode, Eye for Film
Edgar Wright discusses Silent Running for Trailers From Hell.
Watch an in-depth vintage documentary on The Making of Silent Running.
View the full set of US lobby cards for Silent Running on the New Beverly forum.
Director

Douglas Trumbull
Starring

Bruce Dern, Cliff Potts, Ron Rifkin, Jesse Vint
Year

1972
Country

USA
Format

35mm
Running Time

89 minutes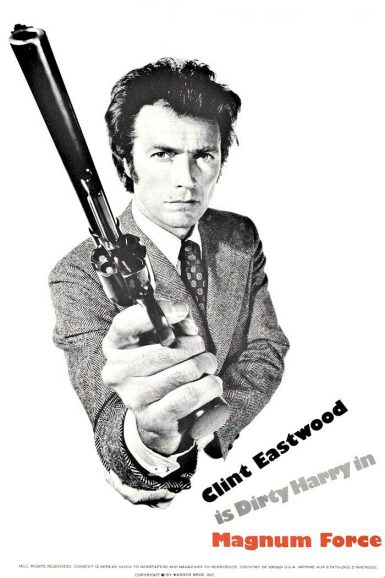 Magnum Force
Director Ted Post (Hang 'Em High, The Baby) helmed this second entry in the then burgeoning Dirty Harry franchise, with a script co-written by John Milius and Michael Cimino. After some apparently off-screen introspection, Harry (Clint Eastwood) has decided to rejoin the police after throwing away his badge in disgust at the end of the initial violent masterwork directed by Don Siegel. He finds his own over-the-top vigilante ways being taken to outrageous extremes by a mysterious death squad who are eliminating various high profile racketeers and drug dealers across the city. Realizing there is a line he cannot cross, however much he is devoted to cutting red tape, he goes on the hunt for the elusive executioners, despite hindrances put in place by his over-zealous superior (Hal Holbrook). A couple of red herrings pop up, including a misfit older policeman (Mitchell Ryan) with marital problems, before Harry discovers that four young motorcyle cops may be the culprits. He is also shocked to realize that they may have the blessings of higher ranking officers, and that he has just been added to the hit list. Some slambang action sequences punctuate the saga (a few rumored to have been directed by stunt coordinator Buddy Van Horn and Eastwood, himself). The gonzo deaths include the infamous death-by-drain-cleaner sequence. With David Soul, Felton Perry and Robert Urich.
Alan Spencer discusses Magnum Force for Trailers From Hell.
Director

Ted Post
Starring

Clint Eastwood, Hal Holbrook, Mitchell Ryan, David Soul, Tim Matheson, Robert Urich
Year

1973
Rated

R
Country

USA
Format

IB Technicolor 35mm
Running Time

124 minutes