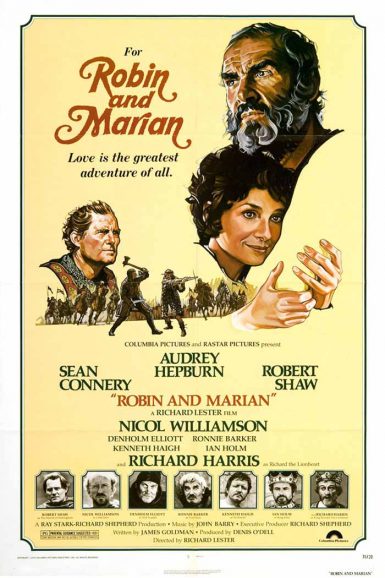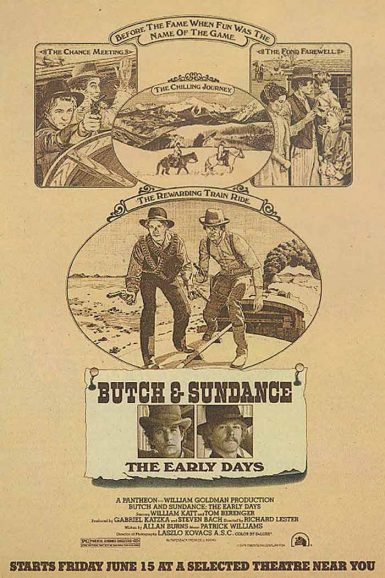 Robin and Marian
Butch and Sundance: The Early Days
Buy Tickets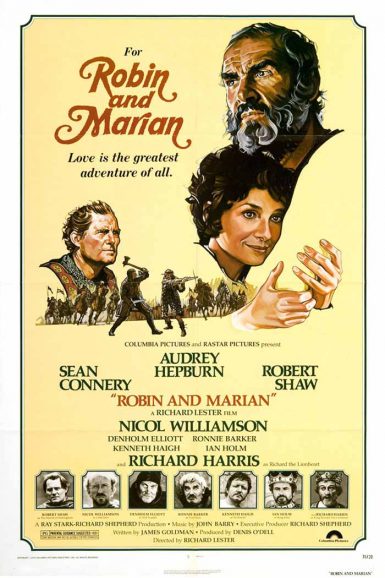 Robin and Marian
Director Richard Lester delivers his most melancholic, romantic film, with a tone not unlike his earlier Petulia. It emerges as not only one of the most imaginative, original takes on the legend of Robin Hood, but also perhaps the most realistic. Lester looks at aging Robin (Sean Connery) and Little John (Nicol Williamson) as they return from years fighting abroad in the Crusades, a taste of ashes in their mouths after the pointless death of their beloved, though unreasonable master, King Richard the Lion-Hearted (Richard Harris, in a brief, pivotal role). In the meantime, Maid Marian (Audrey Hepburn) has retreated to a convent, becoming an abbess rather than submit to the violently primitive world around her without her man. The new regime has ordered the exile of all prominent members of the Catholic faith, meaning Marian's arrest, and Lester delivers many amusing comic bits as Robin and Little John finally manage to kidnap Marian from the nunnery and whisk her away to Sherwood Forest. But the Sheriff of Nottingham (Robert Shaw) is still an authoritarian force to be reckoned with and has no intention of letting Robin and Marian off the hook. Co-starring Denholm Elliot, Kenneth Haigh, Ronnie Barker and Ian Holm.
"A poem of great emotional power." – Guillermo del Toro
"[Connery and Hepburn] glow. They really do seem in love. And they project as marvelously complex, fond, tender people." – Roger Ebert
"The atmosphere is one of melancholy as Lester penetrates through the gauze of fantasy to find the human heart, and softly finds it beating." – Ian Nathan, Empire Magazine
Marc Edward Heuck discusses our Richard Lester Film Festival on the New Beverly blog.
Chris D explores Richard Lester's diverse career on the New Beverly blog.
Director

Richard Lester
Starring

Sean Connery, Audrey Hepburn, Robert Shaw, Richard Harris, Nicol Williamson, Denholm Elliott, Robbie Barker, Ian Holm
Year

1976
Rated

PG
Country

USA
Format

35mm
Running Time

106 minutes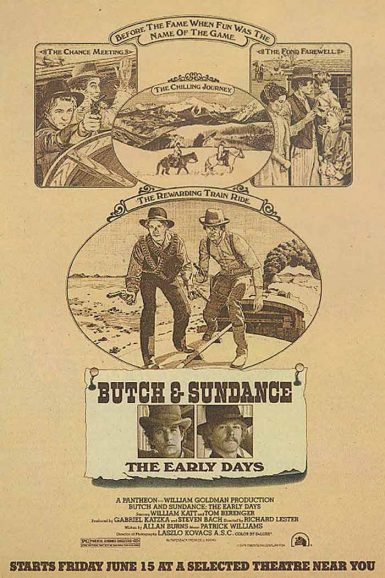 Butch and Sundance: The Early Days
While our allotment of advance tickets has sold out online, additional tickets will be available to purchase at the door each night of the show, first come, first served.
Richard Lester helms the prequel to the original George Roy Hill film starring Paul Newman and Robert Redford, with newcomers Tom Berenger (Platoon, Major League) and William Katt (Carrie, Big Wednesday) as a young Butch and Sundance. We tag along with them as they meet, form the Hole-in-the-Wall Gang and go up against Sheriff Bledsoe (Jeff Corey, the only actor returning from the original) for the first time. Lester works his usual casting magic with a sterling group that includes Jill Eikenberry, Jon Schuck (McCabe and Mrs. Miller), Peter Brocco, Michael C. Gwynne, Brian Dennehy (Silverado), Peter Weller (Robocop) and Christopher Lloyd (Back to the Future). Laszlo Kovacs (Easy Rider, Shampoo, Ghostbusters) did the first-class cinematography.
"Butch and Sundance: The Early Days is a pleasant and handsome Western… Laszlo Kovac's photography, Richard Lester's direction, the goodhearted performances of Tom Berenger and William Katt are all impossible to dislike." – Roger Ebert
Read the vintage Movietone News review comparing Butch and Sundance: The Early Days with Robin and Marian
Marc Edward Heuck discusses our 2016 Richard Lester Film Festival on the New Beverly blog.
Chris D explores Richard Lester's diverse career on the New Beverly blog.
Director

Richard Lester
Starring

William Katt, Tom Berenger, Jeff Corey, John Schuck, Michael C. Gwynne, Peter Weller, Brian Dennehy, Christopher Lloyd
Year

1979
Rated

PG
Country

USA
Format

35mm
Running Time

115 minutes