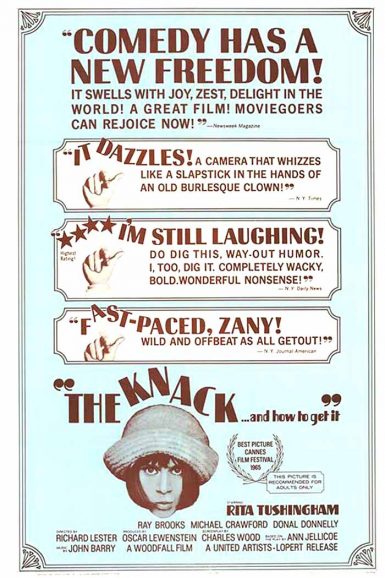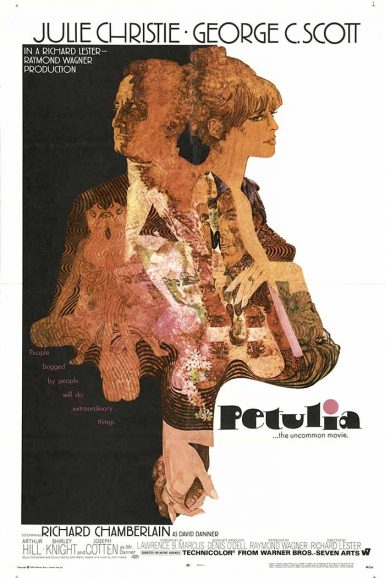 The Knack… and How To Get It
Petulia
IB Technicolor 35mm print!
Buy Tickets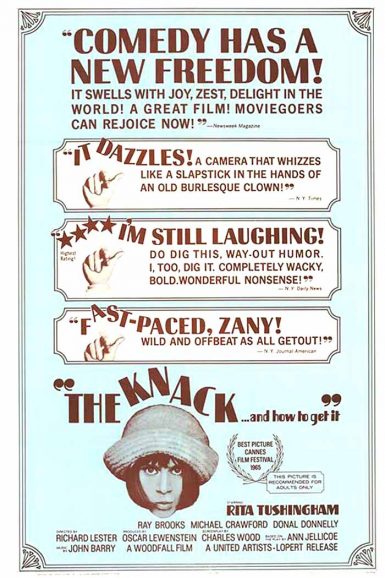 The Knack… and How To Get It
Mixing styles from the silent comedy era, his own absurdist TV work with Peter Sellers through tradition-shattering Jean-Luc Godard's (Breathless) techniques and the British "kitchen sink" cinema of filmmakers like Tony Richardson (Look Back in Anger) and John Schlesinger (Billy Liar), director Richard Lester adapts Ann Jellicoe's play with screenwriter Charles Wood. Filmed in between Lester's two Beatles works, A Hard Days Night and Help!, this anarchic saga skewers both the delights and dilemmas of sexual attraction, from lust and love to friendship and misogyny, and what lengths some of the male gender will go in their pursuit of getting laid. Taking cues from the beats, the mods and the rockers and the already germinating seeds of the just-beginning sexual revolution, Lester tracks bashful schoolteacher, Colin (Michael Crawford of How I Won the War), domineering sexist charmer, Tolen (Ray Brooks) and pre-occupied painter, Tom (Donal Donnelly) as they encounter Nancy (Rita Tushingham of A Taste of Honey, Dr. Zhivago), a young woman newly arrived in town who searches in vain for the local YWCA. Hitting upon the bright idea of putting Nancy up at their place, the specter of viewing her as a sex object rears its head, and the trio of flatmates soon find themselves competing for her charms. Jane Birkin, Charlotte Rampling and Jacqueline Bisset, all in early stages of their careers, show up in bit parts. John Barry (who scored everything from Beat Girl to Goldfinger) contributes the swinging music.
"The four performances are exceptionally good. Tushingham's wide-eyed innocence is just right, and she plays with her familiar charm. Brooks is superbly confident as the glamor boy with the knack, and Crawford and Donal Donnelly both hit the right mixture of eagerness and innocence." – Variety
"With a camera that whizzes like a slapstick in the hands of an old burlesque clown, so swiftly does it dart around an area and whack the crucial points, he whips through this neo Keystone business, flashing sight gags and throwaway lines so fast that it dazzles those accustomed to having their comedies milked and spelled out." – Bosley Crowther, The New York Times
Filmmaker Allan Arkush discusses The Knack… and How to Get It for Trailers From Hell.
Ariel Schudson writes about The Knack… and How to Get It on the New Beverly Blog.
Marc Edward Heuck discusses our Richard Lester Film Festival on the New Beverly blog.
Chris D explores Richard Lester's diverse career on the New Beverly blog.
Director

Richard Lester
Starring

Rita Tushingham, Ray Brooks, Michael Crawford, Donal Donnelly
Year

1965
Rated

Approved
Country

UK
Format

35mm
Running Time

84 minutes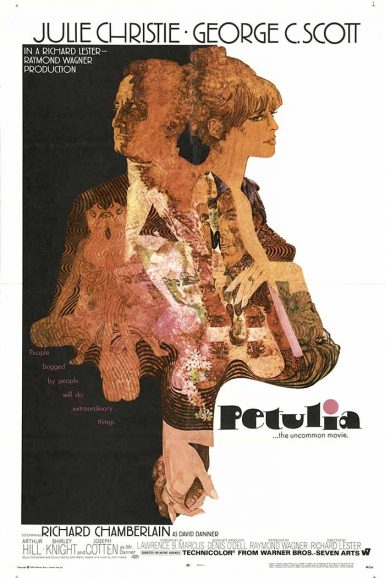 Petulia
Though not without its comic and surreal moments, director Richard Lester conjures up possibly his most serious and reflective film, following flighty socialite Petulia (Julie Christie), emotionally abused by her husband, David (Richard Chamberlain), who falls in love with older divorced doctor, Archie (George C. Scott), against the chaotic background of San Francisco's flower power generation in full bloom. Things seem to be falling apart for both Petulia and Archie in their personal lives and, at times, they don't seem to mix together any better than oil and water. But gradually real evidence materializes, for better or worse, that they are both very much on the same emotional wavelength. Scored once again by the incomparable John Barry, Petulia also features live footage of The Grateful Dead and Janis Joplin and Big Brother and the Holding Company in their prime. With Shirley Knight as Archie's ex-wife and Joseph Cotten as Petulia's angry, controlling father.
"Petulia is a splendid affair, more adventurous than Lester's previous pictures… It verges on the elegiac…In its structure of flashbacks/forwards and deep cynicism about marriage, it resides on some kind of terrific trajectory together with other tailspins like Two For the Road and Bad Timing, the latter which happens to have been directed by Nicholas Roeg, the cinematographer of Petulia." – Nathan Gielgud, New York Film Review
"Petulia has its own unique shape, similar to John Boorman's Point Blank from the previous year, in that its protagonists occupy the clean, unblemished center of a trippy, unstable, swirling background… Petulia is a truly unique film." – Jeffrey M. Anderson, Combustible Celluloid
Read the 4 Star Roger Ebert review.
Watch the original featurette about the making of Petulia.
Read Adrian Danks' in-depth article for Screening the Past, The Art of Falling Apart: Petulia and the Fate of Richard Lester
See a collection of promotional stills for Petulia over on the New Beverly forum.
Marc Edward Heuck discusses our Richard Lester Film Festival on the New Beverly blog.
Chris D explores Richard Lester's diverse career on the New Beverly blog.
Director

Richard Lester
Starring

Julie Christie, George C. Scott, Richard Chamberlain, Arthur Hill, Shirley Knight, Pippa Scott
Year

1968
Rated

R
Country

USA/UK
Format

IB Technicolor 35mm
Running Time

105 minutes