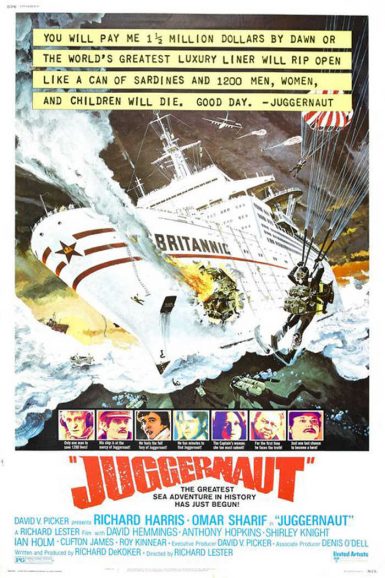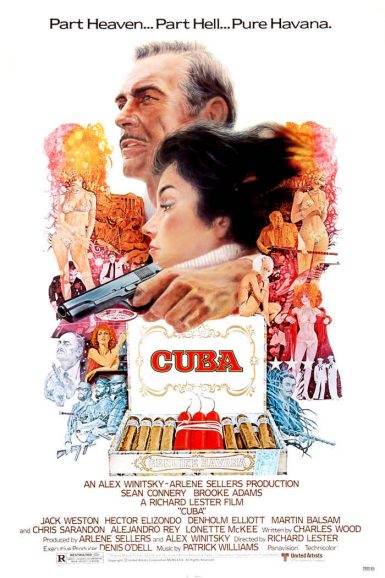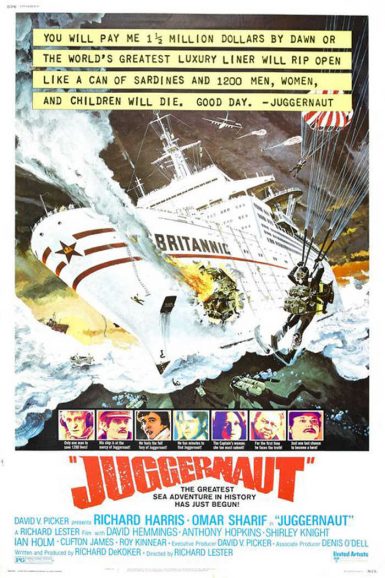 Juggernaut
One doesn't usually associate director Richard Lester with the suspense genre, but that doesn't mean he wasn't great at it. His one foray into the nailbiting narrative form follows bomb disposal expert Richard Harris (This Sporting Life, A Man Called Horse), called in by the British government to head up a special unit to defuse a cluster of bombs on an ocean liner caught in stormy seas. A lunatic calling himself Juggernaut is demanding 500,000 pounds ransom for the key to stopping detonations which will go off the following day. Omar Sharif (Dr. Zhivago) is the ship's captain, trying in vain to keep all hell from breaking loose on his beleaguered vessel. David Hemmings (Blow Up) is Harris' right-hand man, and Freddy Jones (The Elephant Man) is Juggernaut, the embittered former explosives expert who coincidentally trained Harris years before. When Jones' character is apprehended mid-story by Scotland Yard Superintendent Anthony Hopkins (Silence of the Lambs), the tension escalates as Harris, in communication with land by a radio link, tries to convince his former teacher to come to his senses. But Jones is wily, cynical and deceptive, something which will cause plenty of grief before the saga wraps up in a surprising conclusion. The lead-up to Juggernaut's production was as turbulent as the rough seas in the film, with two different directors, Bryan Forbes (The Stepford Wives) and Don Medford (The Hunting Party) originally attached. Once Lester took over the reins, he worked with writer Alan Plater in completely rewriting Richard Alan Simmons' original script. Co-starring Shirley Knight, Ian Holm, Clifton James and Roy Kinnear.
"A penetrating and sardonic commentary on a fading and troubled Britain… The pace of the thriller aspect is unflagging, and the characters are unerringly drawn, from the perfect casting of Sharif as the seedy, demoralised captain, to Harris as the bomb expert (the film's research in this direction is painstaking). Without a doubt, one of the best movies of 1974." – Time Out
"Filmmaker Richard Lester is known for the films he did with the Beatles, but 1974's Juggernaut proved he could direct a terrific thriller…with the best of them." – Kenneth Turan, The Los Angeles Times
Pauline Kael loved Juggernaut. Read her review on the New Beverly forum.
View the full set of US lobby cards for Juggernaut on the New Beverly forum.
Marc Edward Heuck discusses our Richard Lester Film Festival on the New Beverly blog.
Chris D explores Richard Lester's diverse career on the New Beverly blog.
Director

Richard Lester
Starring

Richard Harris, Omar Sharif, David Hemmings, Anthony Hopkins, Shirley Knight, Ian Holm, Clifton James
Year

1974
Rated

PG
Country

UK/USA/Spain
Format

35mm
Running Time

109 minutes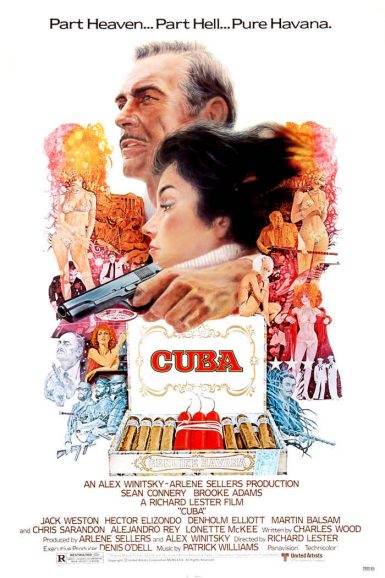 Cuba
Richard Lester was captivated by the 1958 Cuban Revolution and had long wanted to make a movie about it, with the violent regime change as background. Sean Connery stars as a middle-aged British mercenary brought in by General Batista's government to help train counter-insurgents to go up against Castro's rebels. Arriving in Havana, Connery runs into an old flame (Brooke Adams, The Dead Zone) who is now married to a callous rich man (Chris Sarandon, Fright Night) who exploits his cigar factory workers. Milling around Connery on his uneasy tropical sojourn are Jack Weston (Wait Until Dark) who may or may not be a spy, Denholm Elliot (Raiders of the Lost Ark), suspicious Cuban military men (Martin Balsam and Hector Elizondo), and a revolutionary (Danny De La Paz) who must avenge the honor of his sister (Lonette McKee) who has been abused by Sarandon. A memorable highlight features dictator Batista (Wolfe Morris) taking a break from counter-revolution talks to watch a B&W 16mm print of Horror of Dracula starring Christopher Lee!
"…a fascinating movie." – Steven Soderbergh
"A political film within which no one speaks about politics and a love story in which no one speaks about love." – Richard Lester
"…a crazy fantasy about old-time Hollywood melodramas, the sort turned out by Warner Brothers, directed by Michael Curtiz and starring Humphrey Bogart… Seeing the film through this fog of memory, you might find it as outrageously endearing as I did…the movie keeps coming up with scenes so arresting or eccentric you are aware of the wicked intelligence behind them." – Vincent Canby, The New York Times
See a series of promotional stills from Richard Lester's Cuba (1979) on the New Bev forum.
Marc Edward Heuck discusses our Richard Lester Film Festival on the New Beverly blog.
Chris D explores Richard Lester's diverse career on the New Beverly blog.
Director

Richard Lester
Starring

Sean Connery, Brooke Adams, Jack Weston, Hector Elizondo, Denholm Elliott, Martin Balsam, Chris Sarandon
Year

1979
Rated

R
Country

USA
Format

35mm
Running Time

122 minutes