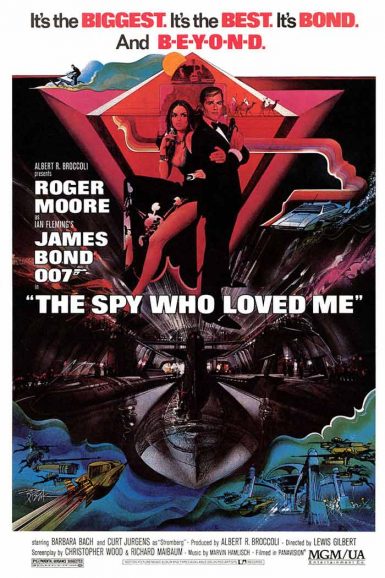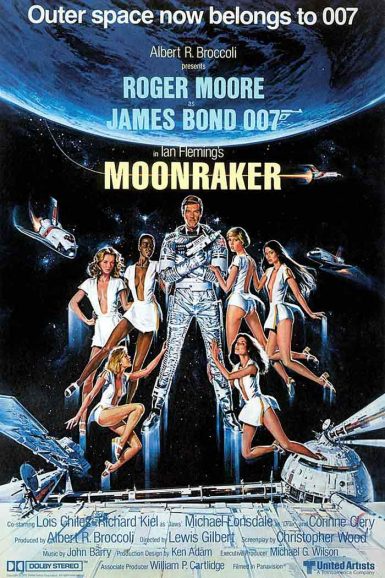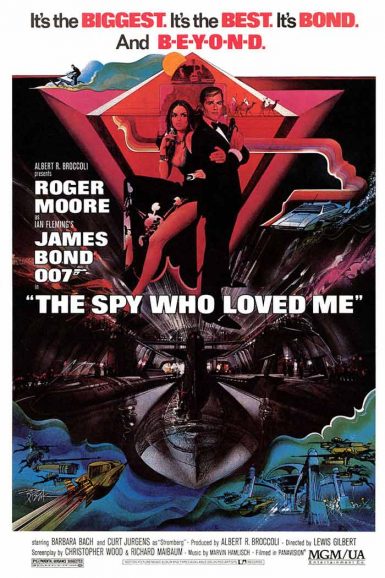 The Spy Who Loved Me
A megalomaniac with his eye on triggering World War III in order to create an underwater utopian world is capturing British and Soviet ballistic missile submarines, and MI6 special agent James Bond is tasked with stopping him, eventually joining forces with Russian agent Anya Amasova (Barbara Bach) in The Spy Who Loved Me. In what was the 10th Bond film in the enduring franchise, Spy may well be the most perfectly integrated of the series, combining a wonderfully devious baddy in Curt Jurgens' Karl Stromberg and his silver toothed henchman "Jaws" (Richard Kiel), explosive action sequences that take 007 from the land, air and sea, with some of the most inventive gadgets in the series (including an underwater Lotus sports car), a plot that serves the hero, and the hauntingly romantic theme song nominated for an Academy Award – "Nobody Does It Better" by Carly Simon. This is Roger Moore in his prime, bringing Bond to life with his debonair charm, trademark humor, tough guy escapism and witty one liners. This is a spy we'll always love.
"Classic Bond – Moore at his eyebrow-arching best, brilliant stunts and a solid story to boot." – Film4
"From the adrenaline-inducing pre-credits ski chase to the gun battle as the crew of two submarines attempt to take a hollowed-out supertanker from an army of bad guys, the action sequences soar." – Piers Beckley, BBC
View a collection of lobby cards for The Spy Who Loved Me on the New Beverly forum.
Director

Lewis Gilbert
Starring

Roger Moore, Barbara Bach, Curd Jürgens, Richard Kiel, Caroline Munro
Year

1977
Rated

PG
Country

UK
Format

35mm
Running Time

125 minutes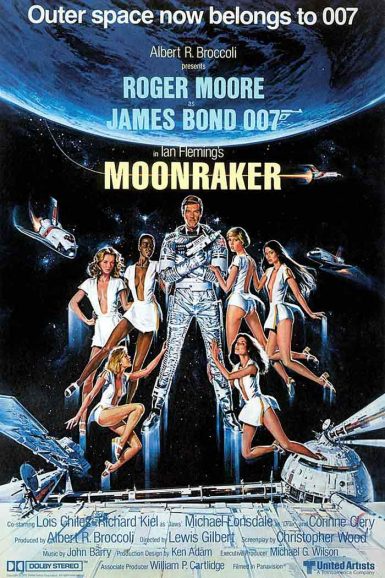 Moonraker
Roger Moore is back in Moonraker, hot on the vapor trail of Industrialist Hugo Drax (Michael Lonsdale), who has machinations to poison earth's human population with nerve gas derived from a rare flower in the Amazon, and repopulate it in space with physically fit, beautiful, genetic human outliers. When the Moonraker space shuttle is hijacked in the film's explosive pre-credit sequence, and Bond is getting thrown from a private jet by Jaws (Richard Kiel) without a parachute, you know you're in for a thrill ride, and the Bond franchise delivers by raising the bar on its jaw dropping stunts. Lois Chiles is Holly Goodhead, a CIA agent who teams up with Bond to take down Drax on his space station. Toshiro Suga as "Chang" provides the loudest, and most entertaining hand to hand fight with 007 in the franchise, or at the very least, the one with most broken glass. The gadgets in Moonraker are inventively delightful and live up to the technical demands of the plot in this Bond film that is out of this world.
"The visual effects, stuntwork and other technical contributions all work together expertly to make the most preposterous notions believable. And Roger Moore… clearly has adapted the James Bond character to himself and serves well as the wise-cracking, incredibly daring and irresistible hero." – Variety
"Moonraker is a movie by gadgeteers, for gadgeteers, about gadgeteers. Our age may be losing its faith in technology, but James Bond sure hasn't." – Roger Ebert
Director

Lewis Gilbert
Starring

Roger Moore, Lois Chiles, Michael Lonsdale, Richard Kiel, Corinne Clery
Year

1979
Rated

PG
Country

UK/France
Format

35mm
Running Time

126 minutes