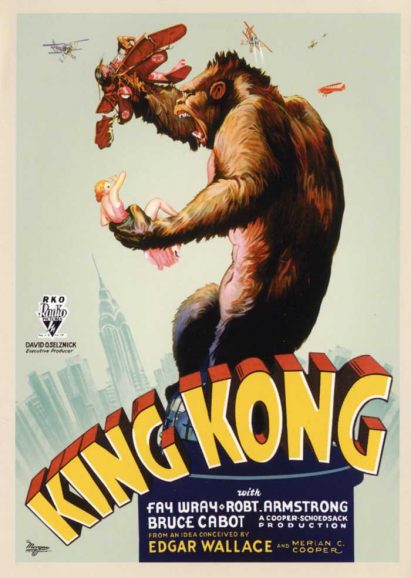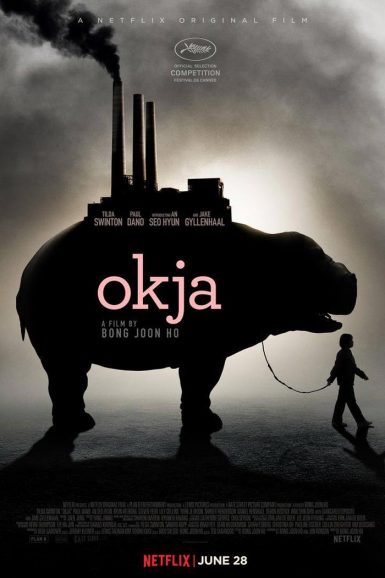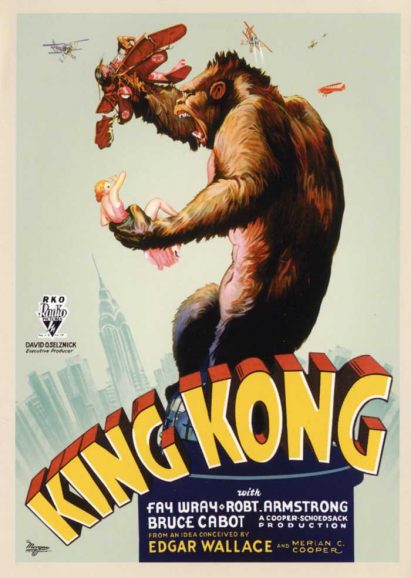 King Kong (1933)
Merian C. Cooper and Ernest Schoedsack direct the great grand daddy of giant monster movies. Huckster filmmaker Carl Denham (Robert Armstrong) and actress Ann Darrow (Fay Wray) leave New York on a charter ship. Once out to sea, Denham reveals the coordinates to Kong Island, while Ann falls in love with first mate, Jack (Bruce Cabot). Cooper and Schoedsack build suspense as the group lands and encounters hostile natives. When the islanders spot Ann, turmoil erupts, and the crew hurries her away to the safety of the ship. That night she is kidnapped, destined to be sacrificed as the bride of something called Kong. Rapid fire action kicks into high gear as Denham and Jack lead the crew in fighting off natives, then dinosaurs and finally the giant ape Kong to rescue the hapless maiden. Groundbreaking leaps in special effects use of matte paintings, stop-motion animation and rear-screen projection supply a heady atmosphere of a jungle alive with prehistoric monsters. Somehow, after many crewmen's deaths, Denham's surviving men knock Kong out with gas, bind him and load him on the ship. The ship returns to New York and, shortly thereafter, all hell breaks loose.
"Audiences will wonder how it's done. Kong mystifies as well as it horrifies, and may open up a new medium for scaring babies via the screen." – Joe Bigelow, Variety
Kim Morgan discusses King Kong on the New Beverly blog.
Director

Merian C. Cooper and Ernest B. Schoedsack
Starring

Fay Wray, Robert Armstrong, Bruce Cabot, Frank Reicher
Year

1933
Country

USA
Format

35mm
Running Time

100 minutes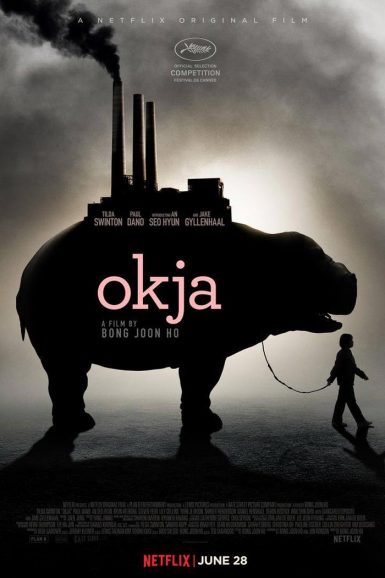 Okja
BACK BY POPULAR DEMAND!
SPECIAL 35MM PRINT MADE EXCLUSIVELY FOR THE NEW BEVERLY!!
In the powerful new epic from South Korean auteur Bong Joon Ho (Snowpiercer, The Host), a young girl risks everything in her unwavering mission to save the gentle giant she raised, a massive animal named Okja that's caught in the crossfire between animal activism, corporate greed and scientific ethics. Featuring vibrant cinematography by Darius Khondji, lifelike visual effects work and a stellar all-star supporting cast including Tilda Swinton, Jake Gyllenhaal, Lily Collins, Giancarlo Esposito, Paul Dano and more, Okja demands to be seen on the big screen.
"Of all the filmmakers out there in the last 20 years, [Bong Joon Ho] has something that [1970s] Spielberg has. There is this level of entertainment and comedy in his films." – Quentin Tarantino
"Gorgeous and moving and thrilling and funny and inventive and unexpected. It's why Bong is a visionary among his peers. And, my god, it's why we go to the movies." – Gregory Ellwood, Collider
"Shot in bright, cinematic widescreen by DP Darius Khondji, this Netflix-produced feature belongs on the big screen" – Peter Debruge, Variety
"Okja is a buoyant, messy delight of a film, clever and rousing and full-hearted. I laughed; I cried; I chose to forego meat at lunch." – Richard Lawson, Vanity Fair
Director

Bong Joon Ho
Starring

An Seo Hyun, Tilda Swinton, Jake Gyllenhaal, Lily Collins, Giancarlo Esposito, Paul Dano, Devon Bostick, Shirley Henderson, Steven Yeun
Year

2017
Country

South Korea/USA
Format

35mm
Running Time

120 minutes