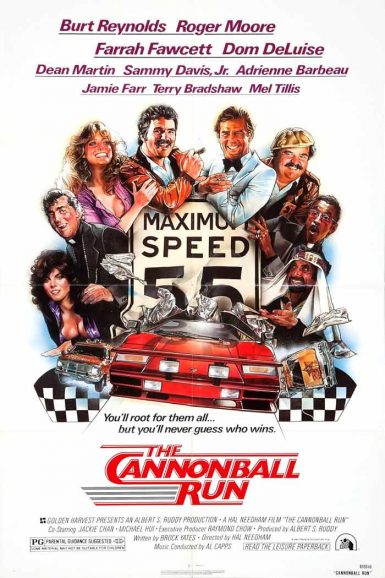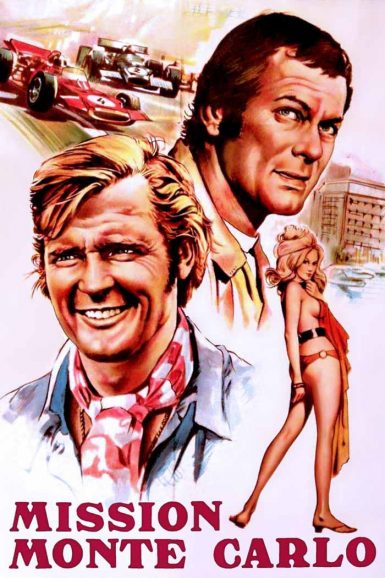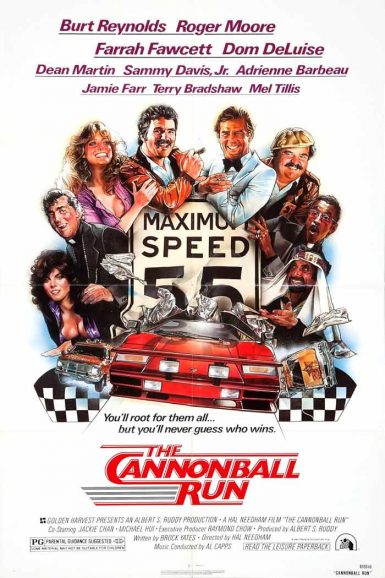 The Cannonball Run
It's a cavalcade of celebrities in this cross-country car race where anything goes except for taking the Whacky Races style plot seriously, when former stunt driver turned director Hal Needham revs up the fun. Screen icon Burt Reynolds and comedy titan Dom DeLuise rely on the subterfuge of their tricked-out Dodge ambulance, complete with Jack Elam as a proctologist along for the ride to trick any nosey cops, while they try and best the movie stars that round out the other racing teams: Roger Moore sending up his James Bond persona, Dean Martin and Sammy Davis Jr. as Ferrari driving priests, Farrah Fawcett is the tree hugging "Beauty", Terry Bradshaw and Mel Tillis are Nascar driving rednecks, Jackie Chan (representing Japan) navigates an Inspector Gadget-esque Subaru, Adrienne Barbeau and Tara Buckman burn up the screen in a black Lamborghini, and George Furth is the do-gooder hell bent on stopping the race. It's a Mad, Mad, Mad, Mad, pop-corn comedy, with an all-time great blooper reel in the closing credits.
Director

Hal Needham
Starring

Burt Reynolds, Roger Moore, Farrah Fawcett, Dom DeLuise, Dean Martin, Sammy Davis Jr, Jack Elam, Adrienne Barbeau, Terry Bradshaw, Jackie Chan, Jamie Farr, Mel Tillis
Year

1981
Rated

PG
Country

USA/Hong Kong
Format

35mm
Running Time

95 minutes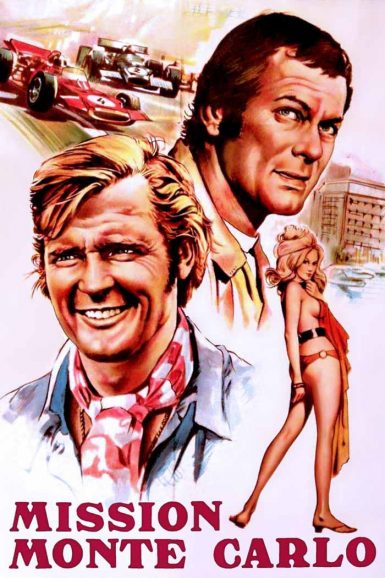 Mission: Monte Carlo
In Mission: Monte Carlo, Roger Moore is a highly polished British nobleman while Tony Curtis plays a self-made millionaire from the slums of NYC – they're a pair of playboys with nothing in common but trouble! In this fun-filled feature length combo of two episodes of the hit tv show The Persuaders!, the dynamic duo navigate the world of fast cars, beautiful women and ruthless criminals to investigate crimes along the French Riviera, including a mysterious drowning that might be tied to an old business associate and a counterfeit coin operation that has a jeweler's niece (Susan George) marked for death.
Director

Basil Dearden and Roy Ward Baker
Starring

Roger Moore, Tony Curtis
Year

1974
Country

UK
Format

16mm
Running Time

96 minutes