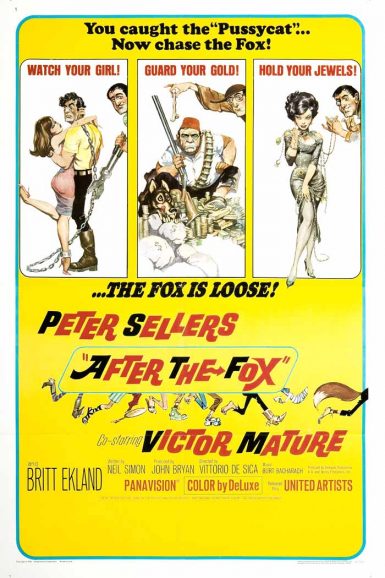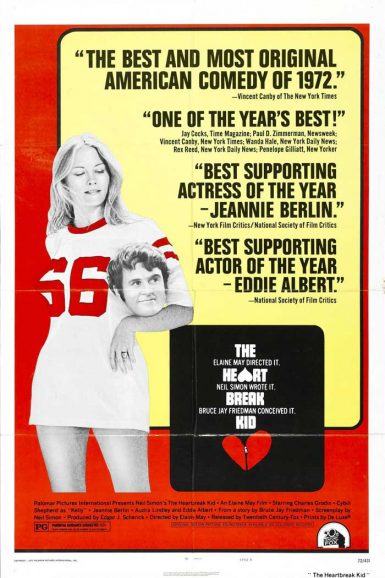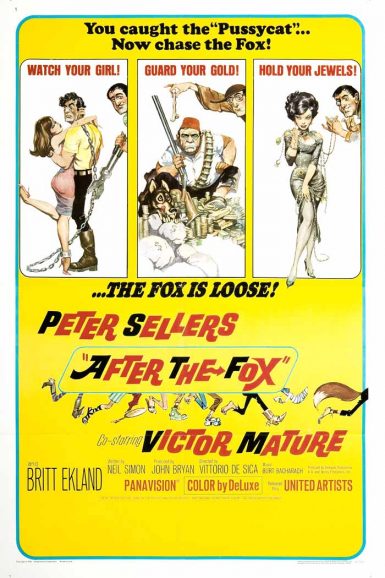 After the Fox
Watch your girl! Guard your gold! Hold your Jewels! … the Fox is loose! Vittorio De Sica's wickedly funny farce features Neil Simon's first screenplay. When a criminal mastermind known as the Fox (Peter Sellers) sets his sights on $3 million worth of gold bullion, he'll hatch an elaborate plan to get it that includes setting up a fake film production and posing as its flamboyant director. A clever send-up of the seriousness of arthouse filmmaking, After the Fox features Sellers in his prime, music by Burt Bacharach, a memorable animated title sequence, and great supporting roles for Victore Mature, Britt Ekland, and Martin Balsam.
"Peter Sellers is in nimble, lively form in this whacky comedy which, though sometimes strained, has a good comic idea and gives the star plenty of scope for his usual range of impersonations." – Variety
Director

Vittorio De Sica
Starring

Peter Sellers, Victor Mature, Britt Ekland, Martin Balsam
Year

1966
Country

Italy/UK
Format

35mm
Running Time

103 minutes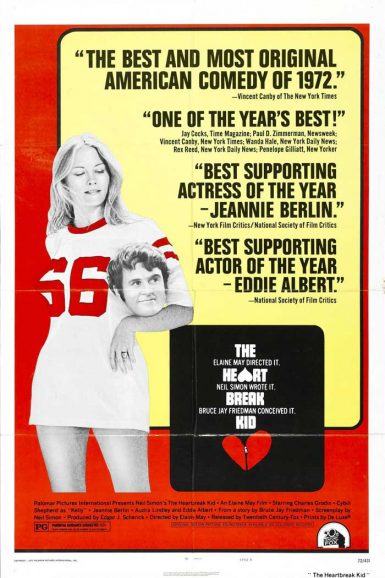 The Heartbreak Kid
Lenny Cantrow is on his honeymoon and completely in love… just not with his wife. It doesn't take long for Lenny (Charles Grodin) to regret his matrimony to Lila (Jeannie Berlin), a sweet yet unsophisticated woman, whose quirks go from cute to unbearable in their first few days of marriage. It's love at first slight when beautiful and self-assured Kelly (Cybill Shepherd) confronts Lenny on the beach, and the two begin a whirlwind flirtation in the Miami heat. Find out whether Lenny will ditch the wife, get the girl, impress the father, and find some decency in the Neil Simon-scripted, Elaine May-directed The Heartbreak Kid.
"Elaine May's deft direction catches all the possibilities of young romance and its tribulations in light strokes and cleverly accents characterization of the various principals." – Variety
"Elaine May's The Heartbreak Kid was directed with a sure feeling for how comedy can edge over into satire and then tragedy." – Roger Ebert
"A first-class American comedy, as startling in its way as was The Graduate." – Vincent Canby, The New York Times
Check out a set of The Heartbreak Kid lobby cards on the New Beverly forum.
Director

Elaine May
Starring

Charles Grodin, Cybill Shepherd, Jeannie Berlin, Audra Lindley, Eddie Albert
Year

1972
Rated

PG
Country

USA
Format

16mm
Running Time

106 minutes