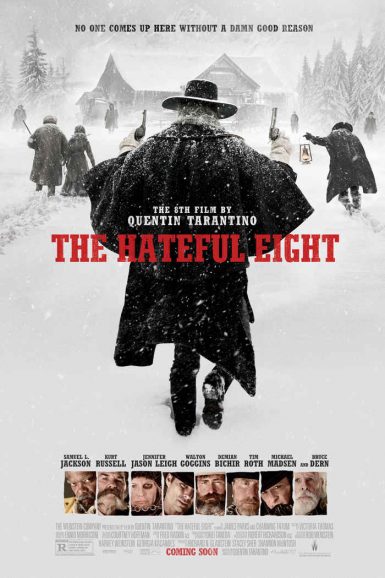 The Hateful Eight (Multiplex Version)
Gorgeous 35mm print from Quentin Tarantino's personal archive!
Buy Tickets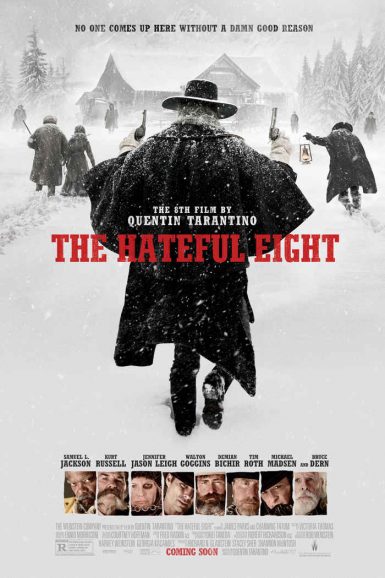 The Hateful Eight (Multiplex Version)
During a deadly snowstorm, a bounty hunter (Kurt Russell) rushes to bring his fugitive (Jennifer Jason Leigh) to justice. But losing their lead on the blizzard, they must seek refuge at Minnie's Haberdashery where the mysterious strangers inside may not be who they seem. Written & directed by Quentin Tarantino and co-starring a stunning ensemble of QT favorites and pitch-perfect additions to his troupe: Samuel L. Jackson, Walton Goggins, Demián Bichir, Tim Roth, Michael Madsen and Bruce Dern round out The Hateful Eight.
"The movie absolutely delivers on the sheer moment-to-moment pleasures fans have come to expect, from dynamite dialogue to powder-keg confrontations." – Peter Debruge, Variety
"An almost three-hour film that never drags, that is enjoyable from beginning to end." – Mick LaSalle, San Francisco Chronicle
Quentin Tarantino joins Bret Easton Ellis' popular podcast for a nearly two hour discussion on The Hateful Eight. Find out more in Tarantino's Vault.
Director

Quentin Tarantino
Starring

Samuel L. Jackson, Kurt Russell, Jennifer Jason Leigh, Walton Goggins, Demián Bichir, Tim Roth, Michael Madsen and Bruce Dern
Year

2015
Rated

R
Country

USA
Format

35mm
Running Time

167 minutes