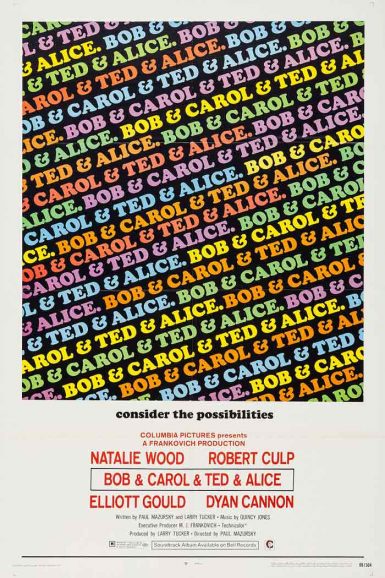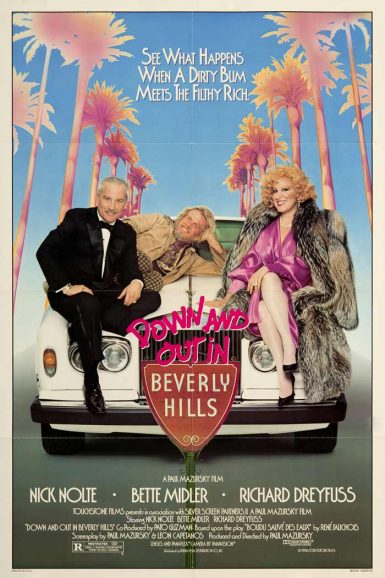 Bob & Carol & Ted & Alice
Down and Out in Beverly Hills
Buy Tickets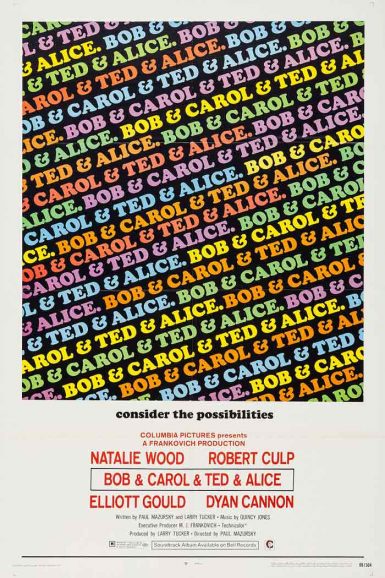 Bob & Carol & Ted & Alice
In an age of revolution, this timely human story straddles the line between comedy and drama with energy and elegance. Bob & Carol (Robert Culp and Natalie Wood) are a married couple who find a new lease on honesty after attending an Esalen-like new age therapy retreat. Their earnestness profoundly affects best friends Ted & Alice (Elliott Gould and Dyan Cannon, both in Oscar-nominated performances) who cautiously explore this new kind of vulnerability too. Affairs and dalliances come to the fore as they all start acknowledging their sexual wants/desire/neuroses. A refreshing, steamy, nonjudgmental take on marriage and honesty, Bob & Carol & Ted & Alice is perfect movie about couples who were too old to be hippies but too young to have old-fashioned hangups.
"The genius of Bob & Carol & Ted & Alice is that it understands the peculiar nature of the moral crisis for Americans in this age group, and understands that the way to consider it is in a comedy. What is comedy, after all, but tragedy seen from the outside?" – Roger Ebert
---
PLUS
Fred C. Brannon's action-packed 1951 Republic Pictures serial Government Agents vs. Phantom Legion comes to the New Beverly in glorious 35mm! Chapter 8: Sea Saboteurs screens before Bob & Carol & Ted & Alice. A new chapter of the rare cliffhanger plays this month before each of our Sunday / Monday and Wednesday / Thursday programs.
---
Director

Paul Mazursky
Starring

Natalie Wood, Robert Culp, Elliott Gould, Dyan Cannon
Year

1969
Rated

R
Country

USA
Format

35mm
Running Time

105 minutes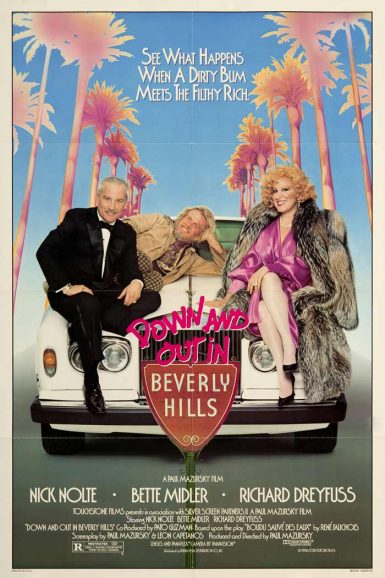 Down and Out in Beverly Hills
See what happens when a dirty bum meets the filthy rich. Paul Mazursky's critically acclaimed smash hit Down and Out in Beverly Hills hilariously updates Jean Renoir's Boudu Saved By Drowning (1932) for the money hungry '80s.  When a suicidal hobo (Nick Nolte) is rescued from a Beverly Hills swimming pool, the rich homeowners (Richard Dreyfuss, Bette Midler) take in the tired tramp and have their lives promptly turned outrageously upside down. Featuring stellar performances from the entire cast (including Little Richard as a next door neighbor and a small role for Mazursky, himself), a cool score from The Police's Andy Summers and an unforgettable Mike the Dog as the family pup that nearly steals the whole show!
"Mazursky has a way of making comedies that are more intelligent and relevant than most of the serious films around… Down and Out in Beverly Hills made me laugh longer and louder than any film I've seen in a long time." – Roger Ebert
"Down and Out in Beverly Hills continues Paul Mazursky's love-hate relationship with the bourgeoisie and its institutions, especially marriage. It's a loving caricature of the nouveau riche" – Variety
Director

Paul Mazursky
Starring

Nick Nolte, Bette Midler, Richard Dreyfuss, Little Richard, Tracy Nelson
Year

1986
Rated

R
Country

USA
Format

35mm
Running Time

103 minutes
Upcoming Showtimes
7:30 pm
Bob & Carol & Ted & Alice
9:50 pm
Down and Out in Beverly Hills
7:30 pm
Bob & Carol & Ted & Alice
9:50 pm
Down and Out in Beverly Hills