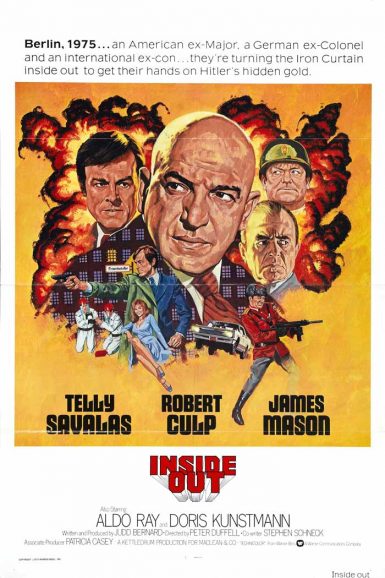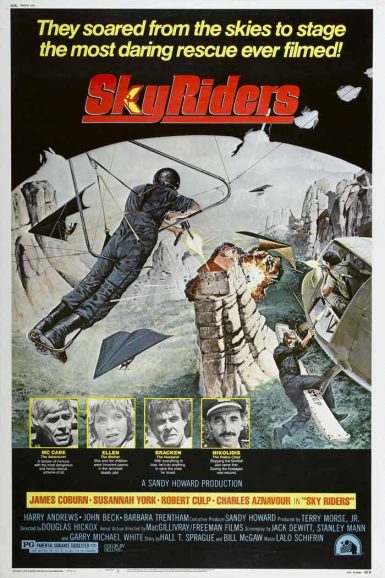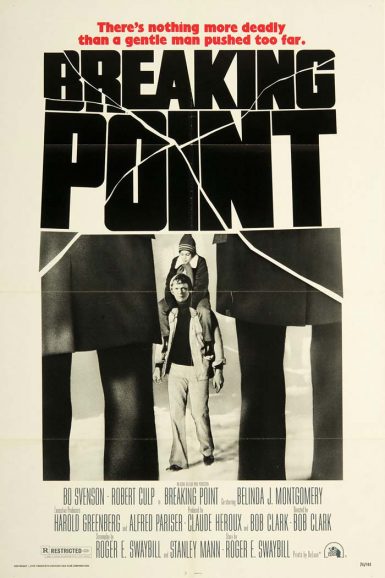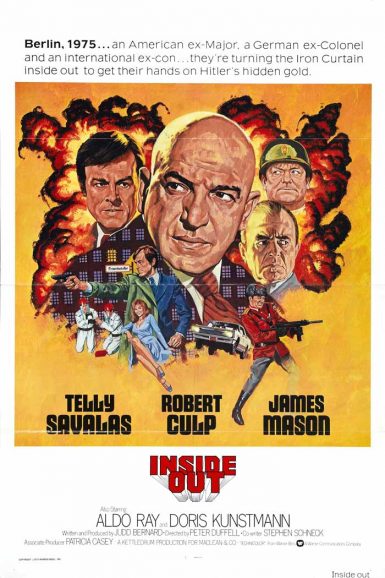 Inside Out
A pair of American WWII vets (Telly Savalas & Robert Culp) team with a former German officer (James Mason) in search of a stash of Nazi gold in this tense, heart-stopping suspense caper. But there's a catch: the only person who knows where the loot is hiding is cooling his heels in a heavily fortified prison and they'll have to concoct an elaborate plan to break him out if they're going to strike it rich. The clock is ticking and these desperate men will have to turn Berlin Inside Out to find their fortune.
Director

Peter Duffell
Starring

Telly Savalas, Robert Culp, James Mason, Aldo Ray
Year

1975
Country

UK/West Germany/USA
Format

35mm
Running Time

97 minutes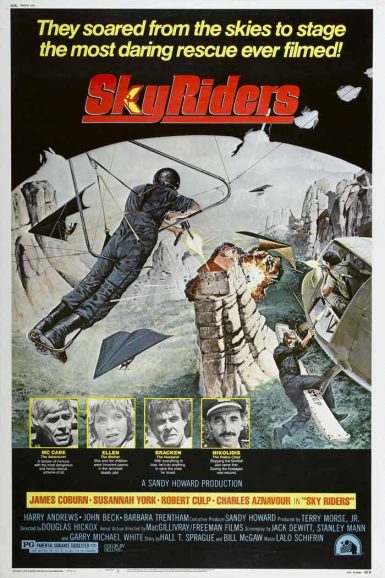 Sky Riders
They soared from the skies to stage the most daring rescue ever filmed! A team of professional hang gliders (!!!) led by James Coburn will have to save the day when ruthless terrorists whisk the wife (Susannah York) and children of a rich industrialist (Robert Culp) away to a secret mountain top monastery. Beautiful Greek scenery and breathtaking aerial footage highlight this high-flying adventure from the director of Zulu Dawn.
Director

Douglas Hickox
Starring

James Coburn, Susannah York, Robert Culp, Charles Aznavour
Year

1976
Country

USA
Format

16mm
Running Time

91 minutes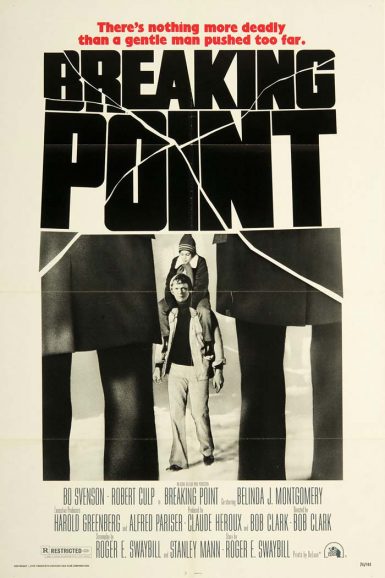 Breaking Point
"There's nothing more deadly than a gentle man pushed too far." Capitalizing on leading man Bo Svenson's then-recent role as beleaguered sheriff Buford Pusser in Walking Tall – Part 2, director Bob Clark helmed this entertaining Death Wish knock-off. One night in Philadelphia, mild-mannered judo instructor Svenson happens upon a gang of hoods beating a meek bookkeeper to death. After chasing them off, he reluctantly agrees with the request of the head police official (Robert Culp) to identify the attackers in court. Unfortunately, these killers are made men, working for villainous real estate magnate and mafia kingpin Vincent Karbone (John Colicos, Drum). Karbone will do anything to keep his enforcers from being implicated, and Culp promises to put Svenson and his frightened family in the witness protection program. Things don't go as planned, with Karbone finding cracks in the system – his talent at corruption guarantees Svenson's brood haven't long to live. Finding himself on his own, Svenson rises to the occasion and takes matters into his own hands, with explosive results.
View the full set of US lobby cards for Breaking Point on the New Beverly forum.
Marc Edward Heuck discusses Breaking Point on the New Beverly blog.
Director

Bob Clark
Starring

Bo Svenson, Robert Culp, John Colicos, Belinda Montgomery
Year

1976
Rated

R
Country

Canada/USA
Format

35mm
Running Time

92 minutes