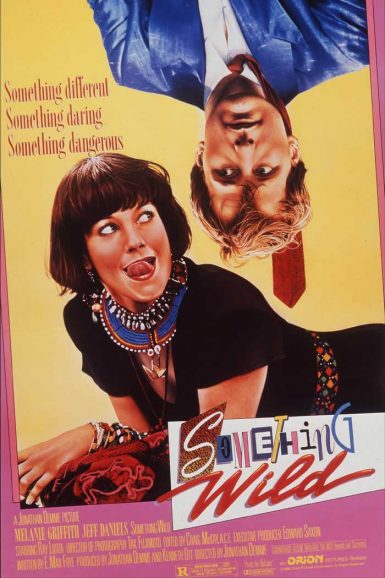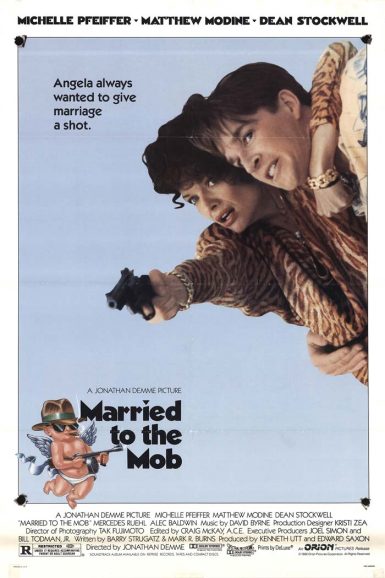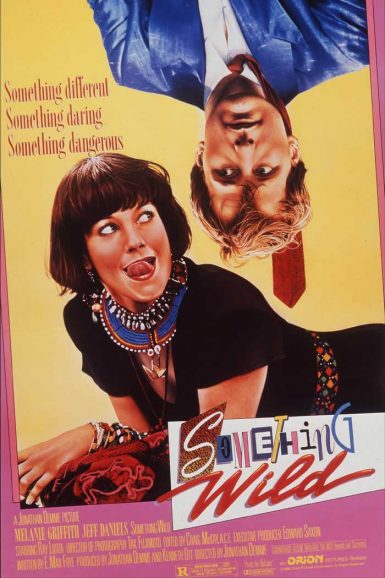 Something Wild
Charles "Charlie" Driggs (Jeff Daniels) is a recently promoted, divorced, suit and tie businessman from the suburbs, who deep down longs for some adventure beyond the manicured lawns and responsibilities of his business world. Melanie Griffith is devilishly charming and sexy as Audrey "Lulu" Hankel, the woman who spots the "closet rebel" in Charlie's button downed persona when he tries to skip out on his lunch tab, and offers him a ride – "ready or not, babe?" – that in reality, is a scheme to cast him as her husband in order to snow her mother, and hometown friends at her class reunion. Ray Liota brings a smoldering sense of danger in his breakout role as Ray Sinclair, an ex-con and Lulu's former husband, who crashes the class reunion with bad intentions. Jonathan Demme gets wonderful performances from his cast, and reminds us that "it's better to be a live dog than a dead lion," in this revved up-road trip-rom-com-thriller, that's held up as much more than something quirky, it's Something Wild.
---
PLUS
Fred C. Brannon's action-packed 1951 Republic Pictures serial Government Agents vs. Phantom Legion comes to the New Beverly in glorious 35mm! Chapter 6: Mechanical Homicide screens before Something Wild. A new chapter of the rare cliffhanger plays this month before each of our Sunday / Monday and Wednesday / Thursday programs.
---
Director

Jonathan Demme
Starring

Jeff Daniels, Melanie Griffith, Ray Liotta
Year

1986
Rated

R
Country

USA
Format

35mm
Running Time

114 minutes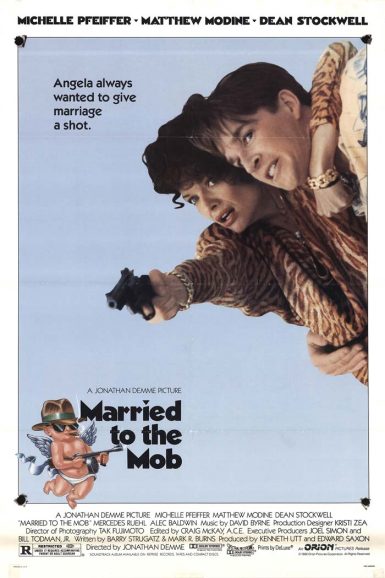 Married to the Mob
Michelle Pfeiffer shines as a Long Island wife sick of her hit man husband's gangster life in Jonathan Demme's offbeat screwball comedy Married to the Mob but complications ensue when she becomes the object of affection for both the local crime boss (Dean Stockwell in an Oscar-nominated performance) and an undercover FBI agent (Matthew Modine). An excellent ensemble cast gels to create a deliciously funny flick but Mercedes Ruehl almost steals the show as a vengeful, frizzy-haired mob wife.
"A mix of goofy ethnicity, romance and self-discovery, Married to the Mob is an offer you can't refuse." – Rita Kempley, Washington Post
"Amazingly, for all its hip anarchy, it's finally an oddly old-fashioned slice of entertainment. Preston Sturges might have approved." – Geoff Andrew, Time Out
"Fresh, colorful and inventive, Married to the Mob is another offbeat entertainment from director Jonathan Demme. The enormous cast is a total delight, starting with Pfeiffer, with hair dyed dark, a New York accent and a continuously nervous edge. Matthew Modine proves winning as the seemingly inept FBI functionary who grows into his job, and Dean Stockwell is a hoot as the unflappable gangland boss, slime under silk and a fedora." – Variety
Director

Jonathan Demme
Starring

Michelle Pfeiffer, Matthew Modine, Dean Stockwell, Mercedes Ruehl, Alex Baldwin
Year

1988
Rated

R
Country

USA
Format

35mm
Running Time

104 minutes
Upcoming Showtimes
7:30 pm
Something Wild
10:00 pm
Married to the Mob
7:30 pm
Something Wild
10:00 pm
Married to the Mob