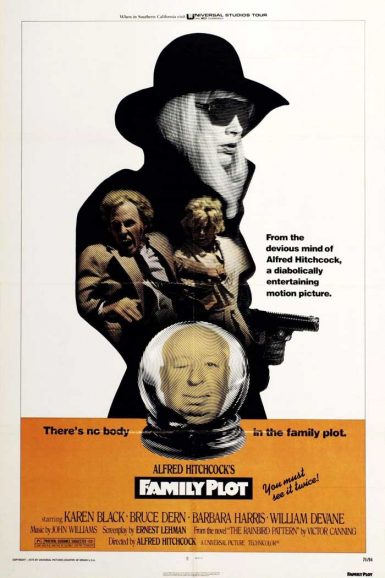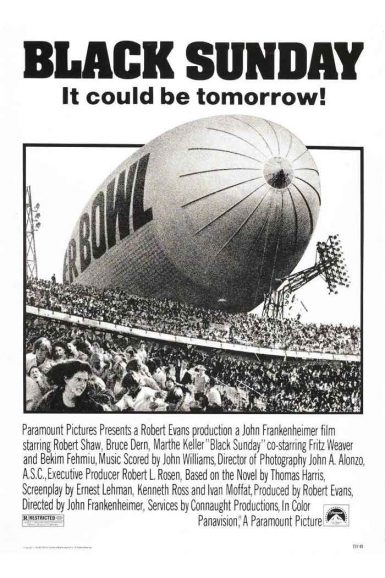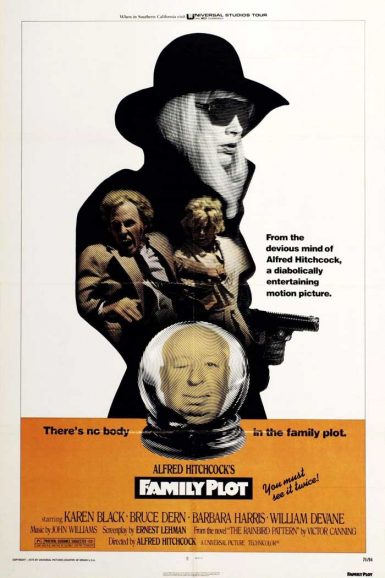 Family Plot
Alfred Hitchcock doesn't slouch in his last film, Family Plot, about a fake psychic (Barbara Harris) and her cab-driver boyfriend (Bruce Dern) hunting down the long-lost heir to a client's fortune so they can get a piece of the action themselves. More black comedy than thriller, it turns out the heir is part of a dangerous kidnapping team (Karen Black and New Bev favorite William Devane) and doesn't want to be found. What follows is a twisted, MacGuffin-laden mystery, deceptive at every turn, which serves as a worthy curtain call for the Master of Suspense. The film was also Hitch's only collaboration with composer John Williams.
"Family Plot is a dazzling achievement for Alfred Hitchcock masterfully controlling shifts from comedy to drama thoughout a highly complex plot. Witty screenplay, transplanting Victor Canning's British novel, The Rainbird Pattern, to a California setting, is a model of construction, and the cast is uniformly superb." – Variety
"Family Plot is, incredibly, Hitchcock's 53rd film in a career that reaches back almost 50 years. And it's a delight for two contradictory reasons: because it's pure Hitchcock, with its meticulous construction and attention to detail, and because it's something new for Hitchcock – a macabre comedy. He doesn't go for shock here, or for violent effects, but for the gradual tightening of a narrative noose." – Roger Ebert
Director

Alfred Hitchcock
Starring

Karen Black, Bruce Dern, Barbara Harris, William Devane, Ed Lauter, Cathleen Nesbitt, Katherine Helmond
Year

1976
Country

USA
Format

35mm
Running Time

120 minutes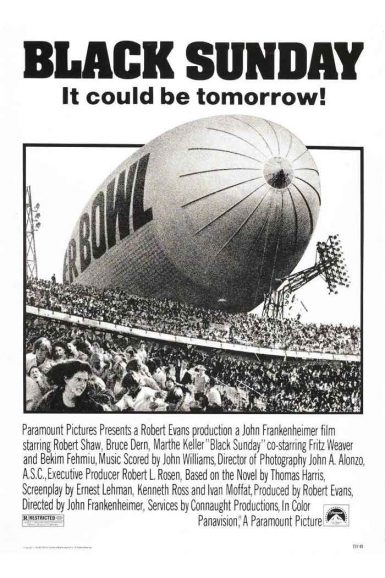 Black Sunday (1977)
A hot-button thriller ripped from the day's headlines, Black Sunday takes the high concept of a blimp bombing at the Super Bowl and creates an expansive epic of war, trauma, and revenge. Maj. Kabakov (Robert Shaw) is a hard-edged Israeli commando who tracks Palestinian terrorist operative Dahlia Iyad (Marthe Keller) to America. His investigation leads him to Michael Lander (Bruce Dern), a disturbed Vietnam veteran who's been recruited by Iyad to carry out the deadly terror attack. A shadow descends on the biggest game of the year, and it's not just the blimp blocking out the sun. Expertly directed by political thriller maestro John Frankenheimer (The Manchurian Candidate, Seven Days in May).
"Thomas Harris' novel has been adapted into a well-plotted, well-executed countdown" – Variety
"One of the best of the disaster films of the 1970s, the genuinely disturbing Black Sunday is likely to cause nightmares long after you've seen it." – TV Guide
Check out a full set of German lobby cards for Black Sunday on the New Beverly forum.
Director

John Frankenheimer
Starring

Robert Shaw, Bruce Dern, Marthe Keller, Fritz Weaver, Bekim Fehmiu
Year

1977
Rated

R
Country

USA
Format

35mm
Running Time

143 minutes