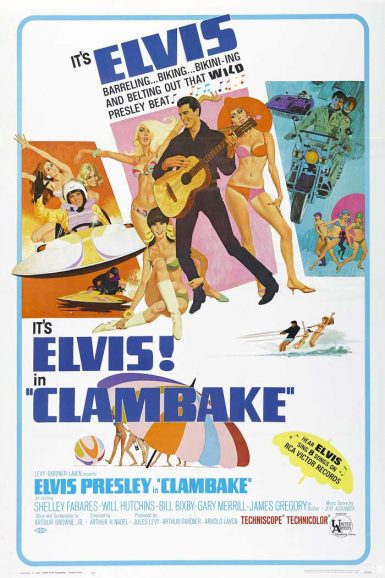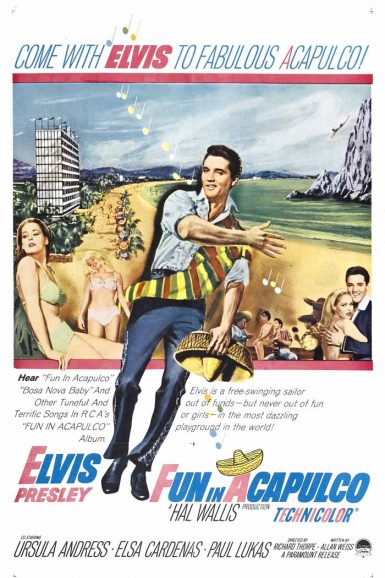 Clambake (IB Tech Print)
Vibrant I.B. Technicolor 35mm print!
Fun in Acapulco (IB Tech Print)
Rare I.B. Technicolor 35mm print!
Buy Tickets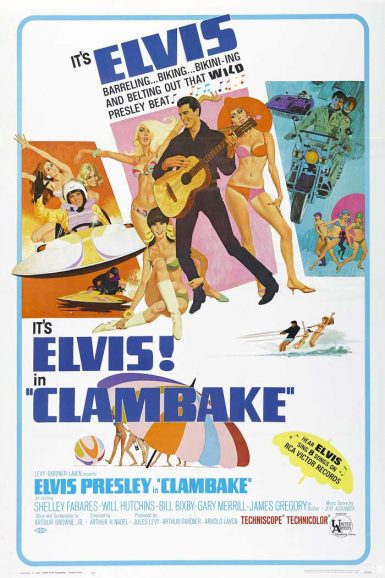 Clambake (IB Tech Print)
Elvis is Scott Heyward, a wealthy, good looking, swinging-sixties-cat in the colorful Clambake, a campy-musical-comedy-romp, that captures the waning 60's innocence before the summer of love changed the tunes and took over the beach party. After feeling put upon by his oil tycoon father (James Gregory), Elvis sets out for Florida, where he switches identities with Tom (Will Hutchins), a water ski-instructor on his way to a Miami resort. Tom gets to live it up in the penthouse, and Elvis gets to find out if women will love him as a humble water-ski instructor, with a song for every occasion. Elvis also gets to test his chemistry wizardry, with "Goop," a chemical bonding agent that just might fix up a boat to win the big race. Shelley Fabares is Diane Carter, a self-proclaimed "gold digger" who just might strike it rich after all, and Bill Bixby plays James J. Jamison III, the playboy who wants to win the boat race, and the girl that he and Elvis both have eyes for.
View a collection of Clambake lobby cards on the New Beverly forum.
Director

Arthur H. Nadel
Starring

Elvis Presley, Shelley Fabares, Will Hutchins, Bill Bixby
Year

1967
Country

USA
Format

IB Technicolor 35mm
Running Time

99 minutes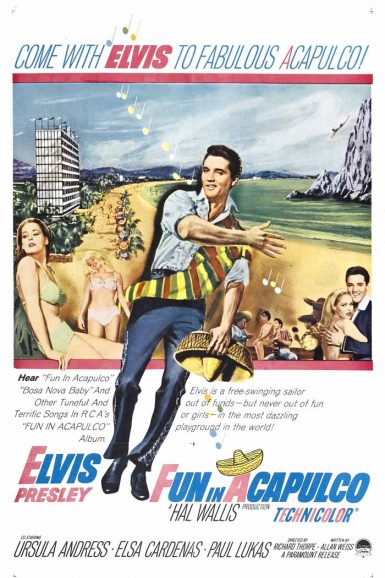 Fun in Acapulco (IB Tech Print)
Sun-baked, south-of-the-border fun in glorious I.B. Technicolor! When the bratty daughter of a boat owner gets Elvis fired, the deckhand lands a new gig as a lifeguard / troubadour at a beautiful resort in the most dazzling playground in the world! He sings, shakes & shimmies through Fun in Acapulco, Bosa Nova Baby, Marguerita and more, catching the eye of both a local bullfighter (Elsa Cárdenas) and the sexy girlfriend (Ursula Andress fresh off Dr. No) of a rival lifeguard. But a family secret could derail it all.
"Compared with the Beatles, Elvis Presley sounds like Caruso in Fun in Acapulco… And he certainly looks better. In fact, this attractive travel poster for the famed Mexican resort is far and away his best musical feature to date." – Howard Thompson, The New York Times
Tim Lucas discusses Fun in Acapulco on the New Beverly blog.
Director

Richard Thorpe
Starring

Elvis Presley, Ursula Andress, Elsa Cardenas, Paul Lukas
Year

1963
Country

USA
Format

IB Technicolor 35mm
Running Time

97 minutes