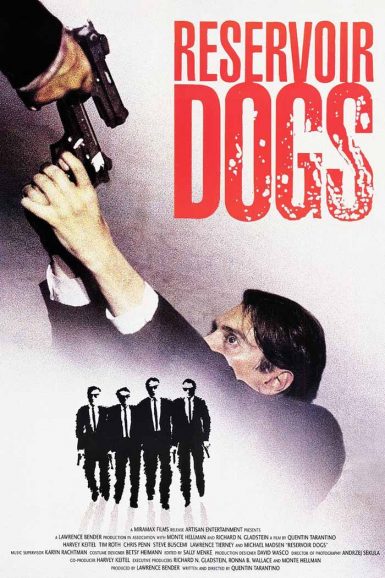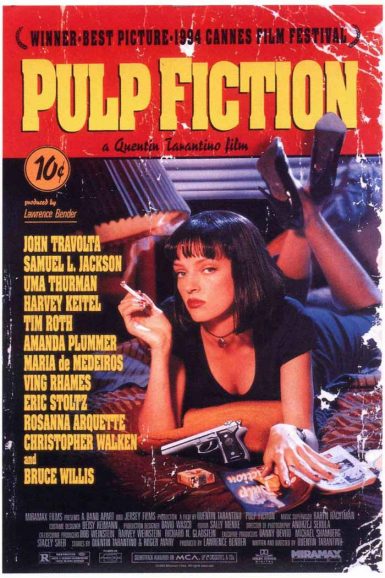 Reservoir Dogs (New Print!)
Stunning BRAND NEW 35mm print made for the film's 25th anniversary!
Pulp Fiction
Gorgeous 35mm print from Quentin Tarantino's personal archive!
Buy Tickets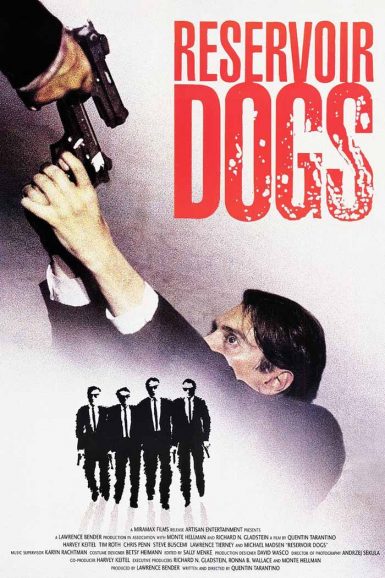 Reservoir Dogs (New Print!)
Seven total strangers team up for the perfect crime. They don't know each other's name. But they've got each other's color. Quentin Tarantino's incendiary directorial debut ignited the filmmaker's distinctive voice and united him with some of his key players. When a jewelry store robbery goes wrong, Reservoir Dogs jumps between the crime's setup and its bloody aftermath as the men try to ferret out who might be the rat in their ranks.
"A brash, brutal crime-caper film, Reservoir Dogs has enough raw energy for 10 motion pictures and more than enough rough stuff to traumatize the sensitive. But not only does Dogs have teeth, it has brains." – Jay Boyar, Orlando Sentinel
"It's extremely well-acted, written with flair and directed by a 29-year-old first-timer, Quentin Tarantino, who always knows where to put the camera, when to cut to a flashback and how to draw the best work from his brilliant cast." – John Hartl, Film.com
Kim Morgan discusses Reservoir Dogs on the New Beverly blog.
Director

Quentin Tarantino
Starring

Harvey Keitel, Tim Roth, Michael Madsen, Chris Penn, Steve Buscemi, Lawrence Tierney, Eddie Bunker, Quentin Tarantino, Randy Brooks, Kirk Baltz and Steven Wright
Year

1992
Rated

R
Country

USA
Format

35mm
Running Time

99 minutes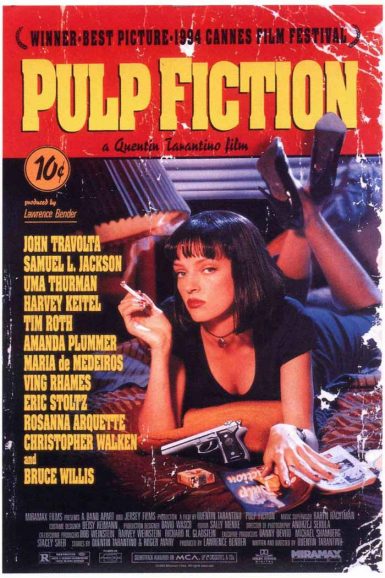 Pulp Fiction
Two hitmen out to retrieve a suitcase stolen. An aging boxer paid to lose his next fight. A couple of young lovers and small time thieves who decide they need a change of venue. Their lives are woven together in Quentin Tarantino's electric & exhilarating Pulp Fiction.
"A spectacularly entertaining piece of pop culture, Pulp Fiction is the American Graffiti of violent crime pictures." – Todd McCarthy, Variety
"Pulp Fiction crackles like an ozone generator: Here's a director who's been let loose inside the toy store, and wants to play all night. 4 Stars" – Roger Ebert
See the full set of German lobby cards for Pulp Fiction in Tarantino's Vault.
Director

Quentin Tarantino
Starring

John Travolta, Samuel L. Jackson, Uma Thurman, Harvey Keitel, Tim Roth, Amanda Plummer, Maria de Medeiros, Ving Rhames, Eric Stoltz, Rosanna Arquette, Christopher Walken and Bruce Willis
Year

1994
Rated

R
Country

USA
Format

35mm
Running Time

154 minutes