In a recent interview from the Cannes premiere of Quentin Tarantino's hotly anticipated Once Upon a Time in Hollywood, the writer director remarked of its protagonist Rick Dalton, "Rick is not any one person, because we made a conscious effort not to do that. Rick is a little bit of [Ty] Hardin… a little William Shatner… [all these actors like] George Maharis and Vince Edwards and Edd Byrnes, they were living on top of the world. They didn't know they would be replaced by Michael Sarrazin, Arlo Guthrie, Peter Fonda, Michael Douglas, and Kristoffer Tabori, that the hippie sons of famous people, these skinny, androgynous, shaggy-haired leading men, would be the next big thing." And in the remaining days in July leading up to the opening of Once, New Beverly is showcasing the interesting cinematic exploits of those actors at the crossroads – the hits that kept them famous, the experiments that stretched their capabilities, the attempts to stay active when the newer male stars were supplanting them. And the tribute begins on Tuesday, July 2nd, with the spotlight on the aforementioned Vince Edwards and Ty Hardin, men like Dalton who became household names from popular TV roles, only to find themselves relegated to less-visited corners of those households later on.
Unable to cope with the loss of his daughter, William Dorn (Chuck Conners) now spends his days alternating between castigating random people for their bad manners, and setting off bombs in public buildings that represent the organizations he blames for her drug addiction. The pattern of carnage, along with Dorn's relative invisibility and frequent taunts to the police, drives Lieutenant Geronimo Minnelli (Vince Edwards) to try unorthodox measures to deduce the madman's identity, especially when he determines that a notorious sex offender (Neville Brand) may well have seen the bomber during an assault committed at one of his target sites. Death, depravity, and mayhem escalate through the actions of all three of these men, as Los Angeles is subject to the explosive rage of The Mad Bomber, from 1973.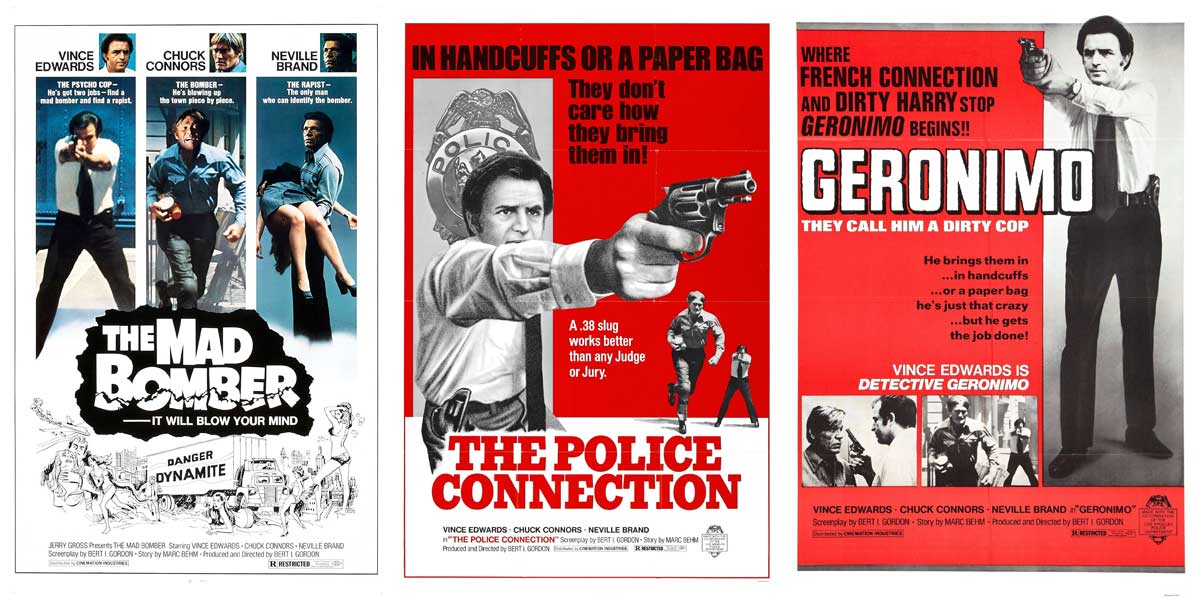 Vince Edwards had given well-received early career performances in Stanley Kubrick's The Killing and John Cassavetes' Too Late Blues, but achieved his largest success starring in the ABC medical drama "Ben Casey" from 1961 to 1966. The series' consistently strong ratings led to his casting in The Victors and Hammerhead, both of which have already screened at New Beverly this year. After the end of "Ben Casey," while leading man parts became less frequent for him, he was able to continue in character roles, as well as direct many TV series episodes, until his death from pancreatic cancer in 1996. Co-stars Chuck Connors and Neville Brand had also previously headlined '60s TV shows: Connors in "The Rifleman" and "Branded," Brand in "Laredo."  Their villainous roles in Bomber would be followed by particularly memorable sinister turns by Connors in David Schmoeller's Tourist Trap and Brand in Tobe Hooper's Eaten Alive.
Producer/director Bert I. Gordon had long cultivated his reputation as "Mister B.I.G." with his streak of successful fantasy films involving monsters and mutations, such as The Amazing Colossal Man, Attack of the Puppet People, and Village of the Giants. In the early '70s, he had veered away into more adult themed projects as the comedy How to Succeed with Sex and the horror tale Necromancy with Orson Welles. After making The Mad Bomber, Gordon returned to the monster sagas with the hits The Food of the Gods and Empire of the Ants. After turning 90, he wrote and directed Secrets of a Psychopath with MTV and "Sliders" star Kari Wuhrer, released in 2015. The original story for Bomber was written by Marc Behm, an American writer previously responsible for co-writing Charade and Help!, who whose later novel Eye of the Beholder would be adapted to film twice, once in 1983 as Deadly Circuit with Michel Serrault and Isabelle Adjani, and again under its book title in 1999 with Ewan McGregor and Ashley Judd.
Just as Athenian police are about to put him on a prison plane, professional thief and escape artist Jason (Ty Hardin) miraculously eludes the authorities, but quickly discovers the individuals that have facilitated his escape want him to return the favor, whether he wants to or not. Beginning with an unusual mission of breaking in and out of a prison to retrieve a dead man's tooth, Jason is propelled into a series of complex thefts and reversals involving entrenched criminals, government agents, and gorgeous women, all with their secret agendas and lethal resources. But Jason is wily enough to have improvisatory skills and allies of his own, as he looks to stay alive and collect the bounty he was first promised for this unplanned job. After all, he's been a criminal long enough to know it's much harder to take down a Moving Target, from 1967.
The actor born Orison Whipple Hungerford Jr., nicknamed Ty (as in "Typhoon") as a child because of his then-undiagnosed ADHD, had started his acting career as a contract player at Paramount under the name Ty Hungerford. After attempting to win the role taken by Ricky Nelson in Rio Bravo, he impressed TV producer William T. Orr enough for him to buy out his previous contract and set him up at Warner Bros., where he gave him the new last name Hardin (as in John Wesley Hardin, who as documented in Time-Life Books' "Old West" series, shot 44 men, one of them just for snoring too loud). Hardin's big break came in 1958 when, during a contract dispute with Clint Walker over his series "Cheyenne," he was installed in Walker's absence as the title character's cousin Bronco Layne; when Walker returned to the series, Hardin was given his own spinoff series, "Bronco," which ran from 1958 to 1962. He also appeared in WB-produced films Merrill's Marauders, P.T. 109, and Palm Springs Weekend, until his contract ran out. Hardin then decamped overseas to live and make films, including Berserk! with Joan Crawford, as well as an Australian TV series, "Riptide;" reportedly, he turned down starring in "Batman" because of his high demand outside the States. In 1976, he returned to America, and took sporadic acting roles all the way into the noughts. Hardin passed away in Huntington Beach in August 2017 at age 87.
Sergio Corbucci was one of Italy's most nimble genre-hopping writer/directors, able to make sword-and-sandal epics, westerns, spy thrillers, crime dramas, and slapstick comedies, sometimes with his younger brother Bruno Corbucci. Among his credits are the original Django with Franco Nero, Navajo Joe with Burt Reynolds, and Johnny Oro with Mark Damon, which in many territories was renamed Ringo and His Golden Pistol to cash in on the burgeoning western character Ringo created by Duccio Tessari with actor Giuliano Gemma. And as seen in the many "locandina" teaser posters on L.A. streets for the upcoming Once, Rick Dalton's resume will include making Nebraska Jim with Sergio Corbucci, A Bastard for Inspector Scagnetti with Duccio Tessari, and Kill Me Now Ringo Said the Gringo, which may or may not be a canonical Ringo saga. Moreover, the golf cap and black jacket sported by Ty Hardin in Target is quite similar to the ensemble Dalton will be wearing in Operation Dyn-O-Mite with Margaret Lee.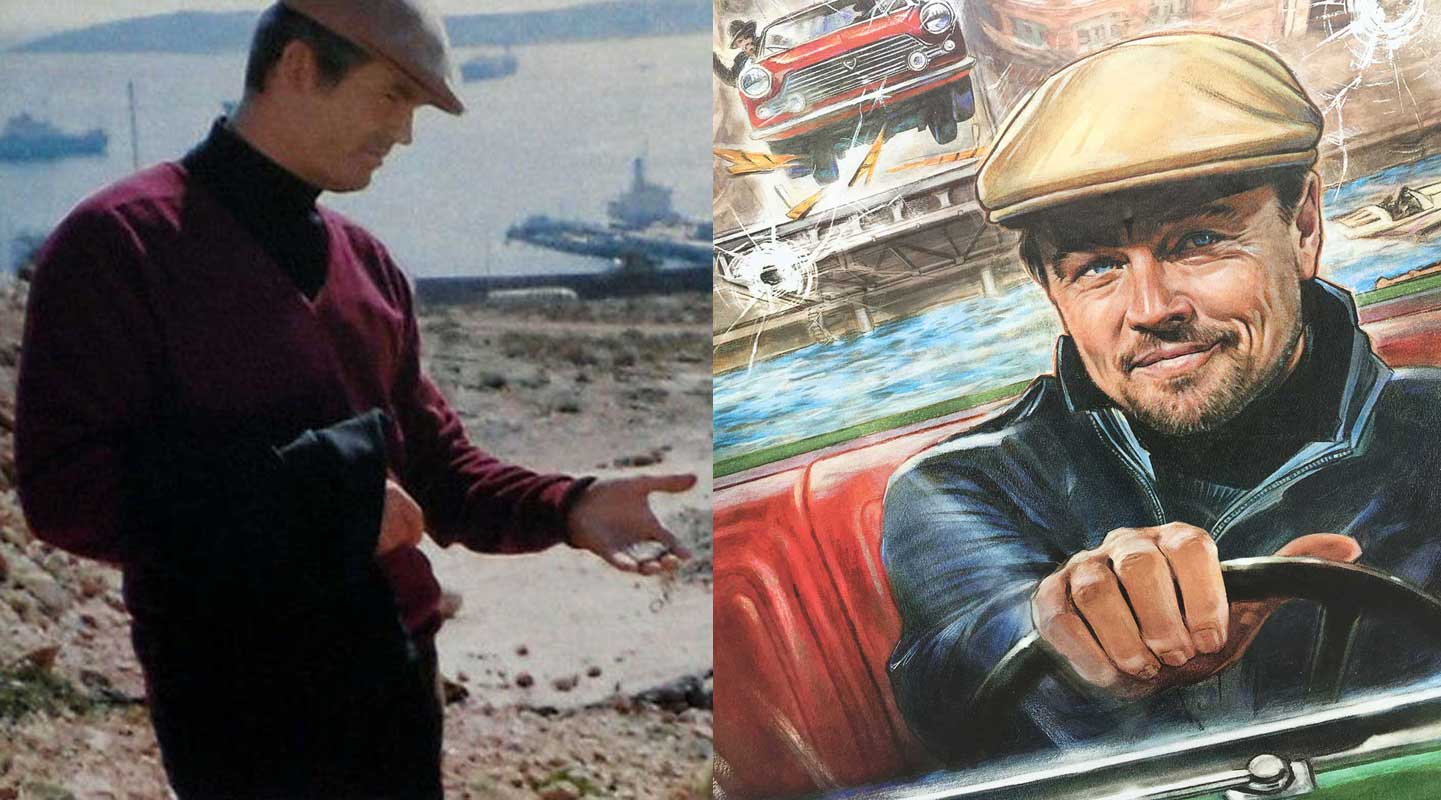 Take a preparatory look at the performances of lesser-heralded performers of the past that have helped inform the latest role of a modern Academy Award-winning star of the present in a movie that will easily be a favorite of the future, all in one great Tuesday evening at the New Beverly!