The first thing you may notice about Kaneto Shindo's Onibaba (鬼婆) – easily one of the scariest films of the 1960s – is its sound. Present throughout the entire film is a dream-like windy whispering of waving reeds, quietly shushing out any speech, silencing humanity with an indifferent dismissal. The hissing grasses seem to be aurally brushing people off the very face of the planet. Only a few moments into Onibaba, and the audience is already left unnerved.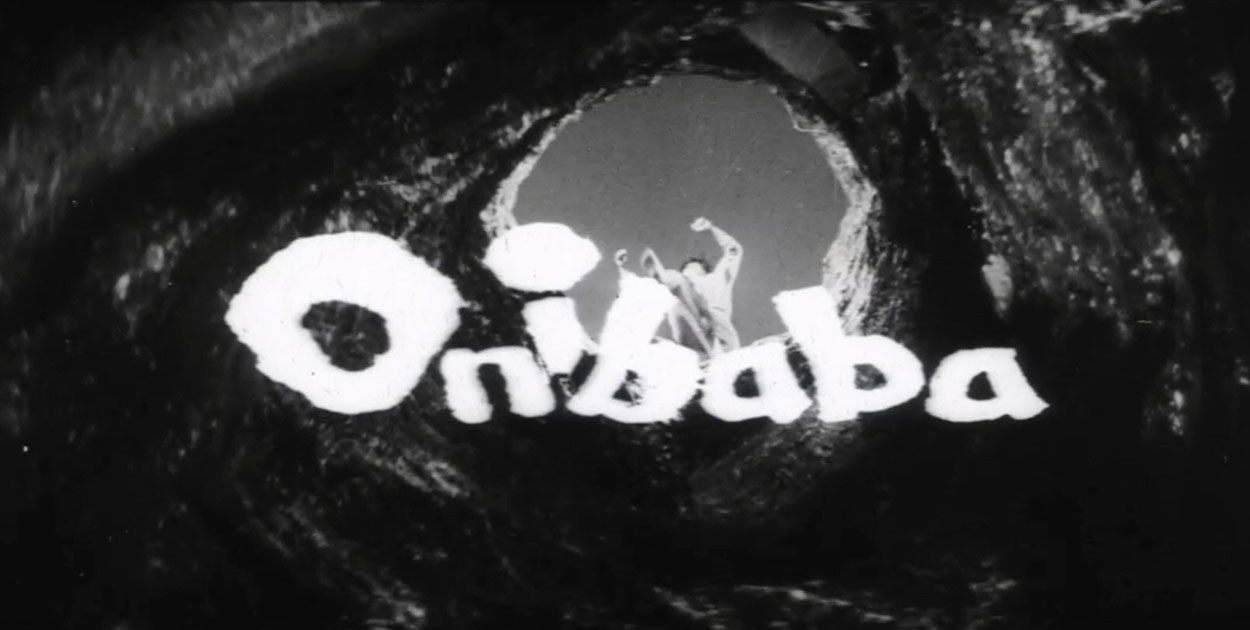 Onibaba is one of those '60s cinematic classics that is, regrettably, rarely mentioned within the vernacular of horror fans, and certainly doesn't enjoy the same sort of canonical, "high cinema" status as the films of Shindo's mentor Kenji Mizoguchi. Those who have encountered Shindo's films, however, know about his strengths as a filmmaker. Shindo – along with Shohei Imamura, Hiroshi Teshigahara, Seijin Suzuki and Nagisa Oshima – is considered one of the voices of the Japanese New Wave, and infuses his films with a gentle, natural quality that crushes the emotional and the visceral together into one entity.
Onibaba – with its combination of naturalism and fable – is a horror movie that appeals to the gut, but strikes just as hard at the intellect. It is a parable, a myth, an intellectual exercise, and, most of all, a terrifying experience. It's one of the best films of a long-working and prolific director who deserves to be celebrated more in America.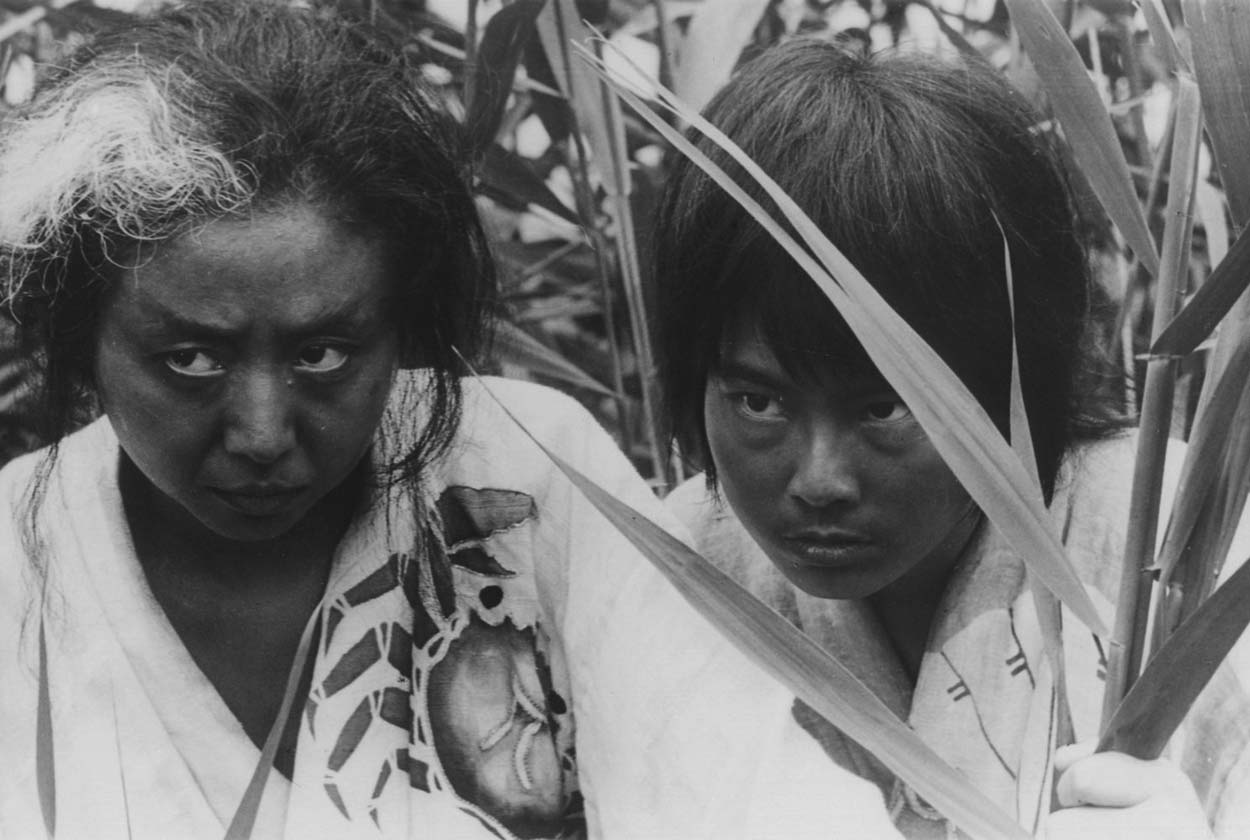 Based on a play by the film's two lead actresses, Nobuko Otowa and Jitsuko Yoshimura, Onibaba (literally translated as Demon Crone) is about an unnamed mother and daughter who, in 1330s Japan, have taken up residence in an isolated shack out in the middle of a field of tall, tall reeds. Right away, we see that the setting is straight out of a fairy tale. Like the house in the bottom of the pit in The Woman in the Dunes, the shack in Onibaba feels as if it can't quite exist. We accept it, but we also sense a quiet aftertaste of unreality. To survive in this shack, the two women spend their days stalking quietly around the field, patiently waiting for rogue samurai to wander through their property. They then murder the samurai, strip off their armor and dump them down a nearby pit. They sell the armor to a local merchant. This was the time of the Genko War in Japan, and AWOL soldiers were common, so business, as it were, was booming.
Given their ethereal location and dark profession – not to mention the sallow, sunken look the two women possess – one can easily begin to interpret them, perhaps literally, as vengeful spirits, or at least fairy tale trolls. There is no moral code alive in this world. The samurai have wandered into a place of death. This place, we sense, is ripe for some form of cosmic retribution. We're halfway out of reality in Onibaba, and partway into what Northrop Frye called the Green World.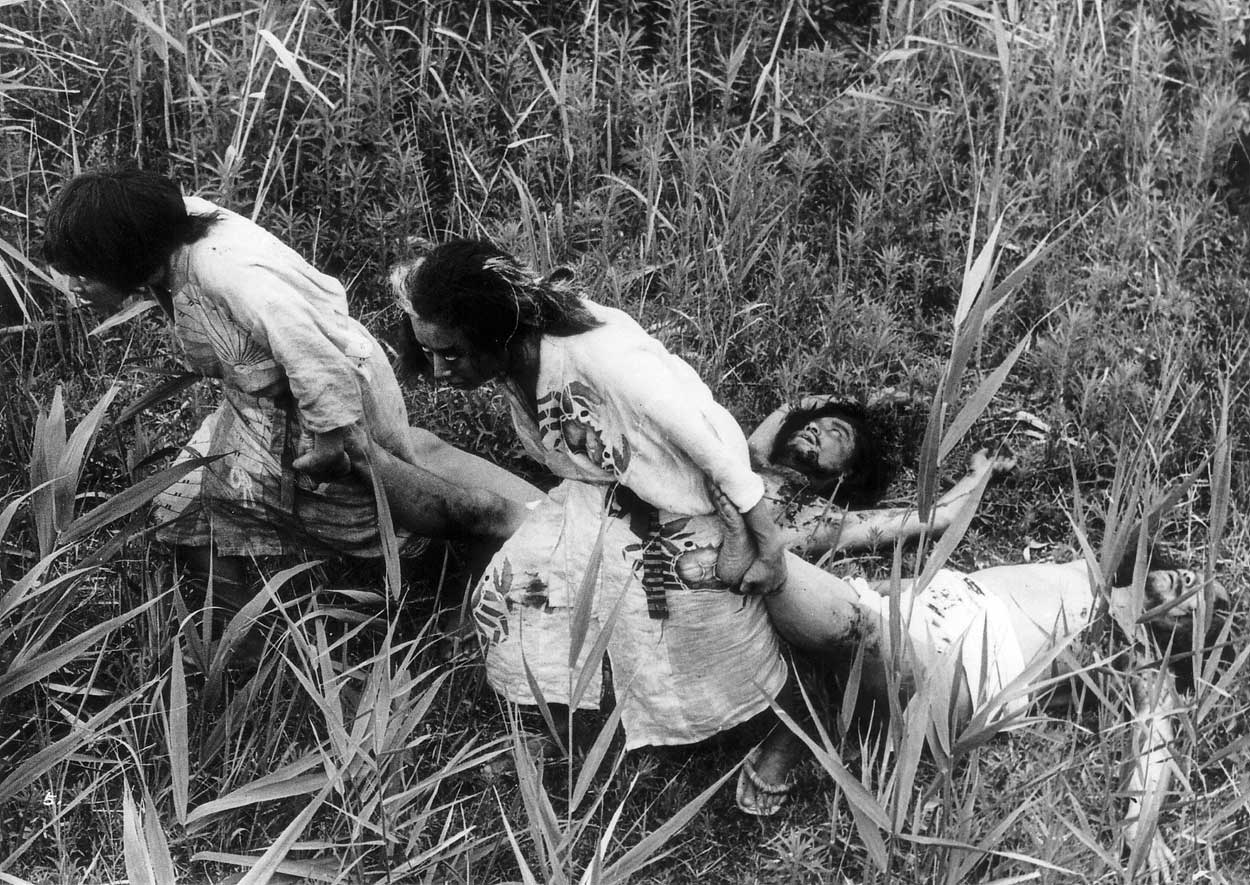 And while these two women may be seen as trolls, one can easily appreciate their uninterrupted dark idyll. They have a neat little business going, and audiences may be able to appreciate the purity of what they do. So when their whispering universe sees an interloper, we immediately begin to feel the discord. A much more human neighbor (Kei Sato) eventually encounters the two women, and the younger of them begins an immediately-sensed – although not immediately obvious – lustful regard with him. Their sexual affair is, we know, imminent. He, in being human and sensual, threatens not only the two women's livelihood, but, in the mind of the older woman, threatens their status as ogres. There is immediately a sense of resentment.
In Western fairy tales, the "old crone" who is jealous of the young, fertile female is a common sight – think of Rapunzel, for instance – so Americans audiences will likely be at home with this imagery and dynamic. The resentment, we sense, is born of a betrayal of the semi-supernatural life these women led. The younger woman is turning to something more human. The older woman fears not only for her living situation, but also her status as a monster. She's the Big Bad Wolf undone by the comparative innocence of Little Red. Only this time, Little Red started out as a Big Bad Wolf.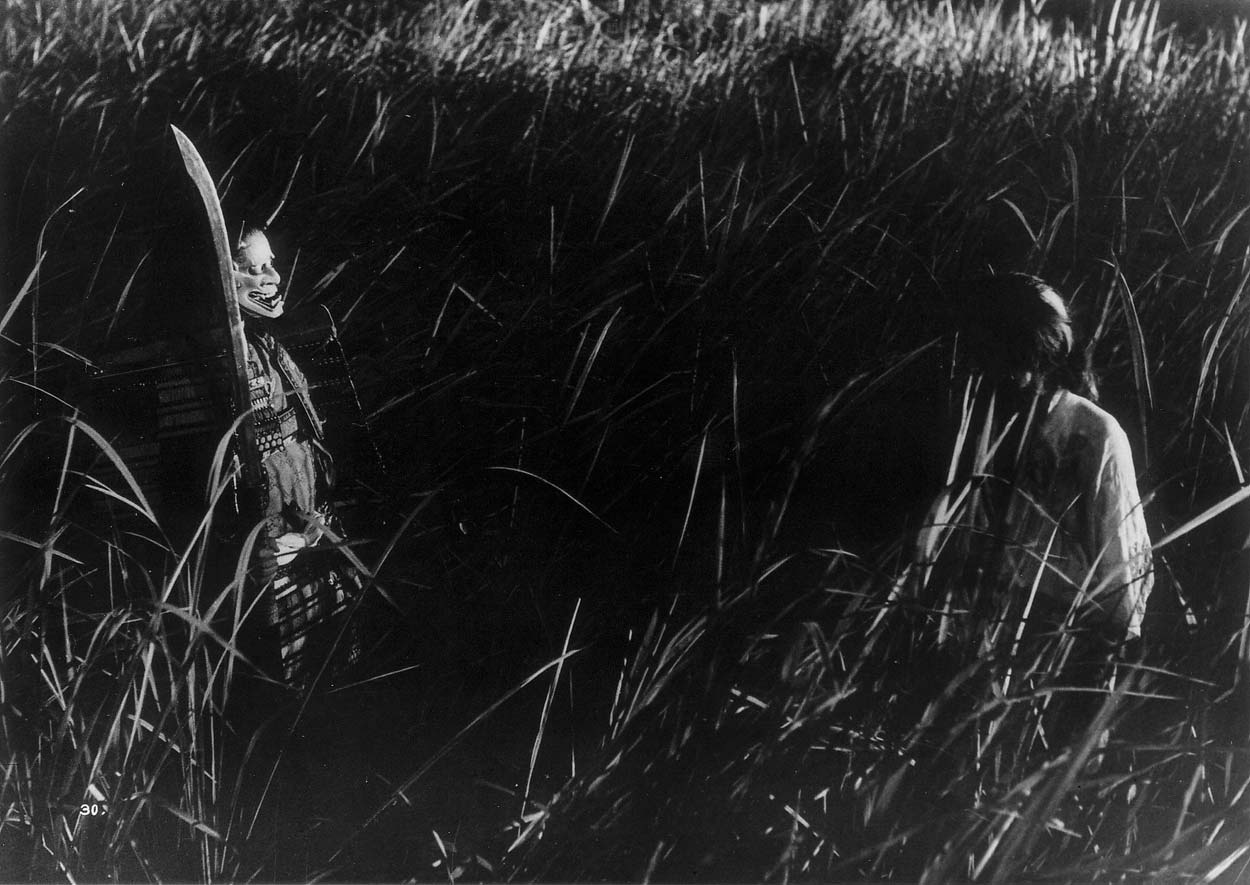 The older woman, out alone in the reeds, deep into the night, encounters a samurai (Jukichi Ono). He wears an oni mask. This masked samurai is to her a potential victim, but also an equally stirring semi-supernatural presence. He is tall an imposing. He seems to loom over her. The samurai claims to wear his mask because he is too handsome to look at directly.
Eventually the mask will be removed, but what is beneath I will leave for you to discover. Indeed, the story begins taking darker and darker turns, and I would not dream of revealing them to the uninitiated.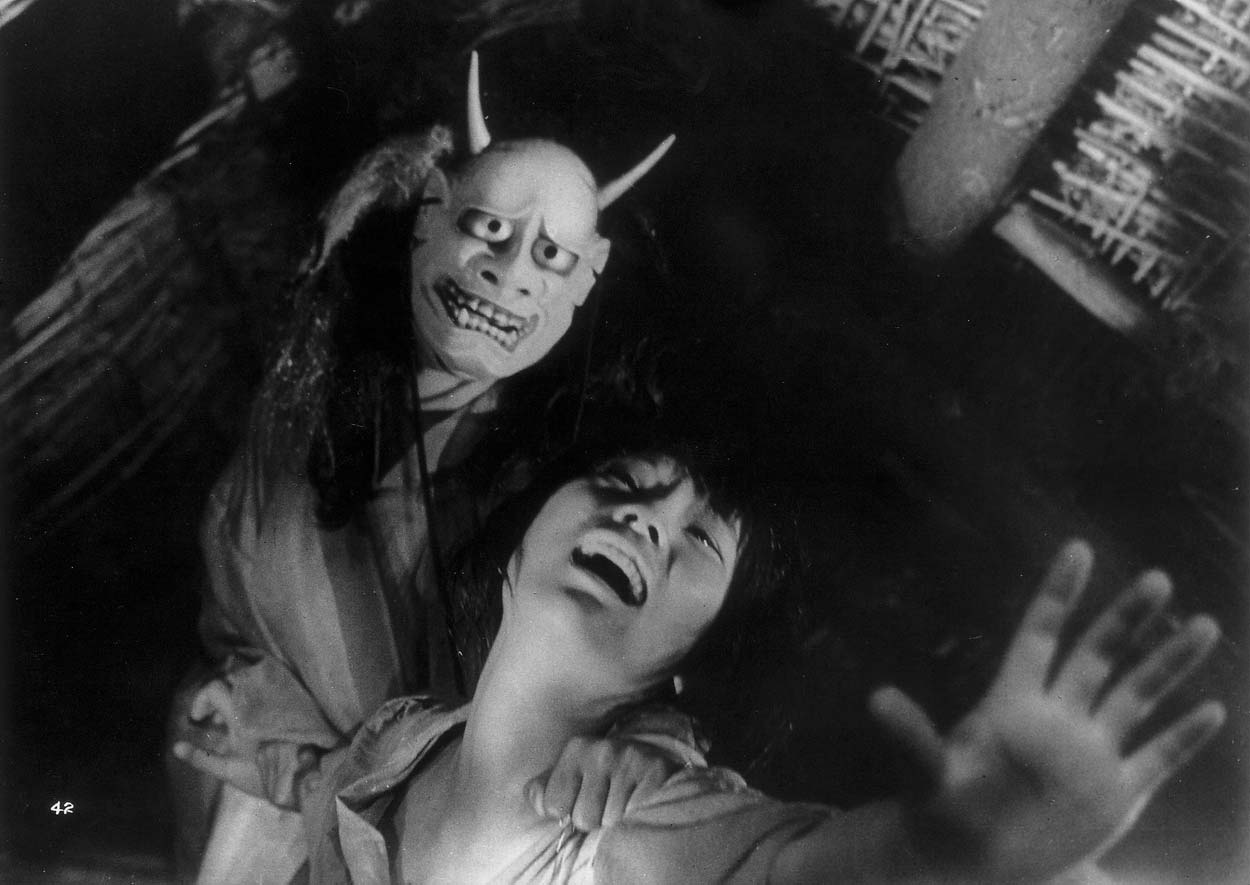 The way Shindo shoots Onibaba is a perfect blend of eerie fantasy and grounded reality. Like in Mizoguchi's Ugetsu, we can recognize what is demonic almost immediately, and yet we are capable of taking it with a good deal of ease. This is the stuff of genuine nightmares, and you'd be forgiven for shrinking up in your seat a little. You'll want to look because the film is so fascinating, but you'll be terrified at the same time. When it comes to horror, Japanese cinema – unlike its Western counterpoint – tends to bank in a slow, insidious brand of fear. In this era of the Japanese New Wave, the horror was less about explicit violence, and more about a gentle form of creeping, existential dread. Shindo was depicting the divide between the mind (fantasy) and the body (reality).
Onibaba, then, is ultimately a film about appetites. It's about how our appetites may destroy us, and how they interplay with our beliefs. It's a very dark, almost nihilistic film. Cosmic punishment lurks, like the whispering winds, over everything. And our desires may very well turn us into the thing we dread the most.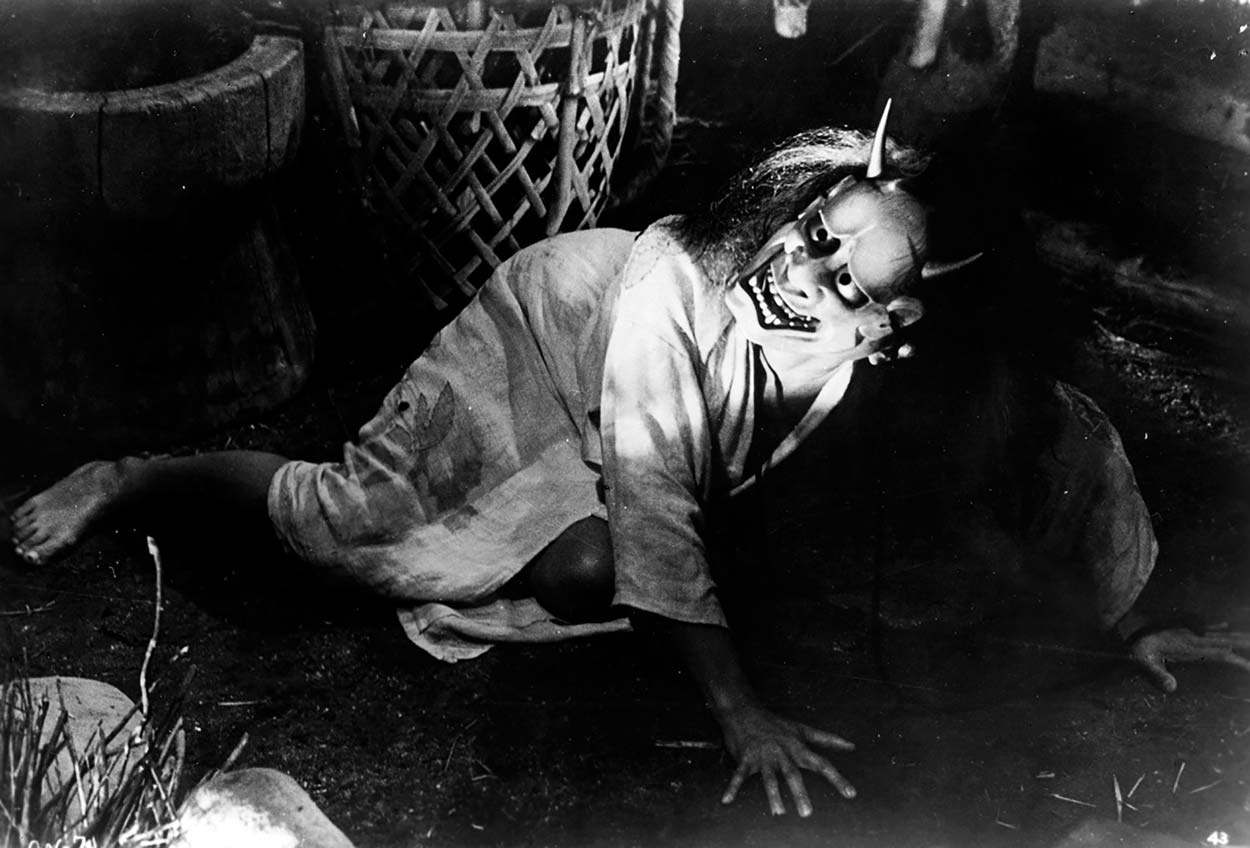 Shindo is one of the more talented and prolific filmmakers of his generation having directed Onibaba, Kuroneko and an amazing dialogue-free realist meditation on labor called The Naked Island in 1960. He made an exploitation biography of Hokusai in 1981 called Edo Porn, known among the Japanese cult circuit. Shindo also wrote Suzuki's Fighting Elegy, the 14th Zatoichi film Zatoichi's Pilgrimage, and the 1951 version of The Tale of Genji. He continued making films all the way up to 2011, when he wrote and directed Postcard at the age of 99.
Onibaba, I feel, is his masterwork. It captures the filmmaker's talents whole, and may serve as an introduction not only to Shindo's body of work, but may serve as your key into the films of the Japanese New Wave. Anything that eventually leads people into the marks of Teshigahara, Oshima, Suzuki, and, further out, Kenji Mizoguchi, is no bad thing.
Onibaba will be playing at the New Beverly on Friday, March 17th and Saturday, March 18th paired with Shindo's Kuroneko, an equally atmospheric film that takes place in the woods, and features a demonic cat.